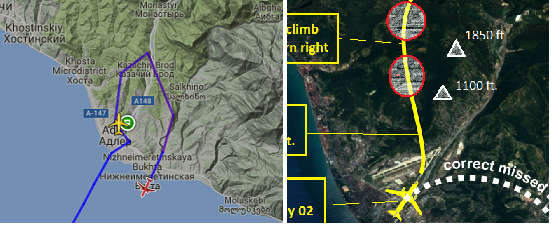 2016-09-28 Turkish Airlines A319 dangerous missed approach near Sochi
After an abandoned bad weather approach to Sochi, the aircraft did not follow the prescribed route and came close to rising terrain. The flight was safely completed.
According to reports emerged by the Aviation Herald, The Airbus A319 operating on Turkish Airlines scheduled flight TK 295 from Istanbul to Sochi, Russia was approaching and already cleared to land on runway 02 (ILS approach) in unfavourable weather conditions.
Visibility at the airport was reduced in occasional rainshowers, overcast skies and moderate winds.
About less than a mile away from landing, the pilots discontinued their approach because of a windshear warning. But instead to follow the prescribed missed approach route to the right (white dashed line) the aircraft turned left straight towards rising terrain.
TK 295 continued on the false route for an unknown timespan before local air traffic control (ATC) intervened and ordered the flight to climb to 6000 feet. Then ATC instructed the flight to turn right without delay but TK 295 continued straight ahead to the mountains. It was only ater ATC intervened for a 2nd time and ordered to climb to 15000 ft and the immediate turn to the right when the crew complied and climbed out of danger.
About 30 minutes later, the aircraft landed normally on runway 06.
NOTE: This occurence marks the 5th serious incident for Turkish Airlines in the current year.



Estimated Flightpath TK 295 © GoogleEarth | Jacdec.de
Flightpath (provided by planefinder.net)
METAR Sochi-Adler Intl Airport (URSS):
28/09/2016 01:00->

METAR URSS 272200Z 02006MPS 2300 R02/3000D -SHRA BKN018 OVC040CB
           12/11 Q1021 R02/220348 R06/220348 NOSIG RMK R06/05003MPS
           MT OBSC QFE764=

28/09/2016 00:30->

METAR URSS 272130Z 04005MPS 9999 -SHRA BKN050CB OVC083 13/11
           Q1021 R02/290050 R06/290050 NOSIG RMK R06/35002MPS
           QFE764=
Tweet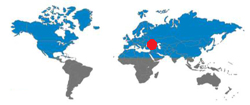 Aircraft
Type: Airbus A319
Registration: TC-JLP
Age a/c: 10.8 years
Constr. No.: 2655
| | | | | |
| --- | --- | --- | --- | --- |
| | Crew | Pax | Other | Total |
| Occupants | – | – | 0 | – |
| Fatalities | 0 | 0 | 0 | 0 |
| Injuries |  0 | 0 | 0 | 0 |
OCCURENCE DATASET
Date: 2016-09-28 Time: 00:56
Location: URSS AER Sochi area
Country: Russia
Flight phase: APR – Initial Approach (IFR), Final Approach, all Circuit Patterns, Missed Approach/Go-Around
Damage to a/c: none
Flight
Flight no.: TK 295
From: LTBA/IST: Istanbul Ataturk Intl Airport To: URSS/AER: Sochi
Type: Passenger
Operator: THY Turkish Airlines
JACDEC 25-year Statistics :
68th safety occurence for the operator
150th safety occurence of type (A319)
3rd safety occurence at Sochi Airport
1st safety occurence for aircraft in question
Image & Information Sources
Copyright - Terms of Usage
All written and shown content on JACDEC.de is provided in the most accurate way. All information may be subject to changes because JACDEC.de cannot always ensure a full support of information updates to each news story.
No publication (or part of) provided by at JACDEC.de may be reproduced or transmitted in any form or by any means or by any information retrieval system without written permission from JACDEC. The below information includes unofficial information and should be treated as this. Editors cannot be held responsible for any errors or omissions caused by any information source mentioned herein. The nature of the following information should be regarded as preliminary.
Furthermore, the author cannot be held accountable for correctness, completeness or quality of the information provided herein. Liability claims regarding damage caused by the use of any information provided, including any kind of information which is incomplete or incorrect,will therefore be rejected.
For further terms and conditions, check our legal disclaimer section:
http://www.jacdec.de/imprint-legal-disclaimer/ 
AP = Airport / AL = Airlines / Avn = Aviation / AW = Airways / C/N: Construction Number / DSP = Domestic Scheduled Passenger / DNP = Domestic Non-Scheduled Passenger / DSC = Domestic Scheduled Cargo / DNC= Domestic Non-Scheduled Cargo / GND = On the ground / parked, stored / FMN= Flying Mission, Air Work / FRY = Ferry-, Positioning Flight / IMC = Intrument Meteorological (flying) Conditions / ISP = International Scheduled Passenger / ISC=International Scheduled Cargo / INP = International Non-Scheduled Passenger / INC =International Non-Scheduled Cargo/ OPS = Flight Operation(s) / NRV = Non-revenue, Private Flight / TRN =Training Flight /  TST = Test & Certification Flight / VMC = Visual Meteorological (flying) Conditions