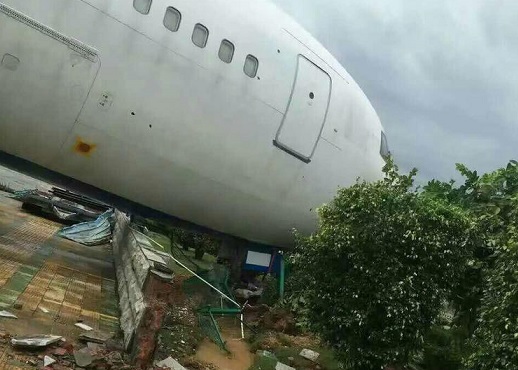 2016-09-15 Typhoon Meranti left aircraft damaged at Xiamen
This is a summary of new reports about the devastating passage of super typhoon "Meranti" when it made landfall close to the coastal city of Xiamen, China.
UPDATE
Bringing record breaking winds of unprecedented 370 km/h (~200 knots) and torrential rainfall, typhoon "Meranti" left a trail of destruction along its passage. In the morning hours on Sep. 15th, the apex of the tropical storm hit the city of Xiamen and the entire Fujian Province bringing public life to a standstill.
Xiamen-Gaoqi International Airport was not spared. Many planes had earlier been ferried to other airports, but there still were aircraft left in the overhaul area.
A former Mega Maldives Boeing 767-300 (msn 26206) was blown across the apron until its nosegear ploughed through a stonewall and ended halfway buried in deep earth.
A Boeing 737-300SF of Yangtze River Express (B-3000, msn 29326) also received unknown damage when it was hit by swirling debris. Two other 737's were in a hangar which door had been blown out of its mountings allowing wind and rain to enter the hangar.
According an eyewittness account, a Boeing 757 parked on the tarmac (N553CC, ex Thomas Cook)  in south-east China was almost pushed into a building by the force of a super typhoon this morning.
Reportedly a unspecified number of other aircraft have also been damaged in the Taikoo Xiamen Aircraft Engineering Company.
Images below are apparently from Xiamen Airport immediately after the typhoon.
Impact force of a plastic bottle blown against a windscreen

@ Dushi.ca
Flightpath (provided by Flightradar24)
Tweet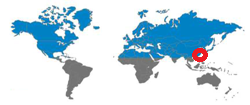 Type: Boeing 767-300
Registration: N505CS
Age a/c: 22,5 years
Constr. No.: 26206
| | | | | |
| --- | --- | --- | --- | --- |
| | Crew | Pax | Other | Total |
| Occupants | 0 | 0 | 0 | 0 |
| Fatalities | 0 | 0 | 0 | 0 |
| Injuries |  0 | 0 | 0 | 0 |
OCCURENCE DATASET
Date: 2016-09-15 Time: ~09:00
Location: ZSAM Xiamen Intl Airport
Country: China
Flight phase: STD – Standing with engine not operating
Damage to a/c: substantial
JACDEC 25-year Statistics :
xth safety occurence for the operator
xnd safety occurence of type (B737-700)
xrd safety occurence at Pensacola Airport
xnd safety occurence for aircraft in question
Image & Information Sources
Copyright - Terms of Usage
All written and shown content on JACDEC.de is provided in the most accurate way. All information may be subject to changes because JACDEC.de cannot always ensure a full support of information updates to each news story.
No publication (or part of) provided by at JACDEC.de may be reproduced or transmitted in any form or by any means or by any information retrieval system without written permission from JACDEC. The below information includes unofficial information and should be treated as this. Editors cannot be held responsible for any errors or omissions caused by any information source mentioned herein. The nature of the following information should be regarded as preliminary.
Furthermore, the author cannot be held accountable for correctness, completeness or quality of the information provided herein. Liability claims regarding damage caused by the use of any information provided, including any kind of information which is incomplete or incorrect,will therefore be rejected.
For further terms and conditions, check our legal disclaimer section:
http://www.jacdec.de/imprint-legal-disclaimer/ 
AP = Airport / AL = Airlines / Avn = Aviation / AW = Airways / C/N: Construction Number / DSP = Domestic Scheduled Passenger / DNP = Domestic Non-Scheduled Passenger / DSC = Domestic Scheduled Cargo / DNC= Domestic Non-Scheduled Cargo / GND = On the ground / parked, stored / FMN= Flying Mission, Air Work / FRY = Ferry-, Positioning Flight / IMC = Intrument Meteorological (flying) Conditions / ISP = International Scheduled Passenger / ISC=International Scheduled Cargo / INP = International Non-Scheduled Passenger / INC =International Non-Scheduled Cargo/ OPS = Flight Operation(s) / NRV = Non-revenue, Private Flight / TRN =Training Flight /  TST = Test & Certification Flight / VMC = Visual Meteorological (flying) Conditions