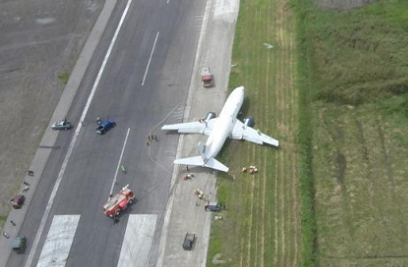 2016-09-13 Trigana Boeing 737F gear collapse on landing at Wamena
On landing at Wamena Airport, the 737 suffered a main gear collapse after an extremely hard landing. Both crewmembers remained unhurt. The 737 is likely a hull loss.
Trigana Air cargo flight 7341 from Jayapura was on short final approaching runway 15 in obscured skies and low clouds, when the pilots apparently realized they were not aligned with the runway centreline. In an attempt to achieve a successful landing, aircraft banked to the right. Simultaneously the nose was pushed down in an attempt a landing within the first 3rd of the runway.
At this time the aircraft delevoped an increased rate-of-descend. Despite pulling up the nose again, the maingears touched down very hard on the runway causing the left maingear to separate and it struck the fuselage causing substantial damage. Subsequently the right maingear collapsed resulting in a belly landing. The 737 skidded on its aft fuselage, both engines and its (undamaged) nosegear down the runway until about 1,500 meters when it drifted slightly off the right side coming to rest halfway on the grass.
Both pilots and one technician were on board. All remained uninjured.
Considering the aircraft age (30 y) and the extent of damage it is highly likely that the 737 will not be repaired again. The airport was closed for all traffic.
The cargo consisted of about 15 tons of diesel fuel, rice and sugar. Wamena is situated in very remote region. Many supplies to maintain an everyday life had to be brought in via air.
Wamena Airport is not equipped with an intrument approach. The pilots must get visual contact in time, to make a safe landing if this is not the case the approach must be discontinued.
According to an eye-witness the aircraft braked out of cloud vary late, at around 150 – 200 feet above ground, at this altitude there is hardly any time for pilots to make heading or altitude corrections.
Minutes before another Trigana Boeing 737 sucessfully landed at Wamena.
There are no weather information available from Wamena Airport. The only available runway at Wamena (15 / 33) is 1829 meters in lengh.
Aerial Map (provided by GoogleEarth)

@ GoogleEarth
Tweet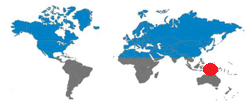 Aircraft
Type: Boeing 737-300F
Registration: PK-YSY
Age a/c: 30,0 years
Constr. No.: 23597
Previous Owners: Western Airlines 1986, Delta Air Lines 1987, Cargig Air Cargo 2008, Trigana Air 2011 
| | | | | |
| --- | --- | --- | --- | --- |
| | Crew | Pax | Other | Total |
| Occupants | 3 | 0 | 0 | 3 |
| Fatalities | 0 | 0 | 0 | 0 |
| Injuries |  0 | 0 | 0 | 0 |
OCCURENCE DATASET
Date: 2016-09-13 Time: 07:33
Location: WAJW WMX Wamena
Country: Indonesia
Flight phase: LDG – Flare, Landing Roll, Aborted Landing after Touchdown
Damage to a/c: damaged beyond repair
Flight
Flight no.: IL 7341
From: WAJJ/DJJ: Jayapura Sentani Intl Airport To: WAJW/WMX: Wamena
Type: Cargo
Operator: Trigana Air Service
JACDEC 25-year Statistics :
20th safety occurence for the operator
230th safety occurence of type (B737-300)
15th safety occurence at Wamena Airport
1st safety occurence for aircraft in question
Image & Information Sources
Copyright - Terms of Usage
All written and shown content on JACDEC.de is provided in the most accurate way. All information may be subject to changes because JACDEC.de cannot always ensure a full support of information updates to each news story.
No publication (or part of) provided by at JACDEC.de may be reproduced or transmitted in any form or by any means or by any information retrieval system without written permission from JACDEC. The below information includes unofficial information and should be treated as this. Editors cannot be held responsible for any errors or omissions caused by any information source mentioned herein. The nature of the following information should be regarded as preliminary.
Furthermore, the author cannot be held accountable for correctness, completeness or quality of the information provided herein. Liability claims regarding damage caused by the use of any information provided, including any kind of information which is incomplete or incorrect,will therefore be rejected.
For further terms and conditions, check our legal disclaimer section:
http://www.jacdec.de/imprint-legal-disclaimer/ 
AP = Airport / AL = Airlines / Avn = Aviation / AW = Airways / C/N: Construction Number / DSP = Domestic Scheduled Passenger / DNP = Domestic Non-Scheduled Passenger / DSC = Domestic Scheduled Cargo / DNC= Domestic Non-Scheduled Cargo / GND = On the ground / parked, stored / FMN= Flying Mission, Air Work / FRY = Ferry-, Positioning Flight / IMC = Intrument Meteorological (flying) Conditions / ISP = International Scheduled Passenger / ISC=International Scheduled Cargo / INP = International Non-Scheduled Passenger / INC =International Non-Scheduled Cargo/ OPS = Flight Operation(s) / NRV = Non-revenue, Private Flight / TRN =Training Flight /  TST = Test & Certification Flight / VMC = Visual Meteorological (flying) Conditions