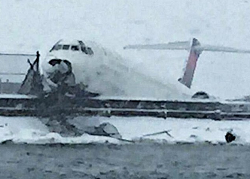 2015-03-05 Delta McDD MD-88 hit dike on landing at New York-La Guardia Airport
On landing runway 13 in snow, the MD-88 exited the left side of the runway coming to rest on a dike.
UPDATE 2017-03-03
The operating configuration at La Guardia at the time was:
Take-offs via runway 04 + landings via runway 13
The pilot of a preceeding aircraft  reported the braking action on runway 13 is from medium (touchdown zone) to poor (roll-out and taxiway "Mike").
United flight UA 694, an Airbus A319, which landed on runway 13 about 10 minutes before Delta 1086 reported the braking action as "good".
Tower: "030 at 9er (Knots). runway 13, cleared to land. Braking action reported good by an Airbus and a regional jet…[ ]"
Delta flight DL 1086 then requested "Windcheck" on short final. The tower replied accordingly.
After the landing, local tower controller called flight 1086 several times without reply, then raised alarm. Passengers evacuated via starboard overwing emergency exits and the seperated tailcone(only available on MD80s).
The nose tear down the airport fence over about 30 meters before coming to rest. The nosecone, nosegear and foreward underbelly sustained major damage.
At the time of the incident, local weather consisted of intense snowfall causing many delays to flight in the New York area. Constant operations of snow removal vehicles is required.
METARS KLGA:
SPECI KLGA 051622Z 01008KT 1/4SM R04/3000VP6000FT SN FZFG VV011 M03/M05 A3012 RMK AO2 SFC VIS 1/2 P0003=
METAR KLGA 051551Z 01008KT 1/4SM R04/2800V3500FT SN FZFG           VV009 M03/M05 A3012 RMK AO2 SLP199 P0006 T10331050=
---
On 2016-09-13 the NTSB published the final report including the probable cause.
The National Transportation Safety Board determines that the probable cause of this accident was the captain's inability to maintain directional control of the airplane due to his application of excessive reverse thrust, which degraded the effectiveness of the rudder in controlling the airplane's heading.
Contributing to the accident were the captain's situational stress resulting from his concern about stopping performance and attentional limitations due to the high workload during the landing, which prevented him from immediately recognizing the use of excessive reverse thrust.  (Abstract of Public Meeting of September 13, 2016  PDF-Document)
---
Live ATC Recording from LGA Tower at the time DL 1086 landed

Download link1: http://archive-server.liveatc.net/klga/KLGA-Twr-Mar-05-2015-1530Z.mp3


Download link2: http://archive-server.liveatc.net/klga/KLGA-Twr-Mar-05-2015-1600Z.mp3
OCCURENCE DATASET
Date: 2015-03-05 Time: 11:07
Location: KLGA LGA New York La Guardia
Country: USA
Flight phase: LDG – Flare, Landing Roll, Aborted Landing after Touchdown
Damage to a/c: substantial
Flight
Flight no.: DL 1086
From: KATL/ATL: Atlanta-Hartsfield Intl Airport To: KLGA/LGA: New York La Guardia
Type: Passenger
Operator: Delta Air Lines
Aircraft
Type: McDD MD-88
Registration: N909DL
Age a/c: 27,7 years
Constr. No.: 49540
Tweet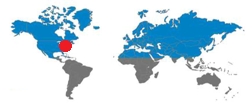 McDonnellDouglas (Boeing) MD-88
| | | | | |
| --- | --- | --- | --- | --- |
| | Crew | Pax | Other | Total |
| Occupants | 5 | 127 | 0 | 132 |
| Fatalities | 0 | 0 | 0 | 0 |
| Injuries | 0 | 0 | 0 | 0 |
JACDEC 20-year Statistics :
127th safety occurence for the operator
38th safety occurence of type (MD-88)
22nd safety occurence at airport
1st safety occurence for aircraft in question
JACDEC DATABASE ANALYSIS
 – McDonnell Douglas MD-88 –
Total number of occurences: 43
Total number of hull losses: 3
Total number of serious incidents: 17
Total number of incidents: 23
Total number of on-board fatalities: 2
MOST COMMON ACCIDENT FLIGHT PHASES
Landing (LDG) = 23 %, Taxi (TXI) = 21 %,




Take-off (TOF) = 12 %, Climb-out (ENR2) = 9 %
Delta Air Lines
Image & Information Sources
HISTORICAL NOTE
On March 2nd 1994, at nearly the same spot, another MD80 ended on top of the dike behind the end of runway 13 at La Guardia Airport.
AP = Airport / AL = Airlines / Avn = Aviation / AW = Airways / C/N: Construction Number / DSP = Domestic Scheduled Passenger / DNP = Domestic Non-Scheduled Passenger / DSC = Domestic Scheduled Cargo / DNC= Domestic Non-Scheduled Cargo / GND = On the ground / parked, stored / FMN= Flying Mission, Air Work / FRY = Ferry-, Positioning Flight / IMC = Intrument Meteorological (flying) Conditions / ISP = International Scheduled Passenger / ISC=International Scheduled Cargo / INP = International Non-Scheduled Passenger / INC =International Non-Scheduled Cargo/ OPS = Flight Operation(s) / NRV = Non-revenue, Private Flight / TRN =Training Flight /  TST = Test & Certification Flight / VMC = Visual Meteorological (flying) Conditions