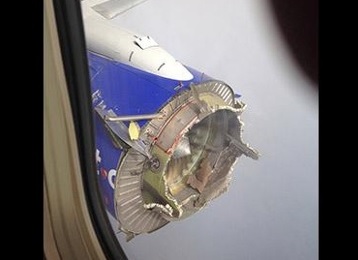 2016-08-27 Southwest B737 inflight engine casing separation over Florida
During cruiseflight, the aircraft experienced a catastrophic failure of its left engine. The pilots managed to make an emergency landing at Pensacola, FL.
Southwest Flight WN 3472 took off from New Orleans Intl Airport (MSY, KMSY) at 09:10L on runway 01 and made a normal climb-out to its assigned en-route altitude. While the 737 was climbing through 31.000 ft, heading east over the Gulf of mexico, approximately seven miles south of the western tip of Horn Island, a catastrophic failure of the foreward casing of the left engine (model: CFM-56-7B24) took place. 
About 12 minutes after departure, the air-inlet cowl detached, broke away and plummeted into the sea.
The pilots immedately dicontinued their climb and initiated an emergency descend.
There is indication that debris impacted the hull leading to a loss of cabin pressure and oxygen masks were deployed to passengers and crewmembers. 
The flight was given vectors for an emergency landing at Pensacola Airport, FL where the 737 touched down safely on runway 17 about 20 minutes later. However, post-flight inspection showed substantial damage to the fuselage near the overwing exit, the wing root section and further debris impact damage to the left horizontal stabilizer. 
---
NTSB PRELIMINARY REPORT (excerpt):
Southwest Airlines flight 3472, experienced an uncontained engine failure and cabin depressurization while climbing through flight level 310. None of the 99 passengers and 5 crewmembers onboard were injured and the airplane sustained substantial damage. The flight crew declared an emergency and diverted to Pensacola International Airport (PNS), Pensacola, Florida. more..
---
Flightpath (provided by Flightradar24)
Tweet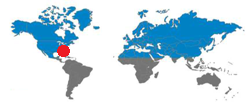 NTSB PRELIMINARY REPORT
[/vc_column_text]
Aircraft
Type: Boeing 737-700
Registration: N766SW
Age a/c: 16.4 years
Constr. No.: 29806
| | | | | |
| --- | --- | --- | --- | --- |
| | Crew | Pax | Other | Total |
| Occupants | 5 | 99 | 0 | 104 |
| Fatalities | 0 | 0 | 0 | 0 |
| Injuries |  0 | 0 | 0 | 0 |
OCCURENCE DATASET
Date: 2016-08-27 Time: 09:22
Location: KPNS PNS Pensacola Regl area
Country: United States of America
Flight phase: ENR – Cruise, Descent, Holding
Damage to a/c: substantial
Flight
Flight no.: WN 3472
From: KMSY/MSY: New Orleans Intl To: KMCO/: Orlando Intl
Type: Passenger
Operator: Southwest Airlines
JACDEC 25-year Statistics :
69th safety occurence for the operator
102nd safety occurence of type (B737-700)
3rd safety occurence at Pensacola Airport
2nd safety occurence for aircraft in question
– 2015-05-26 cargo smoke indication near Los Angeles
Image & Information Sources
Copyright - Terms of Usage
All written and shown content on JACDEC.de is provided in the most accurate way. All information may be subject to changes because JACDEC.de cannot always ensure a full support of information updates to each news story.
No publication (or part of) provided by at JACDEC.de may be reproduced or transmitted in any form or by any means or by any information retrieval system without written permission from JACDEC. The below information includes unofficial information and should be treated as this. Editors cannot be held responsible for any errors or omissions caused by any information source mentioned herein. The nature of the following information should be regarded as preliminary.
Furthermore, the author cannot be held accountable for correctness, completeness or quality of the information provided herein. Liability claims regarding damage caused by the use of any information provided, including any kind of information which is incomplete or incorrect,will therefore be rejected.
For further terms and conditions, check our legal disclaimer section:
http://www.jacdec.de/imprint-legal-disclaimer/ 
AP = Airport / AL = Airlines / Avn = Aviation / AW = Airways / C/N: Construction Number / DSP = Domestic Scheduled Passenger / DNP = Domestic Non-Scheduled Passenger / DSC = Domestic Scheduled Cargo / DNC= Domestic Non-Scheduled Cargo / GND = On the ground / parked, stored / FMN= Flying Mission, Air Work / FRY = Ferry-, Positioning Flight / IMC = Intrument Meteorological (flying) Conditions / ISP = International Scheduled Passenger / ISC=International Scheduled Cargo / INP = International Non-Scheduled Passenger / INC =International Non-Scheduled Cargo/ OPS = Flight Operation(s) / NRV = Non-revenue, Private Flight / TRN =Training Flight /  TST = Test & Certification Flight / VMC = Visual Meteorological (flying) Conditions