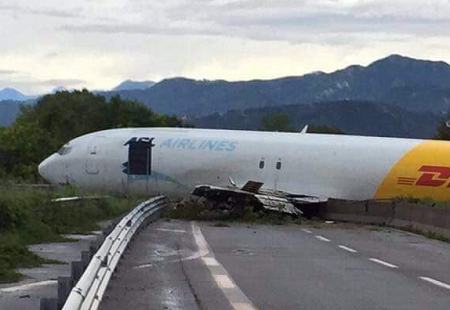 2016-08-05 ASL Hungary B737-400F overran runway onto road at Bergamo
In bad weather conditions, the Boeing 737 cargo overran the end of the runway at Bergamo Airport ending across a perimeter road.
UPDATED 2016-09-21
Agenzia Nazionale Per La Sicurezza Del Volo (ANSV) published its Preliminary Report: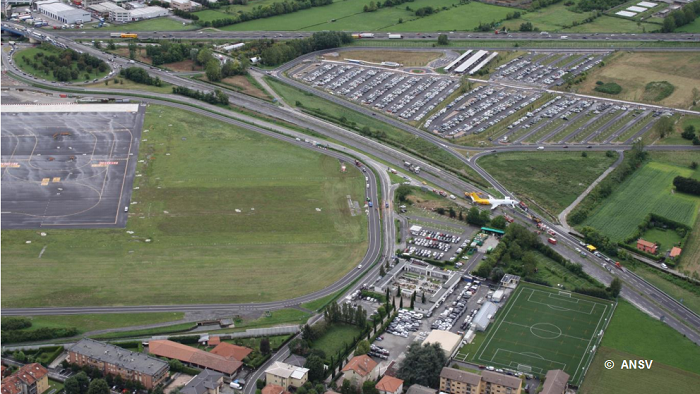 © ANSV Preliminary Report
According to ANSV, the crew had flown two previous night sectors before the accident flight. 
The 737 toched down approximately 2000 meters from the threshold of runway 28 and broke through localizer antennas and the perimeter fnce during the deceleration.
The aircraft was at 140 ft. above ground when it crossed the runway threshold, flying at a speed of 156 knots. During flare the aircraft "floated" about 14 seconds hardly loosing speed before it finally touched down. After touchdown the remaining distance was 750 meters which was by far insufficient to prevent an overrun.
View Preliminary Report (PDF):  

---
ASL Hungary flight QY 7332 (operating on behalf of contractor DHL) was making an approach to runway 28 at Bergamo-Orio al Serio Airport in darkness and adverse weather conditions.
After touchdown the pilots were unable to slow down the cargo aircraft before the end of the runway. The 737 crossed the western edge lights with considerable speed, ploughed over the grass and crosses a parking lot where it collided with several obstacles (cars) and concrete barriers until it came to rest right across the  4 lane airport highway.
Its finally stopped about 275 meters behind the end of runway 28 about 25 m to the right of the extended centreline.
Both pilots escaped unharmed via the right foreward emergency slide. Luckily nobody on the ground was injured.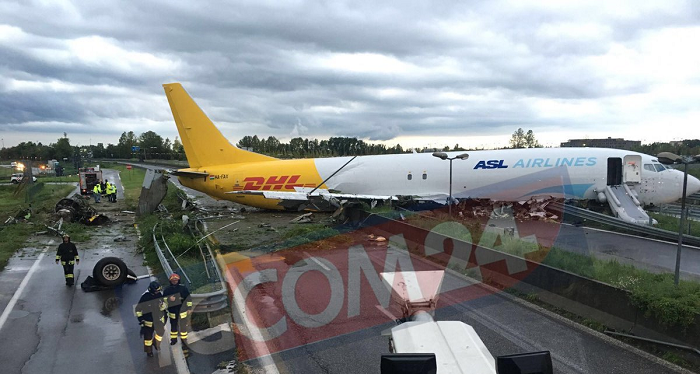 © TGCOM24
The 737 received irrepairable damage. Its entire undercarriage, both angines, flaps and the most of its right stabilizer were severely damaged or destroyed when the 737 breaks through a number of guardrails, fences and concrete barriers. The property damage is yet to be assessed.
Bergamo Orio al Serio Airport closed all operations from 04:07L until 06:47L.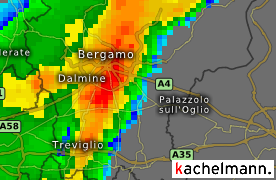 Bergamo's runway 28 / 10 is 2937 meters (9636 ft.) in lengh. At the time of the accident, a massive frontal system moves across the Bergamo region bringing intense rainfall, violents winds and thunderstorm activity to the airport vicinity.
© Kachelmannwetter
METAR Bergamo Airport (LIME):
| | | |
| --- | --- | --- |
| | 05/08/2016 03:50-> | LIME 050150Z 26011G23KT 220V310 9999 VCTS FEW040CB BKN080 23/16 Q1010= |
| | 05/08/2016 04:20-> | LIME 050220Z 34011KT 9999 SHRA TS FEW015 SCT030CB BKN050 18/17 Q1011= |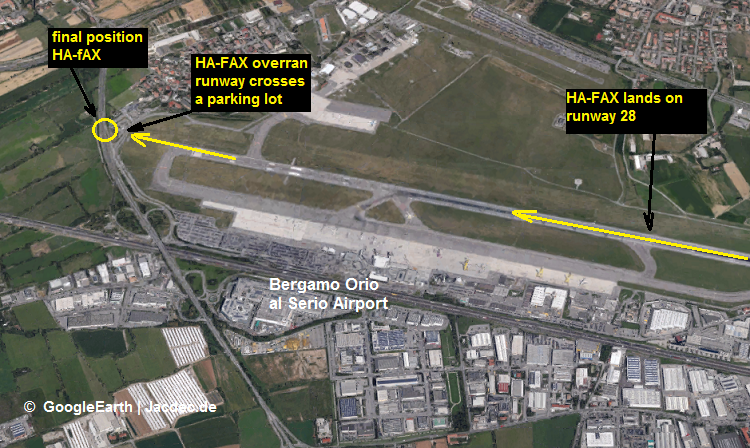 Flightpath (provided by Flightradar24)

Final flightpath of HA-FAX flight QY 7332 © Flightradar24.com
Tweet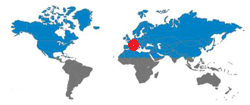 Aircraft
Type: Boeing 737-400F
Registration: HA-FAX
Age a/c: 24.7 years
Constr. No.: 24437
| | | | | |
| --- | --- | --- | --- | --- |
| | Crew | Pax | Other | Total |
| Occupants | 2 | 0 | 0 | 2 |
| Fatalities | 0 | 0 | 0 | 0 |
| Injuries |  0 | 0 | 0 | 0 |
OCCURENCE DATASET
Date: 2016-08-05 Time: 04:07
Location: LIME BGY Bergamo
Country: Italy
Flight phase: LDG – Flare, Landing Roll, Aborted Landing after Touchdown
Damage to a/c: hull loss
Flight
Flight no.: QY 7332
From: LFPG/CDG: Paris-Charles-De-Gaulle To: LIME/BGY: Bergamo
Type: Cargo
Operator: ASL Airlines Hungary
JACDEC 25-year Statistics :
3rd safety occurence for the operator
159th safety occurence of type (B737-400)
– 24th hull loss
6th safety occurence at Bergamo Intl Airport
2nd safety occurence for aircraft in question
– 2011-11-22  took off at Melbourne (AUS) at wrong speed.
Operator at the time: Qantas
Image & Information Sources
Copyright - Terms of Usage
All written and shown content on JACDEC.de is provided in the most accurate way. All information may be subject to changes because JACDEC.de cannot always ensure a full support of information updates to each news story.
No publication (or part of) provided by at JACDEC.de may be reproduced or transmitted in any form or by any means or by any information retrieval system without written permission from JACDEC. The below information includes unofficial information and should be treated as this. Editors cannot be held responsible for any errors or omissions caused by any information source mentioned herein. The nature of the following information should be regarded as preliminary.
Furthermore, the author cannot be held accountable for correctness, completeness or quality of the information provided herein. Liability claims regarding damage caused by the use of any information provided, including any kind of information which is incomplete or incorrect,will therefore be rejected.
For further terms and conditions, check our legal disclaimer section:
http://www.jacdec.de/imprint-legal-disclaimer/ 
AP = Airport / AL = Airlines / Avn = Aviation / AW = Airways / C/N: Construction Number / DSP = Domestic Scheduled Passenger / DNP = Domestic Non-Scheduled Passenger / DSC = Domestic Scheduled Cargo / DNC= Domestic Non-Scheduled Cargo / GND = On the ground / parked, stored / FMN= Flying Mission, Air Work / FRY = Ferry-, Positioning Flight / IMC = Intrument Meteorological (flying) Conditions / ISP = International Scheduled Passenger / ISC=International Scheduled Cargo / INP = International Non-Scheduled Passenger / INC =International Non-Scheduled Cargo/ OPS = Flight Operation(s) / NRV = Non-revenue, Private Flight / TRN =Training Flight /  TST = Test & Certification Flight / VMC = Visual Meteorological (flying) Conditions