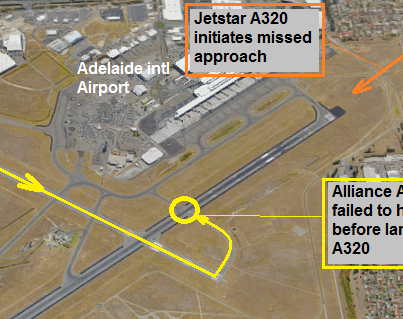 2016-08-17 Fokker 50 and A320 in runway incursion at Adelaide
The taxiing Fokker 50 mistakenly entered an active runway where the A320 was about to land forcing the latter to make an missed approach to avoid a potential conflict.
UPDATE 2016-11-22:
ATSB Final report is released HERE
ATSB:
ATSB comment
The A320 crew are to be commended for their actions in preventing a potentially more serious incident occurring.
The flight crew of FKV thought they were cleared to cross the runway probably because of the bay allocation at the end of the hold short instruction. An effective sighting of the aircraft on final approach may have led them to query their understood instruction to cross the runway. The SMC heard one word in response and mis-heard it as 'short' rather than 'cross' and that assumed 'hold' had been clipped from the transmission.
The SMC did not question the pilots about the missing word as they had some previous experiences of the beginning of transmissions being clipped. As there was a 'quiet tower' communications system, there was no opportunity for the ADC to hear this pilot read-back to the SMC and notice the misunderstandings before the runway incursion.
The ADC was in the process of handover/takeover and was not watching the landing A320 or the runway as they assumed FKV would hold short and that the runway was clear.
Safety message
The risk of runway incursions and other separation events can be minimised through good communication. This incident highlights the importance of:
• controllers and flight crews using correct phraseology
• controllers and pilots challenging instructions which they have not heard or understood fully
• pilots looking carefully for aircraft or other hazards before entering an active runway.
---
Australian ATSB published a first summary report of a runway incursion at Adelaide intl Airport.
Alliance Airlines flight 3201 was landing on runway 12 and exited the runway at the last taxiway to the left (taxiway "Delta 2").
The Fokker 50 was instructed to hold before crossing the other runway 23 where a Jetstar flight 774 was already cleared to land.
Due to circumstances yet to investigate, the Fokker failed to hold before runway 23 and entered the active runway in an apparent attempt to proceed to the main apron.
The Airbus A320 was forced to discontinue its approach and made a go-around.  The Fokker cleared runway 23 and the confilict was over.
The incident is under investigation.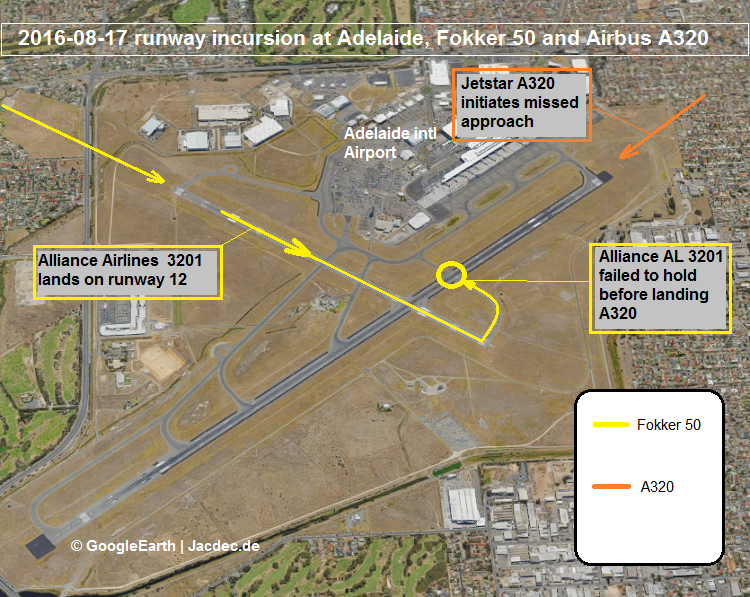 METAR Adelaide-Intl Airport (YPAD):
| | | |
| --- | --- | --- |
| | 17/08/2016 09:30-> | METAR YPAD 180000Z 36020G30KT CAVOK 21/03 Q1009 NOSIG= |
| | 17/08/2016 10:00-> | METAR YPAD 180030Z 36023G33KT CAVOK 21/03 Q1009 NOSIG= |
Tweet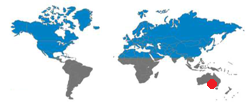 Aircraft
Type: Fokker 50
Registration: VH-FKV
Age a/c: 25.7 years
Constr. No.: 202034
Aircraft2
Type: Airbus A320
Registration: VH-VGI
Age a/c: 5.8 years
Constr. No.: 44661
| | | | | |
| --- | --- | --- | --- | --- |
| | Crew | Pax | Other | Total |
| Occupants | | | 0 | |
| Fatalities | 0 | 0 | 0 | 0 |
| Injuries |  0 | 0 | 0 | 0 |
OCCURENCE DATASET
Date: 2016-08-17 Time: 09:28
Location: YPAD ADL Adelaide
Country: Australia
Flight phase: APR – Initial Approach (IFR), Final Approach, all Circuit Patterns, Missed Approach/Go-Around
Damage to a/c: none
Flight
Flight no.: UTY 3201
From: YOLD/OLP: Olympic Dam To: YPAD/ADL: Adelaide
Type: Passenger
Operator: Alliance Airlines (Australia)

Flight2
Flight no.: JST 774
From: YMML/MEL: Melbourne To: YPAD/ADL: Adelaide
Type: Passenger
Operator: Jetstar Airways
JACDEC 25-year Statistics :
x safety occurence for the operator(Alliance)
x safety occurence for the operator(Jetstar)
x safety occurence of type (F-50)
x safety occurence of type (A320)
x Safety occurence at Jakarta-Halim Airport
x safety occurence for aircraft in question(VH-FKV)
x safety occurence for aircraft in question(VH-VGI)
Image & Information Sources
Copyright - Terms of Usage
All written and shown content on JACDEC.de is provided in the most accurate way. All information may be subject to changes because JACDEC.de cannot always ensure a full support of information updates to each news story.
No publication (or part of) provided by at JACDEC.de may be reproduced or transmitted in any form or by any means or by any information retrieval system without written permission from JACDEC. The below information includes unofficial information and should be treated as this. Editors cannot be held responsible for any errors or omissions caused by any information source mentioned herein. The nature of the following information should be regarded as preliminary.
Furthermore, the author cannot be held accountable for correctness, completeness or quality of the information provided herein. Liability claims regarding damage caused by the use of any information provided, including any kind of information which is incomplete or incorrect,will therefore be rejected.
For further terms and conditions, check our legal disclaimer section:
http://www.jacdec.de/imprint-legal-disclaimer/ 
AP = Airport / AL = Airlines / Avn = Aviation / AW = Airways / C/N: Construction Number / DSP = Domestic Scheduled Passenger / DNP = Domestic Non-Scheduled Passenger / DSC = Domestic Scheduled Cargo / DNC= Domestic Non-Scheduled Cargo / GND = On the ground / parked, stored / FMN= Flying Mission, Air Work / FRY = Ferry-, Positioning Flight / IMC = Intrument Meteorological (flying) Conditions / ISP = International Scheduled Passenger / ISC=International Scheduled Cargo / INP = International Non-Scheduled Passenger / INC =International Non-Scheduled Cargo/ OPS = Flight Operation(s) / NRV = Non-revenue, Private Flight / TRN =Training Flight /  TST = Test & Certification Flight / VMC = Visual Meteorological (flying) Conditions