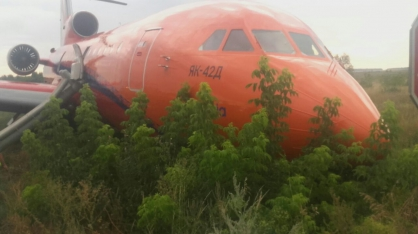 2016-08-12 Kras Avia Yak-42 ran off landing runway at Ufa
In rainy condisions, the Yak-42 overran the end of the runway coming to a stop in a field. All 125 on board remained unhurt.
Kras Avia flight KI 501 was flying from Sochi/Adler to Ufa. On landing runway 32R at 06:29L it failed to stop before the end of the rain soaked runway. The Yakovlev Yak-42 skidded across soft ground until it came to a stop about 427 meters further near the airport perimeter road.
All 125 people on board escaped via emergency exits or chutes. There was no fire.
At the time of the accident, the main runway 14R / 32L (lengh= 3765 m) at Ufa Airport was closed due to repair works from JUL 28th until AUG 14th. Therefore only the shorter runway 14L / 32R is available for take-offs and landings, it is 2500 m in lengh.
NOTAM UWUU:

UWUU A3286/16 RWY 14R/32L CLSD. 28 JUL 09:10 2016 UNTIL 14 AUG 23:59 2016 ESTIMATED.

CREATED: 28 JUL 09:13 2016
The aircraft received unknown damge. Its undercarriage did not collapse.
The airport shut down all traffic for 3 hours and 50 minutes. The federal transport authority launched an investigation.
2016-08-26 russian aviation authority gives an update about the history of flight:
K9 501 was attempting to land on the opposite runway 14L, but went around because of a shift in wind. The pilots then intended to land on runway 32R but eventually touched down 1200 meters past the threshold. Despite the long landing, the short remaining runway and the wet surface, no spoilers were activated. The pilots shut down engines 1 and 3 in an attempt to come to a stop in time, but overran.
METAR Ufa Airport (UWUU):
12/08/2016 06:30->

METAR UWUU 120130Z 29003MPS 230V350 4000 -TSRA BKN010 BKN033CB
           24/15 Q1017 R32R/290248 TEMPO VRB19MPS 2000 TSRAGR
           SQ BKN010 RMK QBB300 QFE751/1002=

12/08/2016 06:00->

METAR UWUU 120100Z 11003MPS 9999 -TSRA BKN014 BKN033CB 21/17
           Q1015 R14L/290248 TEMPO VRB19MPS 2000 TSRAGR SQ
           BKN010 RMK QFE751/1001=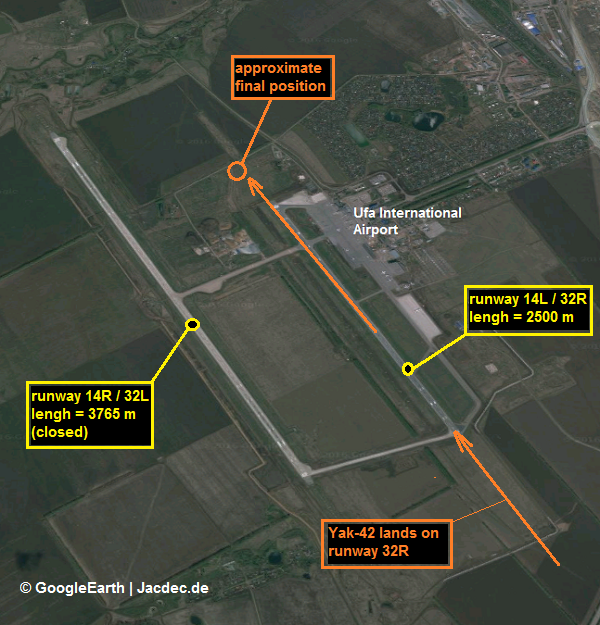 Tweet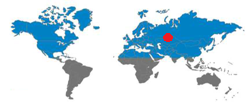 Aircraft
Type: Yakovlev Yak-42
Registration: RA-42340
Age a/c: 29.6 years
Constr. No.: 4520424606270
| | | | | |
| --- | --- | --- | --- | --- |
| | Crew | Pax | Other | Total |
| Occupants | 7 | 118 | 0 | 125 |
| Fatalities | 0 | 0 | 0 | 0 |
| Injuries |  0 | 0 | 0 | 0 |
OCCURENCE DATASET
Date: 2016-08-12 Time: 06:29
Location: UWUU UFA Ufa
Country: Russia
Flight phase: LDG – Flare, Landing Roll, Aborted Landing after Touchdown
Damage to a/c: substantial
Flight
Flight no.: KI 501
From: URSS/AER: Sochi To: UWUU/UFA: Ufa
Type: Passenger
Operator: KrasAvia
JACDEC 25-year Statistics :
3rd safety occurence for the operator
25th safety occurence of type (Yak-42)
9th safety occurence at Ufa Airport
1st safety occurence for aircraft in question
Image & Information Sources
Copyright - Terms of Usage
All written and shown content on JACDEC.de is provided in the most accurate way. All information may be subject to changes because JACDEC.de cannot always ensure a full support of information updates to each news story.
No publication (or part of) provided by at JACDEC.de may be reproduced or transmitted in any form or by any means or by any information retrieval system without written permission from JACDEC. The below information includes unofficial information and should be treated as this. Editors cannot be held responsible for any errors or omissions caused by any information source mentioned herein. The nature of the following information should be regarded as preliminary.
Furthermore, the author cannot be held accountable for correctness, completeness or quality of the information provided herein. Liability claims regarding damage caused by the use of any information provided, including any kind of information which is incomplete or incorrect,will therefore be rejected.
For further terms and conditions, check our legal disclaimer section:
http://www.jacdec.de/imprint-legal-disclaimer/ 
AP = Airport / AL = Airlines / Avn = Aviation / AW = Airways / C/N: Construction Number / DSP = Domestic Scheduled Passenger / DNP = Domestic Non-Scheduled Passenger / DSC = Domestic Scheduled Cargo / DNC= Domestic Non-Scheduled Cargo / GND = On the ground / parked, stored / FMN= Flying Mission, Air Work / FRY = Ferry-, Positioning Flight / IMC = Intrument Meteorological (flying) Conditions / ISP = International Scheduled Passenger / ISC=International Scheduled Cargo / INP = International Non-Scheduled Passenger / INC =International Non-Scheduled Cargo/ OPS = Flight Operation(s) / NRV = Non-revenue, Private Flight / TRN =Training Flight /  TST = Test & Certification Flight / VMC = Visual Meteorological (flying) Conditions