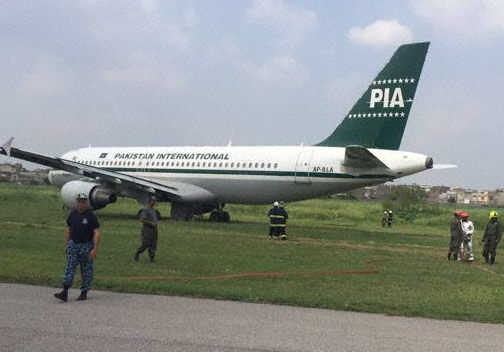 2016-08-08 PIA Airbus A320 off runway at Islamabad due engine failure
On landing the aircraft veered off the side of the runway coming to rest entirely on the grass. All on board remained unhurt in the event.
PIA flight 451 departed runway 30 at Islamabad when about 10 minutes after take-off, the pilots discontinued their climb at 15000 ft. and told air traffic control they had to return to the airport because of a technical issue.
The pilots stated their experienced power loss in a hydraulic system and entered a holding pattern to work the appropriate checklists.
The Airbus A320 (uniquely painted in a special "retro" color scheme) flew back to land at Islamabad on runway 30.
The aircraft landed normally but during the deceleration phase the pilots apparently lost steering control and drifted off to the right of the runway until all tires came to a stop on the grass about 20 meters beneath paved ground.
Runway 12 / 30 at Islamabad is 3295 x 46 m (10809 x 150 ft.) in lengh.
All passengers left the A320 on the spot via mobile airstairs. Nobody was injured. Damage to the aircraft is to be assessed.
Post incident inspection found significant internal damage to an engine. Many fan blades were broken and the inner casing showed many gashes apparently from energetic impact of engien fragments. The maingear doors were hanging down on landing due to a lack of hydraulic power.
A photo released by AviationHerald showed what appers to be small remains of a bird.
METAR Islamabad intl Airport OPRN):
| | | |
| --- | --- | --- |
| | 08/08/2016 13:30-> | OPRN 080830Z 13006KT 9999 SCT040 33/25 Q1005.6/29.70 |
| | 08/08/2016 14:00-> | OPRN 080900Z 13008KT 7000 SCT040 34/25 Q1004.6/29.67 |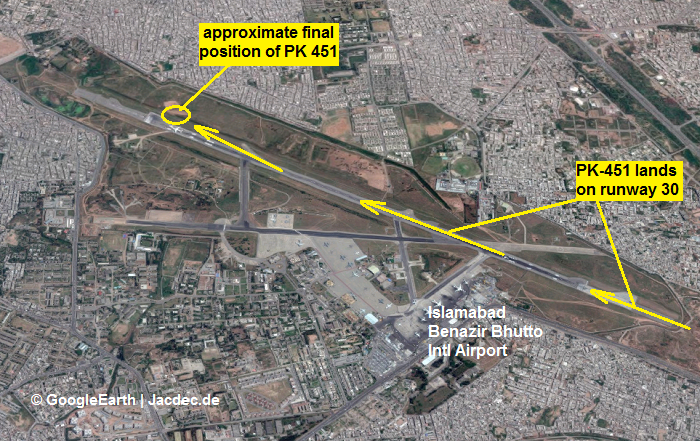 Flightpath (provided by Flightradar24)

Final flightpath of AP-BLA flight PK 4512 © Flightradar24.com
Tweet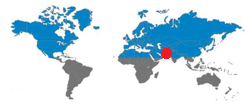 Aircraft
Type: Airbus A320
Registration: AP-BLA
Age a/c: 9.5 years
Constr. No.: 3031
| | | | | |
| --- | --- | --- | --- | --- |
| | Crew | Pax | Other | Total |
| Occupants | – | – | 0 | – |
| Fatalities | 0 | 0 | 0 | 0 |
| Injuries |  0 | 0 | 0 | 0 |
OCCURENCE DATASET
Date: 2016-08-08 Time: 13:35
Location: OPRN ISB Islamabad Chaklala
Country: Pakistan
Flight phase: LDG – Flare, Landing Roll, Aborted Landing after Touchdown
Damage to a/c: minor
Flight
Flight no.: PK 451
From: OPRN/ISB: Islamabad Chaklala To: OPSD/KDU: Skardu
Type: Passenger
Operator: PIA – Pakistan International Airlines
JACDEC 25-year Statistics :
68th safety occurence for the operator
519th safety occurence of type (A320)
8th safety occurence at Islamabad Intl Airport
1st safety occurence for aircraft in question
Image & Information Sources
Copyright - Terms of Usage
All written and shown content on JACDEC.de is provided in the most accurate way. All information may be subject to changes because JACDEC.de cannot always ensure a full support of information updates to each news story.
No publication (or part of) provided by at JACDEC.de may be reproduced or transmitted in any form or by any means or by any information retrieval system without written permission from JACDEC. The below information includes unofficial information and should be treated as this. Editors cannot be held responsible for any errors or omissions caused by any information source mentioned herein. The nature of the following information should be regarded as preliminary.
Furthermore, the author cannot be held accountable for correctness, completeness or quality of the information provided herein. Liability claims regarding damage caused by the use of any information provided, including any kind of information which is incomplete or incorrect,will therefore be rejected.
For further terms and conditions, check our legal disclaimer section:
http://www.jacdec.de/imprint-legal-disclaimer/ 
AP = Airport / AL = Airlines / Avn = Aviation / AW = Airways / C/N: Construction Number / DSP = Domestic Scheduled Passenger / DNP = Domestic Non-Scheduled Passenger / DSC = Domestic Scheduled Cargo / DNC= Domestic Non-Scheduled Cargo / GND = On the ground / parked, stored / FMN= Flying Mission, Air Work / FRY = Ferry-, Positioning Flight / IMC = Intrument Meteorological (flying) Conditions / ISP = International Scheduled Passenger / ISC=International Scheduled Cargo / INP = International Non-Scheduled Passenger / INC =International Non-Scheduled Cargo/ OPS = Flight Operation(s) / NRV = Non-revenue, Private Flight / TRN =Training Flight /  TST = Test & Certification Flight / VMC = Visual Meteorological (flying) Conditions