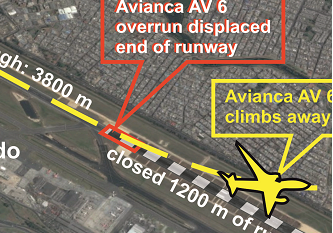 2016-07-13 Avianca Airbus A330 took off beyond the end of the runway at Bogota
On take-off run at Bogota, the Airbus overran the displaced end of the runway before getting airborne. The flight was continued without further incident.
Whilst taking of from runway 31L at Bogota-El Dorado Intl Airport, the Airbus A330 rolled beyond the end of the runway until it became airborne within a  portion of the runway that was closed for runway maintenance reasons. According to a preliminary report of colombian authorities, the pilots commenced rotation after passing the displaced runway edge. Flight AV6 however, managed to climb away without hitting any obsctacles and made a safe landing at its destination about 3 hours later.
No person on bord or on the ground was injured. One of the runway edge lights was destroyed in the incident.
At the time there was a supplemental Aeronautical Information Publication (AIP) in effect. According to the AIP the available lengh of runway 13L / 31R was substantially reduced by 1100 meters from 3800 to 2700 meters from JUN 18th until JUL 15th. The closure affected the southestern part of the runway between taxiway "Juliet" and taxiway "Alpha".
Colombia's authorities stated there was a NOTAM was in effect advising flight crew of work in progress on the runway reducing the available runway length to 2600 meters (8530 feet).
In investigation into this serious incident has been launched by colombian authorities.
On Saturday JUL 16th, the runway was re-opened at full lengh again.
METAR Bogota Airport (SKBO):
13/07/2016 08:00->

METAR SKBO 131300Z 02005KT 9999 SCT020 SCT080 14/10 A3037=

13/07/2016 09:00->

METAR SKBO 131400Z 15004KT 9999 VCSH SCT020 SCT080 15/07
           A3037=
1100 meters of runway 13/31 were closed. at the time of the incident (shown below in red square)

OCCURENCE DATASET
Date: 2016-07-13 Time: 08:27
Location: SKBO BOG Bogota-El Dorado Intl Airport
Country: Colombia
Flight phase: TOF – Take-off, Rejected Take-off
Damage to a/c: none
Flight
Flight no.: AV 6
From: SKBO/BOG: Bogota-El Dorado Intl Airport To: KMIA/MIA: Miami Intl
Type: Passenger
Operator: Avianca Colombia
Tweet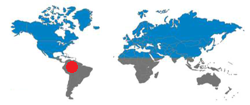 | | | | | |
| --- | --- | --- | --- | --- |
| | Crew | Pax | Other | Total |
| Occupants | | | 0 | |
| Fatalities | 0 | 0 | 0 | 0 |
| Injuries |  0 | 0 | 0 | 0 |
JACDEC 25-year Statistics :
21th safety occurence for the operator
194th safety occurence of type (A330)
28th Safety occurence at Bogota Airport
2nd safety occurence for aircraft in question
– 2016-06-05 dozen injured by turbulence
Image & Information Sources
Copyright - Terms of Usage
All written and shown content on JACDEC.de is provided in the most accurate way. All information may be subject to changes because JACDEC.de cannot always ensure a full support of information updates to each news story.
No publication (or part of) provided by at JACDEC.de may be reproduced or transmitted in any form or by any means or by any information retrieval system without written permission from JACDEC. The below information includes unofficial information and should be treated as this. Editors cannot be held responsible for any errors or omissions caused by any information source mentioned herein. The nature of the following information should be regarded as preliminary.
Furthermore, the author cannot be held accountable for correctness, completeness or quality of the information provided herein. Liability claims regarding damage caused by the use of any information provided, including any kind of information which is incomplete or incorrect,will therefore be rejected.
For further terms and conditions, check our legal disclaimer section:
http://www.jacdec.de/imprint-legal-disclaimer/ 
AP = Airport / AL = Airlines / Avn = Aviation / AW = Airways / C/N: Construction Number / DSP = Domestic Scheduled Passenger / DNP = Domestic Non-Scheduled Passenger / DSC = Domestic Scheduled Cargo / DNC= Domestic Non-Scheduled Cargo / GND = On the ground / parked, stored / FMN= Flying Mission, Air Work / FRY = Ferry-, Positioning Flight / IMC = Intrument Meteorological (flying) Conditions / ISP = International Scheduled Passenger / ISC=International Scheduled Cargo / INP = International Non-Scheduled Passenger / INC =International Non-Scheduled Cargo/ OPS = Flight Operation(s) / NRV = Non-revenue, Private Flight / TRN =Training Flight /  TST = Test & Certification Flight / VMC = Visual Meteorological (flying) Conditions