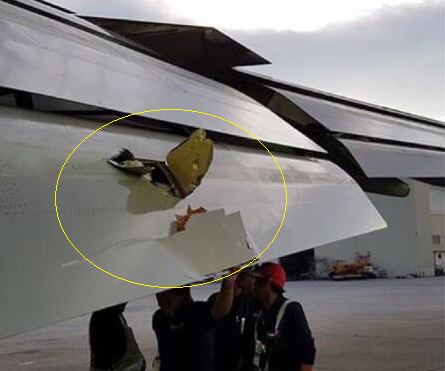 2016-07-18 Eva Air Boeing 747 damaged by asphalt fragments at Manila
The 747 sustained damage when it was hit by loosened asphalt after during taxi at Manila. All on board remained unhurt.
Flight BR 271 from Taipeh, landed on runway 24 at Ninoy Aquino intl Airport, Manila without any problem. After deceleration, it rolled into highspeed txiway "Romeo 3" and vacated to the right as instructed by ATC.
Whilst preoceeding on taxiway "Romeo 3", a large portion of asphalt (1,5 x 9 meters) suddenly broke-up and large parts were blown against the underside of the left wing by engine jetwash.
The inboard flap section was badly hit by the debris and two hand sized holes were the result.
The 747 continued to taxi to the terminal and to its parking stand where the damage was discovered.
The NAIA Airport authority closed the runway for all traffic untill the next day causing lots of diversions and delayed flight.
Upon vacating the runway via a high speed exit R3 the taxiway's asphalt surface broke up and asphalt debris punctured the right hand flaps of the aircraft. The aircraft taxied to the apron where the damage to the right hand wing was discovered.
Both taxiway "R3" and runway 06/24 were closed for checks and repair for 1 day. Unconfirmed reports indicate that poorly mixed asphalt reduced the strengh to such a degree that it could not withstand the load of heavy aircraft.
Related NOTAM:
B2488/16 – TWY R3 LTD TO CODE C AND BELOW CAT ACFT. 18 JUL 04:52 2016 UNTIL 01 AUG 23:00 2016. CREATED: 18 JUL 04:53 2016
METAR Manila Intl Airport (RPLL):
18/07/2016 11:00->

METAR RPLL 180300Z 09006KT 030V180 9999 FEW025 BKN300 33/19
           Q1010 NOSIG RMK A2988=

18/07/2016 12:00->

METAR RPLL 180400Z 13005KT 060V200 9999 FEW025 BKN300 34/20
           Q1009 NOSIG RMK A2980=
OCCURENCE DATASET
Date: 2016-07-18 Time: 18:20
Location: RPLL MNL Manila-Ninoy Aquino Intl Airport
Country: Philippines
Flight phase: TXI – Taxi, Power Back
Damage to a/c: substantial
Flight
Flight no.: BR 271
From: RCTP/TPE: Taipei-Taoyuan intl Airport To: RPLL/MNL: Manila-Ninoy Aquino Intl Airport
Type: Passenger
Operator: EVA Air
Map (provided by Jeppeson | JeppView)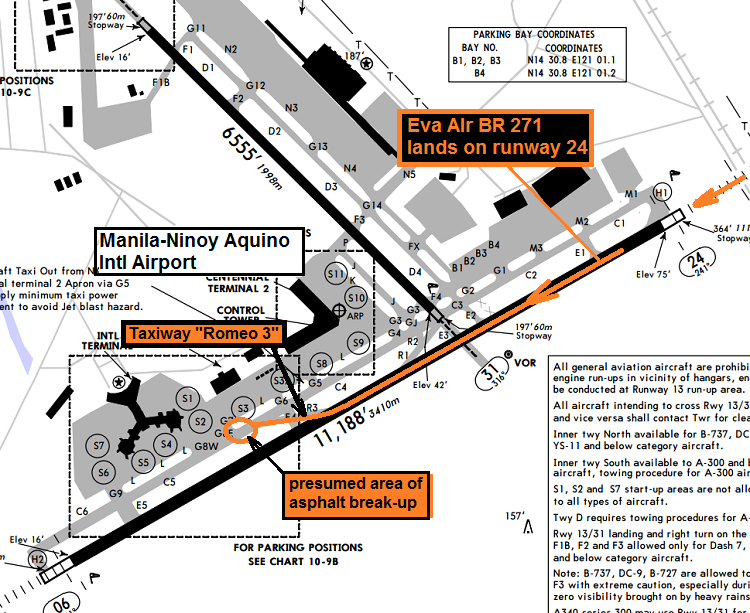 Tweet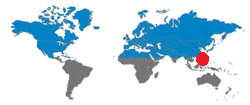 Aircraft
Type: Boeing 747-400
Registration: B-16410
Age a/c: 18,5 years
Constr. No.: 29061
| | | | | |
| --- | --- | --- | --- | --- |
| | Crew | Pax | Other | Total |
| Occupants | | | 0 | |
| Fatalities | 0 | 0 | 0 | 0 |
| Injuries |  0 | 0 | 0 | 0 |
JACDEC 25-year Statistics :
21sth safety occurence for the operator
234th safety occurence of type (B747-400)
28th safety occurence at Manila Intl Airport
3rd safety occurence for aircraft in question
– 2008-02-23 fire in cabin seat at Bangkok
– 2010-09-02 veered of runway at Taipei
Image & Information Sources
Copyright - Terms of Usage
All written and shown content on JACDEC.de is provided in the most accurate way. All information may be subject to changes because JACDEC.de cannot always ensure a full support of information updates to each news story.
No publication (or part of) provided by at JACDEC.de may be reproduced or transmitted in any form or by any means or by any information retrieval system without written permission from JACDEC. The below information includes unofficial information and should be treated as this. Editors cannot be held responsible for any errors or omissions caused by any information source mentioned herein. The nature of the following information should be regarded as preliminary.
Furthermore, the author cannot be held accountable for correctness, completeness or quality of the information provided herein. Liability claims regarding damage caused by the use of any information provided, including any kind of information which is incomplete or incorrect,will therefore be rejected.
For further terms and conditions, check our legal disclaimer section:
http://www.jacdec.de/imprint-legal-disclaimer/ 
AP = Airport / AL = Airlines / Avn = Aviation / AW = Airways / C/N: Construction Number / DSP = Domestic Scheduled Passenger / DNP = Domestic Non-Scheduled Passenger / DSC = Domestic Scheduled Cargo / DNC= Domestic Non-Scheduled Cargo / GND = On the ground / parked, stored / FMN= Flying Mission, Air Work / FRY = Ferry-, Positioning Flight / IMC = Intrument Meteorological (flying) Conditions / ISP = International Scheduled Passenger / ISC=International Scheduled Cargo / INP = International Non-Scheduled Passenger / INC =International Non-Scheduled Cargo/ OPS = Flight Operation(s) / NRV = Non-revenue, Private Flight / TRN =Training Flight /  TST = Test & Certification Flight / VMC = Visual Meteorological (flying) Conditions