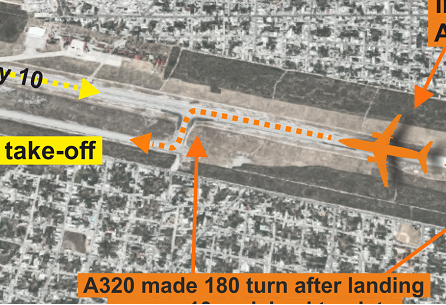 2016-07-13 Aeromexico + Interjet runway incursion at Merida
The Aeromexico 737 was forced to slam on the brakes to avoid a collision with a Interjet A320 on the runway at Merida. A collision was averted.
Interjet flight Aeromexico flight 4O 2526 from Mexico City just landed on runway 10 at  Lic manuel Crescencio Rejon International Airport, near Merida, Mexico.  Because of a lack of taxiway support, the A320 was instructed to make a turnaround at the end of the runway and to backtrack runway 28 for about 1400 Meters to vacate the runway via the next available taxiway "Bravo" to the left.
At the same time Aeromexico flight AM 421 to Mexico City was cleared for line-up on the same runway.
For reasons yet to be investigated, the air traffic controller likely gave a clearance to the Boeing 737, that supposedly was a take-off clearance despite the Airbus A320 was still on the runway.
The Aeromexico pilots acknowledged and began their take-off run until the pilots realized there was another aircraft on ahead of them.
The take-off was intantly aborted and the pilots braked heavily to avoid a collision. No collision occured.
The the time of the occurence it were daylight conditions and local weather consisted of sufficient visibility to see all parts of any runway from the control tower.
Merida's main runway 10 / 28 is 3200 m (10498 ft) in lengh.
The serious incident is undr investigation by mexican authorities.
METAR Merida Airport (MMMD):
13/07/2016 09:46->

METAR MMMD 131446Z 12012KT 8SM FEW025 SCT150 27/24 A2998
           RMK 8/530 RTS=

13/07/2016 10:48->

METAR MMMD 131548Z 13012KT 7SM BKN015 OVC300 32/25 A3007
           RMK 8/107 HZY MDT CU=
OCCURENCE DATASET
Date:
2016-07-13
Time:
10:32
Location:
MMMD MID Merida
Country:
Mexico
Flight phase:
TXI – Taxi, Power Back
Damage to a/c:
none
Flight1
Flight no.: AM 421
From: MMMD/MID: Merida To: MMMX/MEX: Mexico City-Benito Juárez
Type: Passenger
Operator: Aeromexico
Flight2
Flight no.: 4O 2526
From: MMMX/MEX: Mexico City-Benito Juárez To: MMMD/MID: Merida
Type: Passenger
Operator: Interjet
Tweet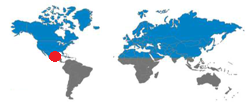 Aircraft1
Type: Boeing 737-700
Registration: EI-DRD
Age a/c: 9,6 years
Constr. No.: 35117
Aircraft2
Type: Airbus A320
Registration: XA-MTY
Age a/c: 16,4 years
Constr. No.: 1179
| | | | | |
| --- | --- | --- | --- | --- |
| | Crew | Pax | Other | Total |
| Occupants | | | 0 | |
| Fatalities | 0 | 0 | 0 | 0 |
| Injuries |  0 | 0 | 0 | 0 |
JACDEC 25-year Statistics :
3rd safety occurence for the operator (Interjet)
17th safety occurence for the operator (Aeromexico)
509th safety occurence of type (A320)
98th safety occurence of type (B737-700)
3rd safety occurence at Merida Airport
1st safety occurence for aircraft in question(XA-MTY)
1st safety occurence for aircraft in question(EI-DRD)
Image & Information Sources
Copyright - Terms of Usage
All written and shown content on JACDEC.de is provided in the most accurate way. All information may be subject to changes because JACDEC.de cannot always ensure a full support of information updates to each news story.
No publication (or part of) provided by at JACDEC.de may be reproduced or transmitted in any form or by any means or by any information retrieval system without written permission from JACDEC. The below information includes unofficial information and should be treated as this. Editors cannot be held responsible for any errors or omissions caused by any information source mentioned herein. The nature of the following information should be regarded as preliminary.
Furthermore, the author cannot be held accountable for correctness, completeness or quality of the information provided herein. Liability claims regarding damage caused by the use of any information provided, including any kind of information which is incomplete or incorrect,will therefore be rejected.
For further terms and conditions, check our legal disclaimer section:
http://www.jacdec.de/imprint-legal-disclaimer/ 
AP = Airport / AL = Airlines / Avn = Aviation / AW = Airways / C/N: Construction Number / DSP = Domestic Scheduled Passenger / DNP = Domestic Non-Scheduled Passenger / DSC = Domestic Scheduled Cargo / DNC= Domestic Non-Scheduled Cargo / GND = On the ground / parked, stored / FMN= Flying Mission, Air Work / FRY = Ferry-, Positioning Flight / IMC = Intrument Meteorological (flying) Conditions / ISP = International Scheduled Passenger / ISC=International Scheduled Cargo / INP = International Non-Scheduled Passenger / INC =International Non-Scheduled Cargo/ OPS = Flight Operation(s) / NRV = Non-revenue, Private Flight / TRN =Training Flight /  TST = Test & Certification Flight / VMC = Visual Meteorological (flying) Conditions