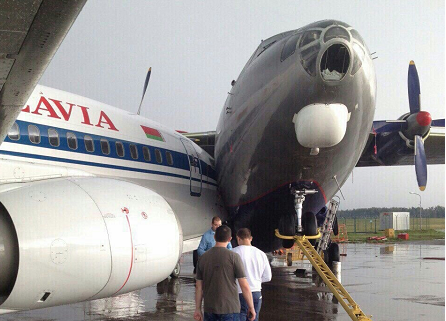 2016-07-13 Belavia 737 and RubyStar AN-12 ground collision at Minsk
Both aircraft were seriously damaged in a ground collsion at Minsk 2 Airport, Belarus. At the time there was a massive storm causing lots of damage in the Minsk area.
UPDATE 2016-07-14
In the early afternoon hours severe weather approached the city of Minsk and its airport bringing torrential rainfall and stormy winds to the Belarus Capital.
Violent gusts caught a number of parked aircraft causing some of them to losse their stand and getting swept around by wind forces.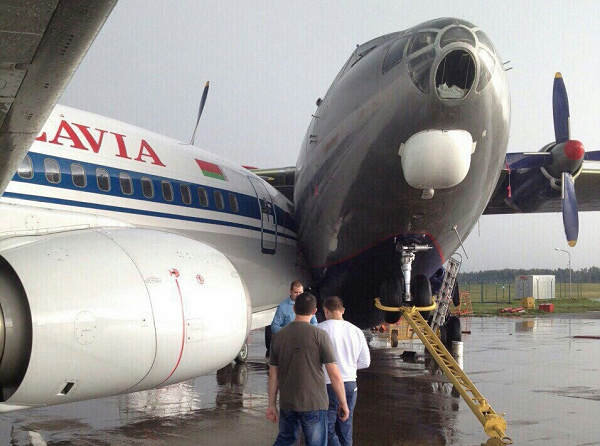 Among them were the empty Boeing 737 of Belavia whch collided with the Antonov AN-12. Both aircraft received substantial damage. Some lighter aircraft were also damaged, a small helicopter was overturned and probably damaged beyond repair.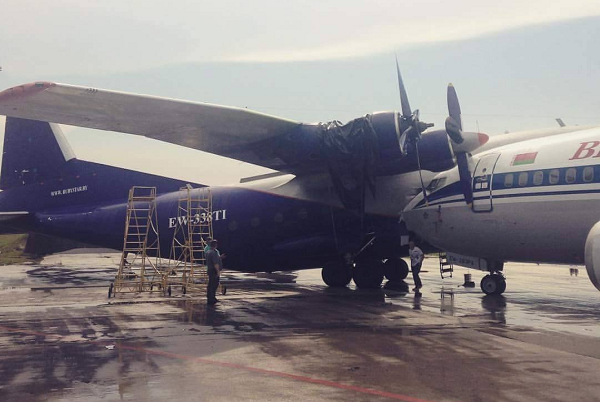 The severe weather period lasts from 14:50L until 16:20L. The streets in the City of Minsk were flooded and many housetops were damaged or destroyed.
A total of eight aircraft were damaged in the storm. Five of them received minor damage. 
Severe Weather development near Minsk
METAR Minsk2 Airport (UMMS):
13/07/2016 15:27->

SPECI UMMS 131227Z 13009G22MPS 0100 R31/0250 +TSRA VV001
           27/20 Q1005 R31/290060 NOSIG=

13/07/2016 15:38->

SPECI UMMS 131238Z 31014G25MPS 250V360 0350 R31/0400 +TSRA
           BKN013CB 20/19 Q1006 R31/290060 NOSIG=
OCCURENCE DATASET
Date: 2016-07-13 Time: ~15:30
Location: UMMS MSQ Minsk Intl. 2
Country: Belarus
Flight phase: STD – Standing with Engine(s) not Operating
Damage to a/c: substantial
Flight1
Flight no.:
From: 0000/: NONE To: 0000/: NONE
Type: Ground
Operator: Belavia
Flight2
Flight no.:
From: 0000/: NONE To: 0000/: NONE
Type: Ground
Operator: Rubystar
Tweet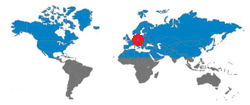 Aircraft1
Type: Boeing 737-300
Registration: EW-283PA
Age a/c: 20,3 years
Constr. No.: 1996-04-05
Aircraft2
Type: Antonov An-12
Registration: EW-338TI
Age a/c: 54,9 years
Constr. No.: 1340106
| | | | | |
| --- | --- | --- | --- | --- |
| | Crew | Pax | Other | Total |
| Occupants | | | 0 | |
| Fatalities | 0 | 0 | 0 | 0 |
| Injuries |  0 | 0 | 0 | 0 |
JACDEC 25-year Statistics :
6th safety occurence for the operator(Belavia)
1st safety occurence for the operator(RubyStar)
2101sth safety occurence of type (B737-300)
158th safety occurence of type (AN-12)
1st safety occurence at Minsk 2 Airport
1st safety occurence for aircraft in question(EW-283PA)
1st safety occurence for aircraft in question(EW-338TI)
Photo Series: Minsk after the storm

© UDF.by| YouTube
Image & Information Sources
Copyright - Terms of Usage
All written and shown content on JACDEC.de is provided in the most accurate way. All information may be subject to changes because JACDEC.de cannot always ensure a full support of information updates to each news story.
No publication (or part of) provided by at JACDEC.de may be reproduced or transmitted in any form or by any means or by any information retrieval system without written permission from JACDEC. The below information includes unofficial information and should be treated as this. Editors cannot be held responsible for any errors or omissions caused by any information source mentioned herein. The nature of the following information should be regarded as preliminary.
Furthermore, the author cannot be held accountable for correctness, completeness or quality of the information provided herein. Liability claims regarding damage caused by the use of any information provided, including any kind of information which is incomplete or incorrect,will therefore be rejected.
For further terms and conditions, check our legal disclaimer section:
http://www.jacdec.de/imprint-legal-disclaimer/ 
AP = Airport / AL = Airlines / Avn = Aviation / AW = Airways / C/N: Construction Number / DSP = Domestic Scheduled Passenger / DNP = Domestic Non-Scheduled Passenger / DSC = Domestic Scheduled Cargo / DNC= Domestic Non-Scheduled Cargo / GND = On the ground / parked, stored / FMN= Flying Mission, Air Work / FRY = Ferry-, Positioning Flight / IMC = Intrument Meteorological (flying) Conditions / ISP = International Scheduled Passenger / ISC=International Scheduled Cargo / INP = International Non-Scheduled Passenger / INC =International Non-Scheduled Cargo/ OPS = Flight Operation(s) / NRV = Non-revenue, Private Flight / TRN =Training Flight /  TST = Test & Certification Flight / VMC = Visual Meteorological (flying) Conditions