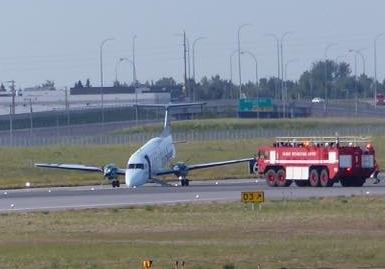 2016-07-12 Air Georgian Beech 1900 nosegear collapse at Calgary
The aircraft was damaged when its nosegear collapsed on landing. All on board remained unhurt.
The Beech 1900 departed Lethbridge in the morning at 05:33L on a scheduled regional commuter flight on behalf of Air Canada Express as flight AC 7212.
About 05:58L when the aircraft was descending below 10000 ft., the pilots redioed they experienced problems extending the nosegear.
A fly-by at low altitude to allow a visual inspection of the gear status confirmed the apprehensions when the nosegear was observed not fully down.
At about 07:05L the flight discontinued the holding and made an approach to runway 35R with airport fire service on standby.
The aircraft made a normal touchdown but as the nose was lowered, the nosegear gave way and dropped to the ground scraping the runway surface, trailing smoke until it came to a stop abeam taxyway "Delta 4".
All on board remained unhurt and were able to evacuate via the normal passenger exit.
Damage to the aircraft is expected to be significant.
NOTE: another Air Canada Exress Beech 1900 suffered nosegear collapse at Gander in April 2016 [LINK]
METAR Calgary Airport (CYYC):
12/07/2016 07:00->

METAR CYYC 121300Z 31008KT 30SM FEW025TCU SCT100 SCT210 BKN240
           15/08 A2987 RMK TCU1AC3CI1CS2 TCU TR CI TR SH
           SE+W / TCU E-SE SLP119 DENSITY ALT 4400FT=

12/07/2016 08:00->

METAR CYYC 121400Z 33012KT 30SM FEW100 SCT200 BKN300 15/09
           A2987 RMK ACC1CC2CI4 SLP125 DENSITY ALT 4500FT=
OCCURENCE DATASET
Date: 2016-07-12 Time: 07:20
Location: CYYC YYC Calgary
Country: Canada
Flight phase: APR – Initial Approach (IFR), Final Approach, all Circuit Patterns, Missed Approach/Go-Around
Damage to a/c: substantial
Flight
Flight no.: AS7212
From: CYQL/YQL: Lethbridge To: CYYC/YYC: Calgary
Type: Passenger
Operator: Air Georgian
Leased from: Air Canada Express
Tweet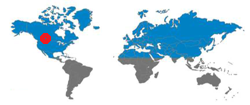 Aircraft
Type: Beech 1900
Registration: C-GORF
Age a/c: 17.8 years
Constr. No.: 330
| | | | | |
| --- | --- | --- | --- | --- |
| | Crew | Pax | Other | Total |
| Occupants |  – | – | 0 | 15 |
| Fatalities | 0 | 0 | 0 | 0 |
| Injuries |  0 | 0 | 0 | 0 |
JACDEC 25-year Statistics :
88th safety occurence for the operator
144th safety occurence of type (A319)
4th Safety occurence at Marseille Airport
1st safety occurence for aircraft in question
Image & Information Sources
Copyright - Terms of Usage
All written and shown content on JACDEC.de is provided in the most accurate way. All information may be subject to changes because JACDEC.de cannot always ensure a full support of information updates to each news story.
No publication (or part of) provided by at JACDEC.de may be reproduced or transmitted in any form or by any means or by any information retrieval system without written permission from JACDEC. The below information includes unofficial information and should be treated as this. Editors cannot be held responsible for any errors or omissions caused by any information source mentioned herein. The nature of the following information should be regarded as preliminary.
Furthermore, the author cannot be held accountable for correctness, completeness or quality of the information provided herein. Liability claims regarding damage caused by the use of any information provided, including any kind of information which is incomplete or incorrect,will therefore be rejected.
For further terms and conditions, check our legal disclaimer section:
http://www.jacdec.de/imprint-legal-disclaimer/ 
AP = Airport / AL = Airlines / Avn = Aviation / AW = Airways / C/N: Construction Number / DSP = Domestic Scheduled Passenger / DNP = Domestic Non-Scheduled Passenger / DSC = Domestic Scheduled Cargo / DNC= Domestic Non-Scheduled Cargo / GND = On the ground / parked, stored / FMN= Flying Mission, Air Work / FRY = Ferry-, Positioning Flight / IMC = Intrument Meteorological (flying) Conditions / ISP = International Scheduled Passenger / ISC=International Scheduled Cargo / INP = International Non-Scheduled Passenger / INC =International Non-Scheduled Cargo/ OPS = Flight Operation(s) / NRV = Non-revenue, Private Flight / TRN =Training Flight /  TST = Test & Certification Flight / VMC = Visual Meteorological (flying) Conditions