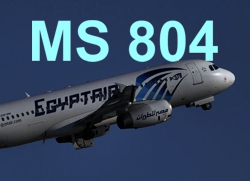 2016-05-19 EgyptAir Airbus A320 crashed in Mediterranean Sea
Whilst flying en-route over Mediterranean Sea the flight disappeared from radar and plunged into the ocean. The wreckage was reportedly found in the seabed on 2016-06-15.
UPDATED 2017-05-21
The Egyptian Civil Aviation Accident Authority issued another interim statement. [LINK]
There was progress in repairing and restoring data of the damaged Flight Data Recorder (FDR). A data-readout showed all datastreams ended abruptly at an altitude of 37,000 feet. The FDR data confirmed ACARS transmissions of smoke in the lavatory and the avionics bay.
The Cockpit Voice Recorder (CVR) picked up a corresponding conversation between a cockpit crewmember and the cabin in which the word "fire" was clearly audible.
---
Egypt Air Flight MS804 from Paris-Charles de Gaulle Airport, France to Cairo, Egypt was flying at 37.000 feet (FL 370) along upper air route UN132 to KUMBI fixpoint, when its transponder signal suddenly vanished at a position approximately 280 km (175 nm) off the egyptian coast.
No distress signal from the flight was picked up by any air traffic control installation.
All attempts by air traffic control (ATC ) to establish contact with the flight subsequently failed. The A320 never showed up at any available airport nor did it land at Cairo Airport, where its landing should have taken place at 03:10L.
The disappearance took place right in the moment of hand-over from Greece controlled airspace (Athens FIR) to egyptian controlled airspace (Cairo FIR).
A multinational search-and-rescue operation is underway. A number of cargo vessels joined to search for survivors or floating debris in the area. [Live-Marinetraffic]
All 66 on board are believed to have died. Among the crew, there was 3 security personnel on board.
Nationalities: 
15 French | 30 Egyptian | 1 British | 1 Belgium | 2 Iraqis | 1 Kuwaiti | 1 Saudi | 1 Sudanese | 1 Chadian | 1 Portuguese | 1 Algerian | 1 Canadian
MS 804 was the 5th flight of the day for aircraft in question. The 24h destination schedule was Eritrea – Cairo – Tunis – Cairo – Paris – Cairo (MS804).
EgyptAir released some crew information:
The pilot-in-command had logged a total of 6.275 flying hours 2.101 of them in the Airbus A320 series.
The co-pilot had logged 2.766 hours of total flying experience.
At the time it was dark but the weather was calm and skies were clear without any bad weather or turbulence warning.
Greek Military sources claimed to have tracked the final moments of MS 804. According to their statements, the Airbus A320 made a sharp turn to the left of about 90 degrees before it described a full circle to the right. MS 804 then lost altitude very rapidly until all radar returns went blank at an altitude of about 10.000 ft.
By 2016-05-24 this statement was contradicted by Egypt officials who denying the A320 made any heading changes in the final minute of flight.
At 15:00 floating debris was spotted in the presumptive crash area however there is no confirmation that any of it can be in fact attributed to flight MS 804.
On 2016-06-01 the Egyptian Naval Forces reported that French navy vessel "Laplace" has detected an underwater signal similar to that of the black box devices of MS 804. However there were no reports about the exact location of the signal.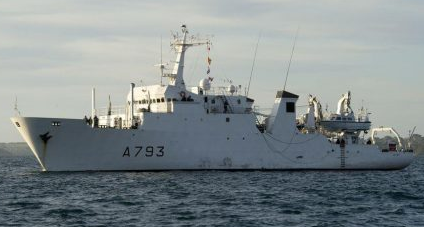 © Ministry of Defense, France
2016-06-16/-17 the crew of research vessel "John Lethbridge" was able to locate and retrieve the cockpit voice recorder /CVR) and the flight data recorder (FDR) from the main wreckage. Both devices were examined and sent to Cairo for further analysis.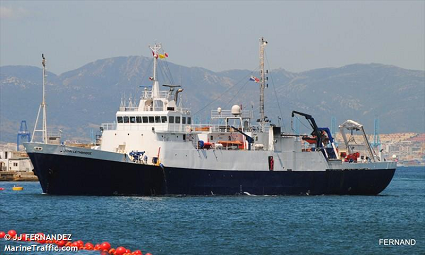 © JJ Fernandez | MarineTraffic.com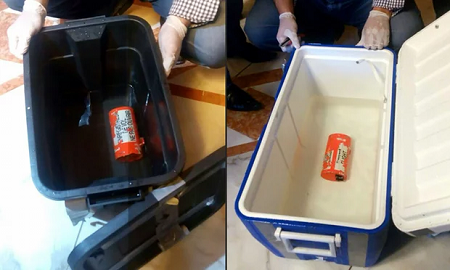 © HO | AFP | TheGuardian
2016-06-24 Egyptian investigators are struggling to extract any data from the Black Box devices because their hard drives were found in damaged conditions.  Finally, both recorders were sent to BEA in France were better equipment is available. French experts successfully repaired the FDR and CVR. Both recorders were sent back to Cairo for further analysis.
2016-06-29 Data evaluation of the digital flight data recorder (FDR) revealed the presence of thick smoke in a lavatory and in the avionics bay below the cockpit. A number of smoke sensors have triggered while flying en-route at 37000 ft. There were also signs of sooting on some parts of the recovered wreckage, Egyptian officials said. Egyptian investigator continue their efforts to collect all available information from the recording devices as well as from the wreckage and human remains.
-> Egypt CAA Media Statement (9): LINK (arab
---
---
2016-05-23 Egyptian Ministry of Civil Aviation objected media claims that flight MS 804 transmitted any distress messages before its disappearance at 02:29L.
Egypt CAA denied any reports the aircraft made any radio contact with Egyptian Air Traffic Control (ATC) after handed over from greek ATC near the KUMBI waypoint.
Egypt CAA Media Statement (8): LINK (arab)
Ocean Depth Chart of Eastern Mediterranean Sea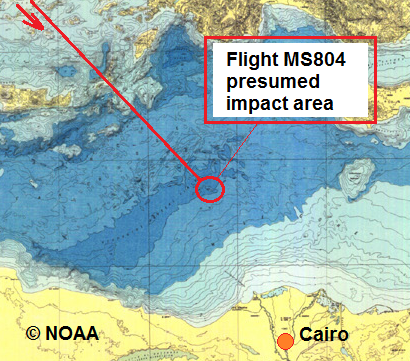 Search area of MS 804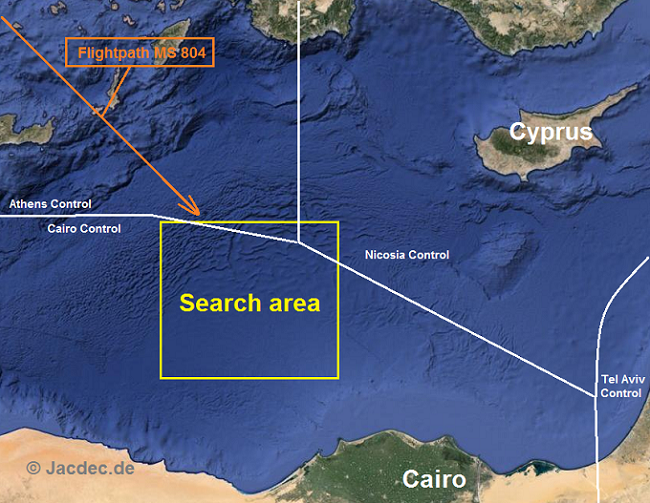 ---
On May 20th a number of automated ACARS (Aircraft Communications Addressing and Reporting System) messages were picked up by ground stations:
Time UTC
Message
00:26Z
00:26Z
00:26Z
00:27Z
00:28Z
00:29Z
00:29Z
–

3044 ANTI ICE R WINDOW
561200 R SLIDING WINDOW SENSOR
2600 SMOKE LAVATORY SMOKE
2600 AVIONICS SMOKE
561100 R FIXED WINDOW SENSOR
2200 AUTO FLT FCU 2 FAULT
2700 F/CTL SEC 3 FAULT
end of data

Some messages indicate the presence of smoke in the foreward lavatory and the avionics compartment underneath the cockpit. French investigating authority BEA confirmed the existance of the messages but did not draw any conclusions.
The original ACRAS document from an undisclosed source: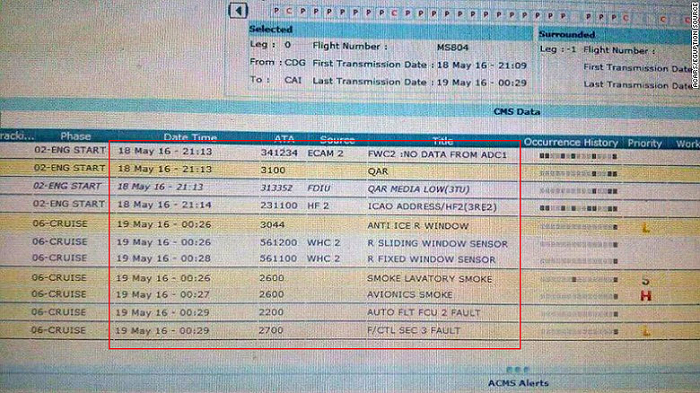 ---
---
2016-05-21  first images of recovered debris
(source: egyptian navy)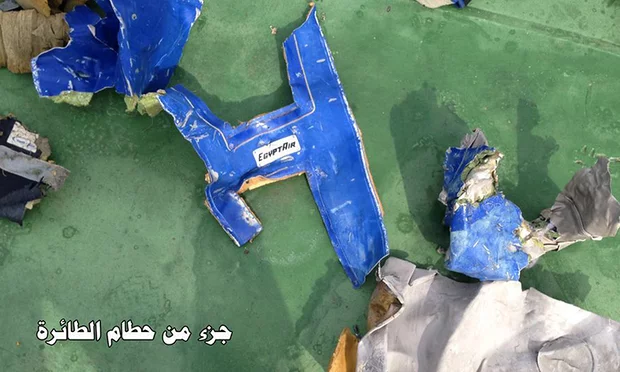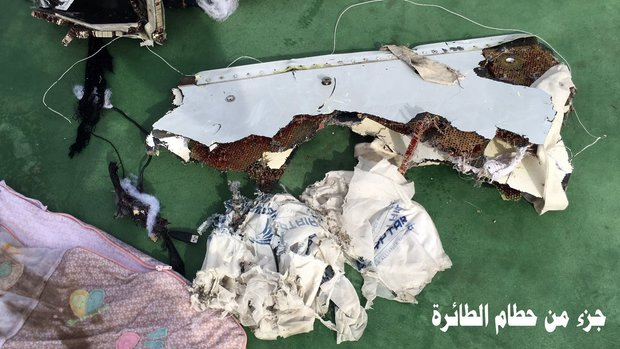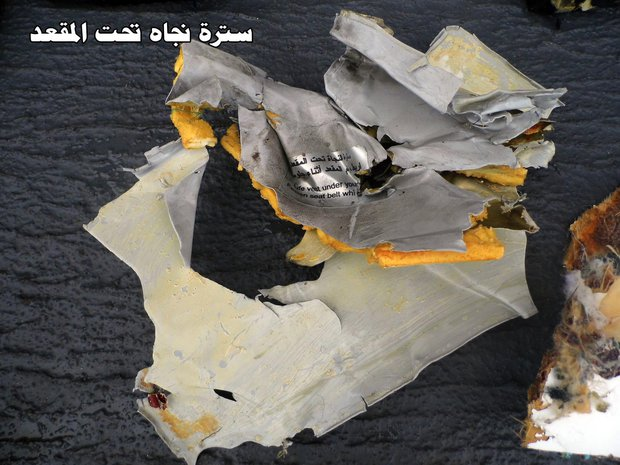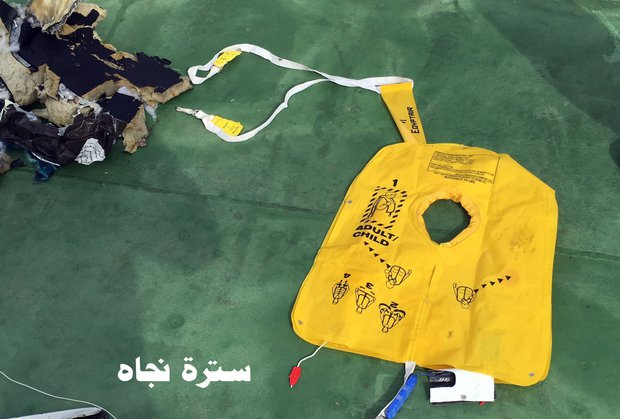 ---

EgyptAir Safety Analysis

OCCURENCE DATASET
Date: 2016-05-19 Time: 02:30
Location: over eastern Mediterranean Sea
Country: International
Flight phase: ENR – Cruise, Descent, Holding
Damage to a/c: hull loss
Flight
Flight no.: MS 804
From: LFPO/ORY: Paris-Orly Intl Airport To: HECA/CAI: Cairo
Type: Passenger
Operator: EgyptAir
Tweet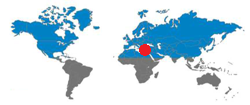 Aircraft
Type: Airbus A320
Registration: SU-GCC
Age a/c: 12,8 years
Constr. No.: 20884
JACDEC 25-year Statistics :
53rd safety occurence for the operator
491st safety occurence of type (A320)
3rd safety occurence over Mediterranean
1st safety occurence for aircraft in question
Image & Information Sources
Copyright - Terms of Usage
All written and shown content on JACDEC.de is provided in the most accurate way. All information may be subject to changes because JACDEC.de cannot always ensure a full support of information updates to each news story.
No publication (or part of) provided by at JACDEC.de may be reproduced or transmitted in any form or by any means or by any information retrieval system without written permission from JACDEC. The below information includes unofficial information and should be treated as this. Editors cannot be held responsible for any errors or omissions caused by any information source mentioned herein. The nature of the following information should be regarded as preliminary.
Furthermore, the author cannot be held accountable for correctness, completeness or quality of the information provided herein. Liability claims regarding damage caused by the use of any information provided, including any kind of information which is incomplete or incorrect,will therefore be rejected.
For further terms and conditions, check our legal disclaimer section:
http://www.jacdec.de/imprint-legal-disclaimer/ 
AP = Airport / AL = Airlines / Avn = Aviation / AW = Airways / C/N: Construction Number / DSP = Domestic Scheduled Passenger / DNP = Domestic Non-Scheduled Passenger / DSC = Domestic Scheduled Cargo / DNC= Domestic Non-Scheduled Cargo / GND = On the ground / parked, stored / FMN= Flying Mission, Air Work / FRY = Ferry-, Positioning Flight / IMC = Intrument Meteorological (flying) Conditions / ISP = International Scheduled Passenger / ISC=International Scheduled Cargo / INP = International Non-Scheduled Passenger / INC =International Non-Scheduled Cargo/ OPS = Flight Operation(s) / NRV = Non-revenue, Private Flight / TRN =Training Flight /  TST = Test & Certification Flight / VMC = Visual Meteorological (flying) Conditions