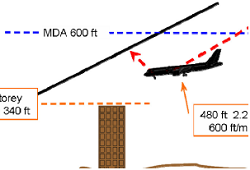 2016-02-27 IndiGo Airbus A320 below minimum height near Jaipur
When the A320 approached Jaipur when it descended below the approach path until an altitude alert prevent the flight from hitting a multi storey house. All on board remained safe.
IndiGo flight 6E 237 was on a Localizer DME (requires manual vertical guidance by pilot) approach to runway 27 at  Jaipur Airport in hazy conditions.
About a minute away from landing, an automatied warning from the EGPWS (Enhanced Ground Proximity Warning System) chimed indicating imminent risk of ground collision.
EGPWS: "Obstacle, Obstacle, Pull Up!"
At an altitude of 480 ft AGL (above ground level), the pilots initiated a go-around within two seconds after the alarm and climbed away safely. The aircraft circled for another approach where they made a safe landing.
Indian investigators of DGAC revealed the A320 missed a 340 ft. tall multi-storey building by only around 100 feet (30 Meters).
The reason for the premature descend to Jaipur and the continuation of the descent below the minimum descision altitude (MDA) of 600 feet was not officially reported.
However, it was concluded the pilots mistook the lines of streets lights as the pattern for the approach lights of runway 27.
This is incident is understood to be the first 'save' with the EGPWS 'obstacle' mode.
Both pilots have been grounded for the course of the investigation.
METAR Jaipur Airport (VIJP):
| | | |
| --- | --- | --- |
| | 27/02/2016 19:00-> | METAR VIJP 271330Z 00000KT 4000 HZ NSC 27/06 Q1018 NOSIG= |
| | 27/02/2016 20:00-> | METAR VIJP 271230Z VRB03KT 5000 HZ NSC 29/04 Q1018 NOSIG= |
OCCURENCE DATASET
Date: 2016-02-27 Time: 19:50
Location: VIJP JAI Jaipur
Country: India
Flight phase: APR – Initial Approach (IFR), Final Approach, all Circuit Patterns, Missed Approach/Go-Around
Damage to a/c: none
Flight
Flight no.: 6E 237
From: VAAH/AMD: Ahmedabad To: VIJP/JAI: Jaipur
Type: Passenger
Operator: IndiGo
ICAO | DGAC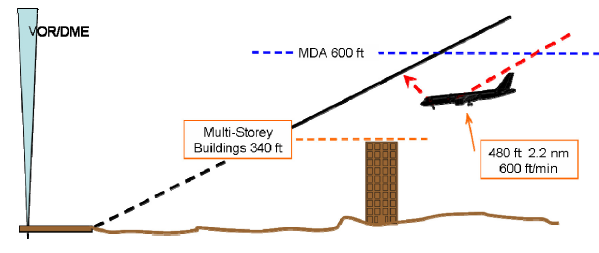 Approach simulation of 6E 237 on 2016-02-27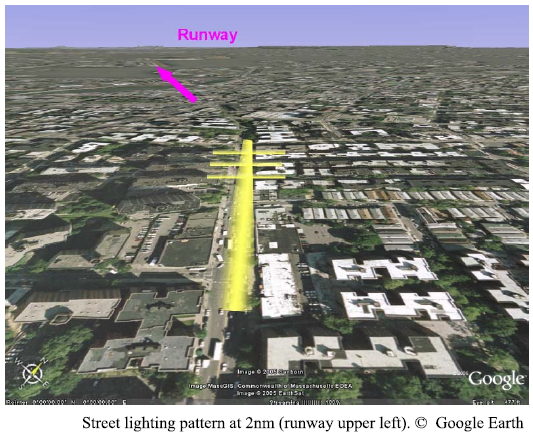 © ICAO (pdf)
Tweet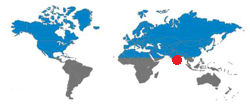 Aircraft
Type: Airbus A320
Registration: VT-IGK
Age a/c: 6,1 years
Constr. No.: 4216
| | | | | |
| --- | --- | --- | --- | --- |
| | Crew | Pax | Other | Total |
| Occupants | | | 0 | |
| Fatalities | 0 | 0 | 0 | 0 |
| Injuries |  0 | 0 | 0 | 0 |
JACDEC 25-year Statistics :
9th safety occurence for the operator
493th safety occurence of type (A320)
4th Safety occurence at Jaipur Airport
1st safety occurence for aircraft in question
Image & Information Sources
Copyright - Terms of Usage
All written and shown content on JACDEC.de is provided in the most accurate way. All information may be subject to changes because JACDEC.de cannot always ensure a full support of information updates to each news story.
No publication (or part of) provided by at JACDEC.de may be reproduced or transmitted in any form or by any means or by any information retrieval system without written permission from JACDEC. The below information includes unofficial information and should be treated as this. Editors cannot be held responsible for any errors or omissions caused by any information source mentioned herein. The nature of the following information should be regarded as preliminary.
Furthermore, the author cannot be held accountable for correctness, completeness or quality of the information provided herein. Liability claims regarding damage caused by the use of any information provided, including any kind of information which is incomplete or incorrect,will therefore be rejected.
For further terms and conditions, check our legal disclaimer section:
http://www.jacdec.de/imprint-legal-disclaimer/ 
AP = Airport / AL = Airlines / Avn = Aviation / AW = Airways / C/N: Construction Number / DSP = Domestic Scheduled Passenger / DNP = Domestic Non-Scheduled Passenger / DSC = Domestic Scheduled Cargo / DNC= Domestic Non-Scheduled Cargo / GND = On the ground / parked, stored / FMN= Flying Mission, Air Work / FRY = Ferry-, Positioning Flight / IMC = Intrument Meteorological (flying) Conditions / ISP = International Scheduled Passenger / ISC=International Scheduled Cargo / INP = International Non-Scheduled Passenger / INC =International Non-Scheduled Cargo/ OPS = Flight Operation(s) / NRV = Non-revenue, Private Flight / TRN =Training Flight /  TST = Test & Certification Flight / VMC = Visual Meteorological (flying) Conditions