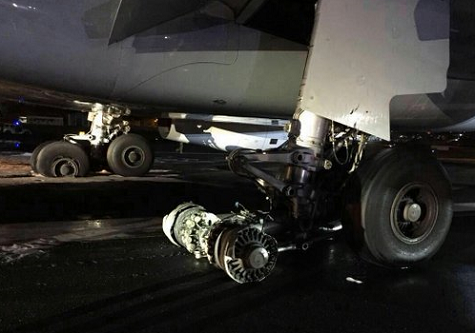 2016-05-13 Lufthansa Airbus A330-300 damaged on landing at Mumbai
The A330 was damaged when it suffered multiple tire bursts during landing at Mumbai Airport. All on board remained unhurt.
Lufthansa flight LH 764 from Munich landed runway 27 in darkness but in calm weather conditions.
During roll-out four of the eight maingear tires burst.
The Airbus A330 came to a standstill about 2 km down the runway in the vicinity of taxiway "November 6".
Both aft tires of the right maingear seperated from their rims.

© D Thakkar | Twitter
According to eye witnesses a small fire erupted from the undercarriage but flames were quickly put out by airport fire service teams who foamed the entire maingear.

© T Shukla | Twitter
There were no injuries among passengers and crewmembers. There was no emergency evacuation. Passengers deplaned via mobile airstairs .
Flights at Mumbai were disrupted for about 14 hours when four new tires were assembled to the aircraft so it could be towed off the runway.
More engine debris were found on the runway forcing airport authorities to close the runway for at least one hour until all debris was removed.
The incident is under investigation.
METAR Mumbai Intl Airport (VABB):
13/05/2016 23:00->

METAR VABB 131730Z 34005KT 3500 HZ SCT020 SCT025 30/26 Q1008
NOSIG=

13/05/2016 22:30->

METAR VABB 131700Z 31006KT 3500 HZ SCT020 SCT025 30/26 Q1007
NOSIG=
OCCURENCE DATASET
Date: 2016-11-13 Time: 22:53
Location: VABB BOM Mumbai-Intl Airport
Country: India
Flight phase: LDG – Flare, Landing Roll, Aborted Landing after Touchdown
Damage to a/c: minor
Flight
Flight no.: LH 764
From: EDDM/MUC: Munich International Airport To: VABB/BOM: Mumbai-Intl Airport
Type: Passenger
Operator: Lufthansa
Tweet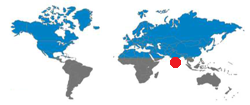 Aircraft
Type: Airbus A330-300
Registration: D-AIKR
Age a/c: 4,6 years
Constr. No.: 1314
| | | | | |
| --- | --- | --- | --- | --- |
| | Crew | Pax | Other | Total |
| Occupants |  – | 163 | 0 | – |
| Fatalities | 0 | 0 | 0 | 0 |
| Injuries |  0 | 0 | 0 | 0 |
JACDEC 25-year Statistics :
98h safety occurence for the operator
86th safety occurence of type (A330-300)
39th safety occurence at Mumbai Intl Airport
1st safety occurence for aircraft in question
Image & Information Sources
Copyright - Terms of Usage
All written and shown content on JACDEC.de is provided in the most accurate way. All information may be subject to changes because JACDEC.de cannot always ensure a full support of information updates to each news story.
No publication (or part of) provided by at JACDEC.de may be reproduced or transmitted in any form or by any means or by any information retrieval system without written permission from JACDEC. The below information includes unofficial information and should be treated as this. Editors cannot be held responsible for any errors or omissions caused by any information source mentioned herein. The nature of the following information should be regarded as preliminary.
Furthermore, the author cannot be held accountable for correctness, completeness or quality of the information provided herein. Liability claims regarding damage caused by the use of any information provided, including any kind of information which is incomplete or incorrect,will therefore be rejected.
For further terms and conditions, check our legal disclaimer section:
http://www.jacdec.de/imprint-legal-disclaimer/ 
AP = Airport / AL = Airlines / Avn = Aviation / AW = Airways / C/N: Construction Number / DSP = Domestic Scheduled Passenger / DNP = Domestic Non-Scheduled Passenger / DSC = Domestic Scheduled Cargo / DNC= Domestic Non-Scheduled Cargo / GND = On the ground / parked, stored / FMN= Flying Mission, Air Work / FRY = Ferry-, Positioning Flight / IMC = Intrument Meteorological (flying) Conditions / ISP = International Scheduled Passenger / ISC=International Scheduled Cargo / INP = International Non-Scheduled Passenger / INC =International Non-Scheduled Cargo/ OPS = Flight Operation(s) / NRV = Non-revenue, Private Flight / TRN =Training Flight /  TST = Test & Certification Flight / VMC = Visual Meteorological (flying) Conditions