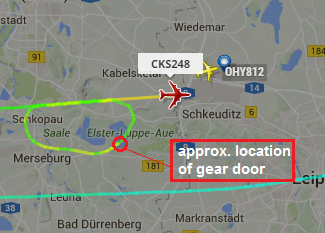 2016-05-07 Kalitta Air Boeing 747-400F lost gear door near Leipzig
During a missed-approach to Leipzig Airport, Germany, the aircraft lost a large part of its undercarriage. The flight was able to continue the approach and made a safe landing.
Kalitta Air flight CKS 248 was on approach to runway 08R(ight) at Leipzig-Schkeuditz International Airport in good weather conditions, when about one minute away from touchdown and flying on the extended centreline, the pilots suddenly initiated a circle to the right at low altitude.
It was at this time, ground observers who noticed the unusual flightpath saw a larger object fallen from the Boeing 747. That object impacted in the waters of Lake Rassnitz, about 5 km west of the airport.
The aircraft continued its full circle, re-established on the approach to runway 08R and made a normal landing there at 19:09L.
Alerted by local residents, a police helicopter was dispatched to the lake and the crew spotted the missing part in the shallow waters of the lake. The part was recovered and identified as the left gear door. (dimensions: 2 x 1 meter)
The 747 remained on the ground for the next 4 days.
METAR Leipzig Airport (EDDP):
| | | |
| --- | --- | --- |
| | 07/05/2016 19:20-> | METAR EDDP 071720Z 09013KT CAVOK 21/07 Q1014 NOSIG= |
| | 07/05/2016 18:50-> | METAR EDDP 071650Z 08014KT CAVOK 22/06 Q1014 NOSIG= |
OCCURENCE DATASETDate: 2016-05-07 Time: 19:05:00
Location: EDDP LEJ Leipzig Halle
Country: Germany
Flight phase: APR – Initial Approach (IFR), Final Approach, all Circuit Patterns, Missed Approach/Go-Around
Damage to a/c: minor
Flight
Flight no.: CKS 248
From: VIDP/DEL: Delhi Indira Gandhi To: EDDP/LEJ: Leipzig Halle
Type: Cargo
Operator: Kalitta Air
Flight progress KE 1275 (provided by Flightradar24)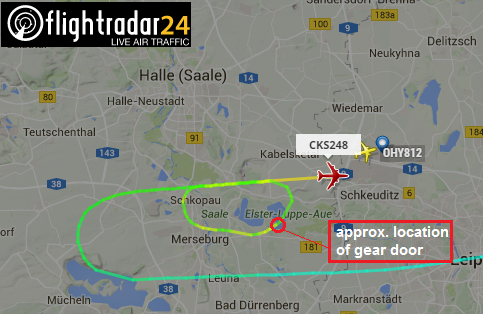 Tweet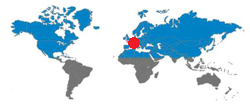 Aircraft
Type: Boeing 747-400F
Registration: N741CK
Age a/c: 26,6 years
Constr. No.: 24315
| | | | | |
| --- | --- | --- | --- | --- |
| | Crew | Pax | Other | Total |
| Occupants |  – | | 0 | – |
| Fatalities | 0 | 0 | 0 | 0 |
| Injuries |  0 | 0 | 0 | 0 |
JACDEC 25-year Statistics :
12th safety occurence for the operator
49th safety occurence of type (B747-400F)
5th safety occurence at Leipzig Intl Airport
1st safety occurence for aircraft in question
Image & Information Sources
Copyright - Terms of Usage
All written and shown content on JACDEC.de is provided in the most accurate way. All information may be subject to changes because JACDEC.de cannot always ensure a full support of information updates to each news story.
No publication (or part of) provided by at JACDEC.de may be reproduced or transmitted in any form or by any means or by any information retrieval system without written permission from JACDEC. The below information includes unofficial information and should be treated as this. Editors cannot be held responsible for any errors or omissions caused by any information source mentioned herein. The nature of the following information should be regarded as preliminary.
Furthermore, the author cannot be held accountable for correctness, completeness or quality of the information provided herein. Liability claims regarding damage caused by the use of any information provided, including any kind of information which is incomplete or incorrect,will therefore be rejected.
For further terms and conditions, check our legal disclaimer section:
http://www.jacdec.de/imprint-legal-disclaimer/ 
AP = Airport / AL = Airlines / Avn = Aviation / AW = Airways / C/N: Construction Number / DSP = Domestic Scheduled Passenger / DNP = Domestic Non-Scheduled Passenger / DSC = Domestic Scheduled Cargo / DNC= Domestic Non-Scheduled Cargo / GND = On the ground / parked, stored / FMN= Flying Mission, Air Work / FRY = Ferry-, Positioning Flight / IMC = Intrument Meteorological (flying) Conditions / ISP = International Scheduled Passenger / ISC=International Scheduled Cargo / INP = International Non-Scheduled Passenger / INC =International Non-Scheduled Cargo/ OPS = Flight Operation(s) / NRV = Non-revenue, Private Flight / TRN =Training Flight /  TST = Test & Certification Flight / VMC = Visual Meteorological (flying) Conditions