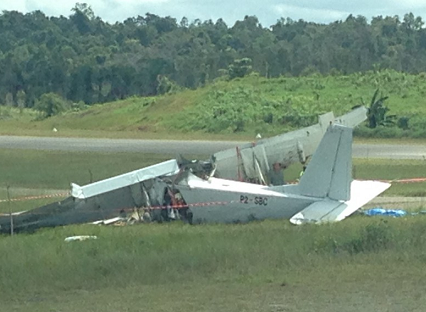 2016-04-13 Sunbird BN-2A Islander crashed near Kiunga, PNG
The aircraft lost height and crashed on approach to Kiunga Airport, Papua New Guinea killing all eleven people on board.
UPDATE 2016-07-01
The BN-2A Islander aircraft took off from Oksapmin to Kiunga (80 nautical miles) at 13:56L when it developed engine trouble during the final stage of the flight.
According to local media reports, the Australian pilot transmitted a distress message indicating engine failure when on approach.
The pilot was unable to maintain sufficient altitude until the Islander struck trees and impacted swampy ground about 1.200 meters short of runway 07 at Kiunga.
There were no survivors. The occupants found alive but died later in hospital.
The PNG Accident Investigation Commission has launched an investigation.
NOTE: The accident aircraft was previously involved in another mishap on 2014-04-23 when it hit an embankment on landing excursion at Kikori. [Link to Accident Report]
METAR Kiunga Airport (AYKI):
| | | |
| --- | --- | --- |
| | 13/04/2016 12:00-> | not avialable |
| | | |
OCCURENCE DATASET
Date: 2016-04-13 Time: 14:30
Location: AYKI UNG Kiunga area
Country: Papua New Guinea
Flight phase: APR – Initial Approach (IFR), Final Approach, all Circuit Patterns, Missed Approach/Go-Around
Damage to a/c: hull loss
Flight
Flight no.: –
From: AYTN/TKW: Tekin Airport To: AYKI/UNG: Kiunga
Type: Passenger
Operator: Sunbird Aviation
Location of the wreckage in relation to the runway
Tweet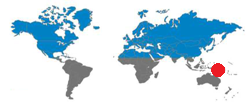 ©
Aircraft
Type: BN-2A Islander
Registration: P2-SBC
Age a/c: 32,4 years
Constr. No.: 3010
| | | | | |
| --- | --- | --- | --- | --- |
| | Crew | Pax | Other | Total |
| Occupants | 1 |  10 | 0 | 11 |
| Fatalities | 1 | 10 | 0 | 11 |
| Injuries |  0 | 0 | 0 | 0 |
JACDEC 25-year Statistics :
1st safety occurence for the operator
195st safety occurence of type (BN2A)
3rd safety occurence near  Kiunga Airport
2nd safety occurence for aircraft in question
– 2014-04-2 subst. damaged in runway excursion at Kikori, PNG
Image & Information Sources
Copyright - Terms of Usage
All written and shown content on JACDEC.de is provided in the most accurate way. All information may be subject to changes because JACDEC.de cannot always ensure a full support of information updates to each news story.
No publication (or part of) provided by at JACDEC.de may be reproduced or transmitted in any form or by any means or by any information retrieval system without written permission from JACDEC. The below information includes unofficial information and should be treated as this. Editors cannot be held responsible for any errors or omissions caused by any information source mentioned herein. The nature of the following information should be regarded as preliminary.
Furthermore, the author cannot be held accountable for correctness, completeness or quality of the information provided herein. Liability claims regarding damage caused by the use of any information provided, including any kind of information which is incomplete or incorrect,will therefore be rejected.
For further terms and conditions, check our legal disclaimer section:
http://www.jacdec.de/imprint-legal-disclaimer/ 
AP = Airport / AL = Airlines / Avn = Aviation / AW = Airways / C/N: Construction Number / DSP = Domestic Scheduled Passenger / DNP = Domestic Non-Scheduled Passenger / DSC = Domestic Scheduled Cargo / DNC= Domestic Non-Scheduled Cargo / GND = On the ground / parked, stored / FMN= Flying Mission, Air Work / FRY = Ferry-, Positioning Flight / IMC = Intrument Meteorological (flying) Conditions / ISP = International Scheduled Passenger / ISC=International Scheduled Cargo / INP = International Non-Scheduled Passenger / INC =International Non-Scheduled Cargo/ OPS = Flight Operation(s) / NRV = Non-revenue, Private Flight / TRN =Training Flight /  TST = Test & Certification Flight / VMC = Visual Meteorological (flying) Conditions