2016-04-07 Arall DC-3 destroyed in forced landing near Puerto Gaitan
The vintage DC-3 aircraft was destroyed in a forced landing after take-off from Puerto Gaitan, Colombia. All three crew on board survived.
The piston engined aircraft has just taken-off at Puerto Gaitan when the aircraft suffered engine failure.
The pilots were unable to maintain a safe altitude and were forced to make a landing outside the airport.
The DC-3 came down in a flat, grassy patch of land and caught fire after coming to a standstill.
All on board (3 crewmembers) were able to run free from the burning wreckage though some suffered minor injuries and were taken to hospitals.

© Aerocovil Colombia
The accident location was close to a road but the aircraft already burned to total destruction when fire fighters arrived.
NOTE: the same aircraft suffered substantial damage in a landing mishap  – also at Purto Gaitan – after engine troubles. Download Aerocivil Accident Report (pdf)
METAR Puerto Gaitan (SKPG):
| | | |
| --- | --- | --- |
| | 07/04/2016 14:00-> | unavailable |
| | | |
OCCURENCE DATASET
Date: 2016-04-07 Time: 06:25
Location: SKPG PGT Puerto Gaitán Morelia Airport area
Country: Colombia
Flight phase: ICL – Airborne – 1.000 ft AGL
Damage to a/c: hull loss
Flight
Flight no.: –
From: SKPG/PGT: Puerto Gaitán Morelia Airport To: SKVV/VVC: Villavicencio
Type: Non Revenue
Operator: Arall Aerolineas Llaneras
Tweet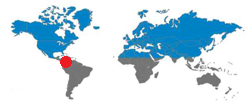 Aircraft
Type: Douglas DC-3 / C-47
Registration: HK-2663
Age a/c: 70.8 years
Constr. No.: 10210
| | | | | |
| --- | --- | --- | --- | --- |
| | Crew | Pax | Other | Total |
| Occupants | 3 | 0 | 0 | 3 |
| Fatalities | 0 | 0 | 0 | 0 |
| Injuries | 3 | 0 | 0 | 3 |
JACDEC 25-year Statistics :
3rd safety occurence for the operator
131st safety occurence of type (DC-3/C-47)
2nd safety occurence at Puerto Gaitan, Colombia
2nd safety occurence for aircraft in question
– 2004-12-17 HK-2663 suffered landing accident
after engine trouble at Puerto Gaitan
Image & Information Sources
Copyright - Terms of Usage
All written and shown content on JACDEC.de is provided in the most accurate way. All information may be subject to changes because JACDEC.de cannot always ensure a full support of information updates to each news story.
No publication (or part of) provided by at JACDEC.de may be reproduced or transmitted in any form or by any means or by any information retrieval system without written permission from JACDEC. The below information includes unofficial information and should be treated as this. Editors cannot be held responsible for any errors or omissions caused by any information source mentioned herein. The nature of the following information should be regarded as preliminary.
Furthermore, the author cannot be held accountable for correctness, completeness or quality of the information provided herein. Liability claims regarding damage caused by the use of any information provided, including any kind of information which is incomplete or incorrect,will therefore be rejected.
For further terms and conditions, check our legal disclaimer section:
http://www.jacdec.de/imprint-legal-disclaimer/ 
AP = Airport / AL = Airlines / Avn = Aviation / AW = Airways / C/N: Construction Number / DSP = Domestic Scheduled Passenger / DNP = Domestic Non-Scheduled Passenger / DSC = Domestic Scheduled Cargo / DNC= Domestic Non-Scheduled Cargo / GND = On the ground / parked, stored / FMN= Flying Mission, Air Work / FRY = Ferry-, Positioning Flight / IMC = Intrument Meteorological (flying) Conditions / ISP = International Scheduled Passenger / ISC=International Scheduled Cargo / INP = International Non-Scheduled Passenger / INC =International Non-Scheduled Cargo/ OPS = Flight Operation(s) / NRV = Non-revenue, Private Flight / TRN =Training Flight /  TST = Test & Certification Flight / VMC = Visual Meteorological (flying) Conditions