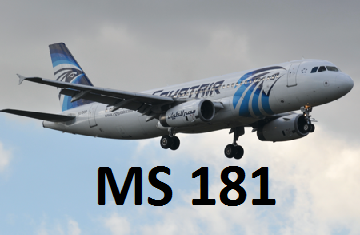 2016-03-29 EgyptAir Airbus A320 hijacked to Larnaca
On approach to Cairo, the flight was hijacked and then proceeded to Cyprus where it lands at Larnaca Airport. On board were 57 passengers and seven crewmembers.
DEVELOPING STORY
EgyptAir flight MS181 took off at Alexandria-Port El Arab Airport (HEBA) at 0647L to fly to Cairo-Intl Airport (HECA). On descend, the aircraft made a sudden turn to the north indicating to ground statons the flight has been hijacked and the pilots requested direct vectors to Larnaca, Cyprus.
The A320 Landed there 38 minutes later, highly probable below its final fuel reserve.
According to airline statements, a 27year old lone, male passenger claiming to have a bomb belt with him, threatened to explode the belt if his demands were not fulfilled.
Currently the aircraft is parked in a remote corner of the Larnaca tarmac and negotiations are going on.
It is understood that most of the passengers have been released so far and taken to the terminal by bus.
There were unconfirmed reports the hijacked was a egyptian national. The president of Cyprus Nicos Anastasiades statet in a press conference the motives of the hijacker were described as personal.
OCCURENCE DATASET
Date: 2016-03-29 Time: ~07:30
Location: LCLK LCA Larnaca
Country: Cyprus
Flight phase: ENR3 – Descent IFR Descent from cruise to Initial Approach Fix (IAF) or VFR pattern entry.
Damage to a/c: none
Flight
Flight no.: MS 181
From: HEBA/HBE: Borg el Arab International To: HECA/CAI: Cairo
Type: Passenger
Operator: EgyptAir
Photo: Hiajcked Airbus A320 of EgyptAir at Larnaca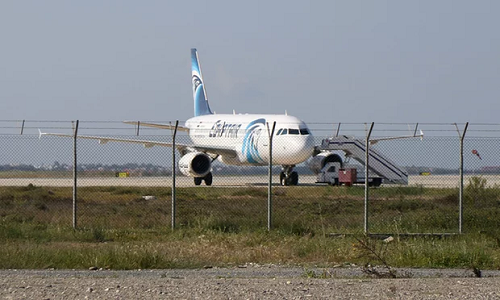 © AFT, Getty Images | TheGuardian
Flight progress KE 1275 (provided by Flightradar24)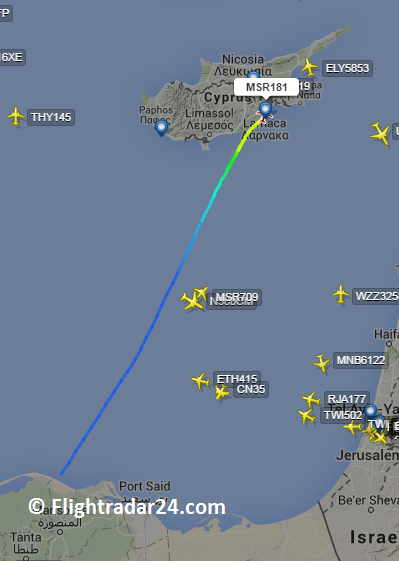 Full flight information and flight history for aircraft SE-DUX
Tweet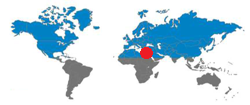 Aircraft
Type: Airbus A320
Registration: SU-GCB
Age a/c: 12.7 years
Constr. No.: 2079
| | | | | |
| --- | --- | --- | --- | --- |
| | Crew | Pax | Other | Total |
| Occupants |  7 | 57 | 0 | 64 |
| Fatalities | 0 | 0 | 0 | 0 |
| Injuries |  0 | 0 | 0 | 0 |
JACDEC 25-year Statistics :
52nd safety occurence for the operator
(5 of them hijack/security related)
480th safety occurence of type (A320)
5th safety occurence at Larnaca Intl Airport
(2 of them hijack/security related)
1st safety occurence for aircraft in question
Image & Information Sources
Copyright - Terms of Usage
All written and shown content on JACDEC.de is provided in the most accurate way. All information may be subject to changes because JACDEC.de cannot always ensure a full support of information updates to each news story.
No publication (or part of) provided by at JACDEC.de may be reproduced or transmitted in any form or by any means or by any information retrieval system without written permission from JACDEC. The below information includes unofficial information and should be treated as this. Editors cannot be held responsible for any errors or omissions caused by any information source mentioned herein. The nature of the following information should be regarded as preliminary.
Furthermore, the author cannot be held accountable for correctness, completeness or quality of the information provided herein. Liability claims regarding damage caused by the use of any information provided, including any kind of information which is incomplete or incorrect,will therefore be rejected.
For further terms and conditions, check our legal disclaimer section:
http://www.jacdec.de/imprint-legal-disclaimer/ 
AP = Airport / AL = Airlines / Avn = Aviation / AW = Airways / C/N: Construction Number / DSP = Domestic Scheduled Passenger / DNP = Domestic Non-Scheduled Passenger / DSC = Domestic Scheduled Cargo / DNC= Domestic Non-Scheduled Cargo / GND = On the ground / parked, stored / FMN= Flying Mission, Air Work / FRY = Ferry-, Positioning Flight / IMC = Intrument Meteorological (flying) Conditions / ISP = International Scheduled Passenger / ISC=International Scheduled Cargo / INP = International Non-Scheduled Passenger / INC =International Non-Scheduled Cargo/ OPS = Flight Operation(s) / NRV = Non-revenue, Private Flight / TRN =Training Flight /  TST = Test & Certification Flight / VMC = Visual Meteorological (flying) Conditions