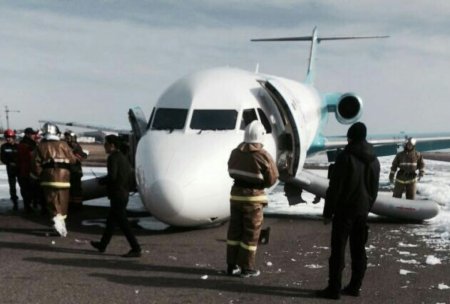 2016-03-27 Bek Air Fokker 100 damaged in nosegear-up landing at Astana
The aircraft took significant damage in a nose landing at Astana Airport after technical problems. All 121 on board remained unhurt.
The pilots of flight Z9 2041 reported on approach to Astana, that they did not have a green light indicating the nosegear to be in the correct down and locked postition for landing. 
The approach was abandoned and the aircraft went in a holding pattern to allow the pilots working out the relevant checklists. But no no avail. All attempts to lower it turned out to be unsuccessful.
Consequently, an emergency landing – only on the maingear – became inevitable. Local fire services prepared a portion of the runway 22/04 with foam to reduce nose-friction. After about 45 minutes in the hold, the pilots elected to attempt a landing.
On landing runway 22 (lengh: 3500 m | 11484 feet) the pilots kept the nose airborne as long as practicable until the speed decayed to such a point the nose would drop to the ground.
The lower nose section scraped over the runway surface until the Fokker 100 came to a safe stop. 
All on board left the aircraft via the L1 / R1 doors with emergency chutes deployed.
There were no reports about any injuries among passengers and crewmembers.
The Kazakh Ministry of Aviation has launched an investigation.
OCCURENCE DATASET
Date: 2016-03-27 Time: 10:30
Location: UACC TSE Astana
Country: Kazakhstan
Flight phase: LDG – Flare, Landing Roll, Aborted Landing after Touchdown
Damage to a/c: substantial
Flight
Flight no.: Z9 2041
From: UAOO/KZO: Kzyl-Orda To: UACC/TSE: Astana
Type: Passenger
Operator: Bek Air
Tweet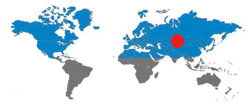 ©
Aircraft
Type: Fokker 100
Registration: UP-F1012
Age a/c: 23.4 years
Constr. No.: 11426
Previous Operators: 1992 American Airlines, 2006 Ocean Air, 2010 Avianca Brazil, 2015 Network Aviation, since Dec 2015 Bek Air
| | | | | |
| --- | --- | --- | --- | --- |
| | Crew | Pax | Other | Total |
| Occupants |  116 | 5 | 0 | 121 |
| Fatalities | 0 | 0 | 0 | 0 |
| Injuries |  0 | 0 | 0 | 0 |
JACDEC 25-year Statistics :
2nd safety occurence for the operator
88th safety occurence of type (Fokker 100)
2nd safety occurence at Astana Intl Airport
1st safety occurence for aircraft in question
Image & Information Sources
Copyright - Terms of Usage
All written and shown content on JACDEC.de is provided in the most accurate way. All information may be subject to changes because JACDEC.de cannot always ensure a full support of information updates to each news story.
No publication (or part of) provided by at JACDEC.de may be reproduced or transmitted in any form or by any means or by any information retrieval system without written permission from JACDEC. The below information includes unofficial information and should be treated as this. Editors cannot be held responsible for any errors or omissions caused by any information source mentioned herein. The nature of the following information should be regarded as preliminary.
Furthermore, the author cannot be held accountable for correctness, completeness or quality of the information provided herein. Liability claims regarding damage caused by the use of any information provided, including any kind of information which is incomplete or incorrect,will therefore be rejected.
For further terms and conditions, check our legal disclaimer section:
http://www.jacdec.de/imprint-legal-disclaimer/ 
AP = Airport / AL = Airlines / Avn = Aviation / AW = Airways / C/N: Construction Number / DSP = Domestic Scheduled Passenger / DNP = Domestic Non-Scheduled Passenger / DSC = Domestic Scheduled Cargo / DNC= Domestic Non-Scheduled Cargo / GND = On the ground / parked, stored / FMN= Flying Mission, Air Work / FRY = Ferry-, Positioning Flight / IMC = Intrument Meteorological (flying) Conditions / ISP = International Scheduled Passenger / ISC=International Scheduled Cargo / INP = International Non-Scheduled Passenger / INC =International Non-Scheduled Cargo/ OPS = Flight Operation(s) / NRV = Non-revenue, Private Flight / TRN =Training Flight /  TST = Test & Certification Flight / VMC = Visual Meteorological (flying) Conditions