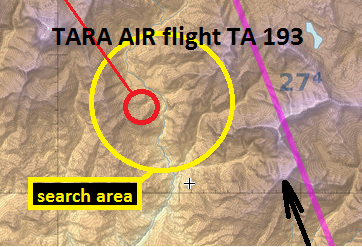 2016-02-24 Tara Air Twin Otter crashed in Myagdi District, Nepal
Carrying 23 people, the propeller aircraft went missing on a scheduled flight from Pokhara. The wreckage was found in jungle in Myagdi District. There were no survivors.
The DHC-6 Twin Otter plane went mssing after the pilots failed to respond to air traffic control about 15 minuts after the flight took off from Pokhara airfield.
The flight TA 193 took off at 07:47L and was scheduled to land at Jomsom at 08:10L .
Last contact was within the vicinity of Ghorepani in Myagdi District surrounded by mountain peaks of up top 10.000 ft and higher.
A search and rescue mission is underway after the aircraft failed to arrive at its destination and failed to show up on any other available landing opportunity.
Local weather predictions were generally good with occasional clouds and only small chance of visibility restrictions during flight.
At about 1330L he aircraft was found to have crashed in dense vegetation at Soli Ghoptebhir in the Myagdi District, about 35 kilometers northwest of Pokhara.
The burning wreckage was scattered over an area of 200 meters in difficult to access terrain. 
Myagdi district police chief reported that all occupants on board have died in the crash or in the post-crash fire.
No METAR available for Pokhara Airport (VNPK).
OCCURENCE DATASET
Date: 2016-02-24 Time: 08:00
Location: Myagadi district
Country: Nepal
Flight phase: ENR – Cruise, Descent, Holding
Damage to a/c: hull loss
Flight
Flight no.: TA 193
From: VNPK/PKR: Pokhara To: VNJS/: Jomsom
Type: Passenger
Operator: Tara Air
Leased from: Unknown
Tweet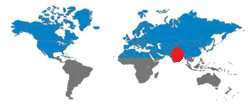 Aircraft
Type: DHC-6 Twin Otter
Registration: 9N-AHH
Age a/c: 0.8 years
Constr. No.: 926
For further queries please contact  00977-1-4465888
| | | | | |
| --- | --- | --- | --- | --- |
| | Crew | Pax | Other | Total |
| Occupants | 3 | 20 | 0 | 23 |
| Fatalities | 3 | 20 | 0 | 23 |
| Injuries |  0 | 0 | 0 |  0 |
JACDEC 25-year Statistics :
7th safety occurence for the operator
257th safety occurence of type (DHC6)
– 197 of them were hull losses
– 70 of them were fatal
60th safety occurence in Nepal
1st safety occurence for aircraft in question
Image & Information Sources
Copyright - Terms of Usage
All written and shown content on JACDEC.de is provided in the most accurate way. All information may be subject to changes because JACDEC.de cannot always ensure a full support of information updates to each news story.
No publication (or part of) provided by at JACDEC.de may be reproduced or transmitted in any form or by any means or by any information retrieval system without written permission from JACDEC. The below information includes unofficial information and should be treated as this. Editors cannot be held responsible for any errors or omissions caused by any information source mentioned herein. The nature of the following information should be regarded as preliminary.
Furthermore, the author cannot be held accountable for correctness, completeness or quality of the information provided herein. Liability claims regarding damage caused by the use of any information provided, including any kind of information which is incomplete or incorrect,will therefore be rejected.
For further terms and conditions, check our legal disclaimer section:
http://www.jacdec.de/imprint-legal-disclaimer/ 
AP = Airport / AL = Airlines / Avn = Aviation / AW = Airways / C/N: Construction Number / DSP = Domestic Scheduled Passenger / DNP = Domestic Non-Scheduled Passenger / DSC = Domestic Scheduled Cargo / DNC= Domestic Non-Scheduled Cargo / GND = On the ground / parked, stored / FMN= Flying Mission, Air Work / FRY = Ferry-, Positioning Flight / IMC = Intrument Meteorological (flying) Conditions / ISP = International Scheduled Passenger / ISC=International Scheduled Cargo / INP = International Non-Scheduled Passenger / INC =International Non-Scheduled Cargo/ OPS = Flight Operation(s) / NRV = Non-revenue, Private Flight / TRN =Training Flight /  TST = Test & Certification Flight / VMC = Visual Meteorological (flying) Conditions