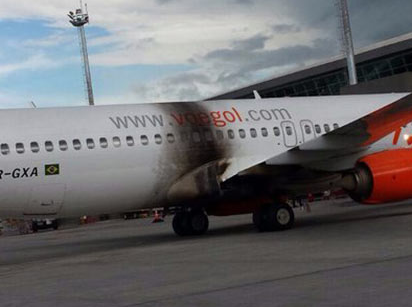 2016-02-14 GOL Boeing 737-800 damaged by fire at Brasilia
The 737 received damage damaged by an engine fire during push-back at Brasilia Airport with 145 people on board.
During push-back from the gate, flames were seen coming out of the right engine (CFM56) exhaust pipe. The heat of the fire resulted in unspecified heat damage to the right fire of the fuselage leaving at least one passenger window shattered.
The aircraft was evacuated. The fire continued to burn until the airport fire brigade arrived at the scene and extinguished the fire.
There were no reports of any injured persons.
Damage to the aircraft needs to be assessed.
OCCURENCE DATASET
Date: 2016-02-14 Time: 15:20
Location: SBBR BSB Brasilia
Country: Brazil
Flight phase: PBT – Pushback / Towing with engines not in operation
Damage to a/c: substantial
Flight
Flight no.: G3 1415
From: SBBR/BSB: Brasilia To: SBSP/CGH: Sao Paulo Congonhas
Type: Passenger
Operator: GOL – Transportes Aereos
Tweet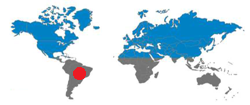 Aircraft
Type: Boeing 737-800
Registration: PR-GXA
Age a/c: 2,9 years
Constr. No.: 39615
| | | | | |
| --- | --- | --- | --- | --- |
| | Crew | Pax | Other | Total |
| Occupants | | | 0 | 145 |
| Fatalities | 0 | 0 | 0 | 0 |
| Injuries |  0 | 0 | 0 | 0 |
JACDEC 25-year Statistics :
16th safety occurence for the operator
352nd safety occurence of type (B737-800)
8th Safety occurence at Brasilia Airport
1st safety occurence for aircraft in question
Image & Information Sources
Copyright - Terms of Usage
All written and shown content on JACDEC.de is provided in the most accurate way. All information may be subject to changes because JACDEC.de cannot always ensure a full support of information updates to each news story.
No publication (or part of) provided by at JACDEC.de may be reproduced or transmitted in any form or by any means or by any information retrieval system without written permission from JACDEC. The below information includes unofficial information and should be treated as this. Editors cannot be held responsible for any errors or omissions caused by any information source mentioned herein. The nature of the following information should be regarded as preliminary.
Furthermore, the author cannot be held accountable for correctness, completeness or quality of the information provided herein. Liability claims regarding damage caused by the use of any information provided, including any kind of information which is incomplete or incorrect,will therefore be rejected.
For further terms and conditions, check our legal disclaimer section:
http://www.jacdec.de/imprint-legal-disclaimer/ 
AP = Airport / AL = Airlines / Avn = Aviation / AW = Airways / C/N: Construction Number / DSP = Domestic Scheduled Passenger / DNP = Domestic Non-Scheduled Passenger / DSC = Domestic Scheduled Cargo / DNC= Domestic Non-Scheduled Cargo / GND = On the ground / parked, stored / FMN= Flying Mission, Air Work / FRY = Ferry-, Positioning Flight / IMC = Intrument Meteorological (flying) Conditions / ISP = International Scheduled Passenger / ISC=International Scheduled Cargo / INP = International Non-Scheduled Passenger / INC =International Non-Scheduled Cargo/ OPS = Flight Operation(s) / NRV = Non-revenue, Private Flight / TRN =Training Flight /  TST = Test & Certification Flight / VMC = Visual Meteorological (flying) Conditions