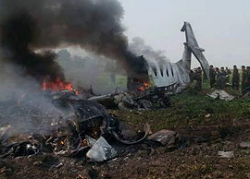 2016-02-10 Myanamar Air Force B1900 crashed near Naypyidaw
The propeller aircraft crashed immediately after taking off at Naypyidaw International Airport leaving all five people on board dead.
UPDATED
Very soon after getting airborne on runway 34 at Naypyidaw International Airport, the twin-prop Beechcraft 1900D lost height and impacted open, flat terrain approximately less than a kilometer north of the airport. The Beech 1900 disintegrated on impact, caught fire and burnt to destruction.
It is understood that all five people on board did not survivce the crash. One person was found alive, but he died later of his severe injuries.
The aircraft was operating on a military training flight to Namhsan. Eventually the flight was purposed to assist with the aftermath of a large fire there.
Local media reported the pilots experienced unspecified engine troubles at an altitude of about 500 feet leading to a possible loss of control.  
OCCURENCE DATASET
Date: 2016-02-10 Time: 09:45
Location: VYNT NYT Naypyidaw Capital Intl Airport
Country: Myanmar
Flight phase: ICL – Airborne – 1.000 ft AGL
Damage to a/c: hull loss
Flight
Flight no.:
From: VYNT/NYT: Naypyidaw Capital Intl Airport To: 0000/: NONE
Type: Military
Operator: Myanmar Air Force
Tweet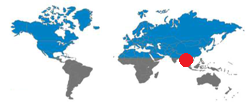 Aircraft
Type: Beech 1900
Registration: 4601
Age a/c: 0.0000 years
Constr. No.:-
| | | | | |
| --- | --- | --- | --- | --- |
| | Crew | Pax | Other | Total |
| Occupants | 5 |  0 | 0 |  5 |
| Fatalities | 5 | 0 | 0 | 5 |
| Injuries |  0 | 0 | 0 | 0 |
JACDEC 25-year Statistics :
 35th hull loss of type (Beech 1900)
93rd safety occurence of type (Beech 1900)
1st safety occurence at Naypyidaw Airport
XX safety occurence for aircraft in question
Image & Information Sources
Copyright - Terms of Usage
All written and shown content on JACDEC.de is provided in the most accurate way. All information may be subject to changes because JACDEC.de cannot always ensure a full support of information updates to each news story.
No publication (or part of) provided by at JACDEC.de may be reproduced or transmitted in any form or by any means or by any information retrieval system without written permission from JACDEC. The below information includes unofficial information and should be treated as this. Editors cannot be held responsible for any errors or omissions caused by any information source mentioned herein. The nature of the following information should be regarded as preliminary.
Furthermore, the author cannot be held accountable for correctness, completeness or quality of the information provided herein. Liability claims regarding damage caused by the use of any information provided, including any kind of information which is incomplete or incorrect,will therefore be rejected.
For further terms and conditions, check our legal disclaimer section:
http://www.jacdec.de/imprint-legal-disclaimer/ 
AP = Airport / AL = Airlines / Avn = Aviation / AW = Airways / C/N: Construction Number / DSP = Domestic Scheduled Passenger / DNP = Domestic Non-Scheduled Passenger / DSC = Domestic Scheduled Cargo / DNC= Domestic Non-Scheduled Cargo / GND = On the ground / parked, stored / FMN= Flying Mission, Air Work / FRY = Ferry-, Positioning Flight / IMC = Intrument Meteorological (flying) Conditions / ISP = International Scheduled Passenger / ISC=International Scheduled Cargo / INP = International Non-Scheduled Passenger / INC =International Non-Scheduled Cargo/ OPS = Flight Operation(s) / NRV = Non-revenue, Private Flight / TRN =Training Flight /  TST = Test & Certification Flight / VMC = Visual Meteorological (flying) Conditions