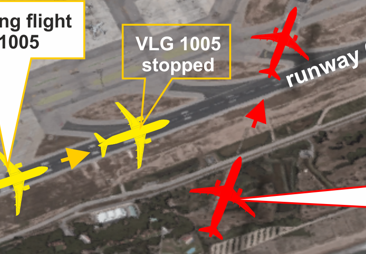 2016-02-06 Vueling and Ural aircraft runway incursion at Barcelona
While one aircraft was about to take-off, the other came into conflict on a crossing runway at Barcelona Airport. ATC defused the situation.
At about down, the Vueling Airbus A320 was lining up on runway 07R(right) , while the Ural Airlines flight (Airbus A321) was on final approach to runway 02 with landing clearance already received. 
According to information provided by the Aviation Herald, the Vueling pilots set take-off power and commenced their take-off run without being cleared to.
Realizing the potantial conflict situation, tower personnel quickly issued radioed a stopping command to the Vueling which was followed immediately and the Airbus A320 came to a stop well before the extended centreline of runway 02.
The russian Airbus  landed safely while the A320 took off normally from runway 07R about five minutes later.
The Vueling pilots were instructed to 'line-up runway07R and wait' and had acknowledged the instruction.
NOTE:
This incident marks the 3rd ground conflict invoving crossing runways at Barcelona-El Prat Airport within 2 years.
OCCURENCE DATASET
Date: 2016-02-06 Time: 08:05
Location: LEBL BCN Barcelona
Country: Spain
Flight phase: TOF – Take-off, Rejected Take-off
Damage to a/c: none
Flight1
Flight no.: U6 7045
From: UUDD/DME: Moscow Domodedovo To: LEBL/BCN: Barcelona
Type: Passenger
Operator: Ural Airlines
Flight2
Flight no.: YV 1005
From: LEBL/BCN: Barcelona To: LEMD/MAD: Madrid-Barajas Intl Airport
Type: Passenger
Operator: Vueling
Full flight information and flight history for aircraft SE-DUX
Tweet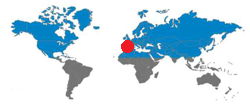 Aircraft
Type: Airbus A321
Registration: VQ-BOB
Age a/c: 13,0 years
Constr. No.: 1905
Aircraft
Type: Airbus A320
Registration: EC-LVS
Age a/c: 2,7 years
Constr. No.: 5599
---
| | | | | |
| --- | --- | --- | --- | --- |
| | Crew | Pax | Other | Total |
| Occupants | | | 0 | |
| Fatalities | 0 | 0 | 0 | 0 |
| Injuries |  0 | 0 | 0 | 0 |
JACDEC 25-year Statistics :
12th safety occurence for the operator (Vueling)
14th safety occurence for the operator (Ural)
133th safety occurence of type (A320)
470th safety occurence of type (A320)
30th Safety occurence at Barcelona Airport, Spain
1st safety occurence for both aircraft in question
Image & Information Sources
Copyright - Terms of Usage
All written and shown content on JACDEC.de is provided in the most accurate way. All information may be subject to changes because JACDEC.de cannot always ensure a full support of information updates to each news story.
No publication (or part of) provided by at JACDEC.de may be reproduced or transmitted in any form or by any means or by any information retrieval system without written permission from JACDEC. The below information includes unofficial information and should be treated as this. Editors cannot be held responsible for any errors or omissions caused by any information source mentioned herein. The nature of the following information should be regarded as preliminary.
Furthermore, the author cannot be held accountable for correctness, completeness or quality of the information provided herein. Liability claims regarding damage caused by the use of any information provided, including any kind of information which is incomplete or incorrect,will therefore be rejected.
For further terms and conditions, check our legal disclaimer section:
http://www.jacdec.de/imprint-legal-disclaimer/ 
AP = Airport / AL = Airlines / Avn = Aviation / AW = Airways / C/N: Construction Number / DSP = Domestic Scheduled Passenger / DNP = Domestic Non-Scheduled Passenger / DSC = Domestic Scheduled Cargo / DNC= Domestic Non-Scheduled Cargo / GND = On the ground / parked, stored / FMN= Flying Mission, Air Work / FRY = Ferry-, Positioning Flight / IMC = Intrument Meteorological (flying) Conditions / ISP = International Scheduled Passenger / ISC=International Scheduled Cargo / INP = International Non-Scheduled Passenger / INC =International Non-Scheduled Cargo/ OPS = Flight Operation(s) / NRV = Non-revenue, Private Flight / TRN =Training Flight /  TST = Test & Certification Flight / VMC = Visual Meteorological (flying) Conditions