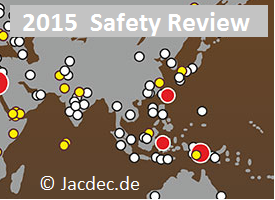 2015 Jacdec Global Safety Review
Everything allright again ?
After a turbulent year 2014, the flight safety numbers of the past year pointed to a positive direction again. The fact that it was not enough for a record year, was also due to two accidents that were obviously caused willfully. Overall, we look back on a year, which seems encouraging, but also calls for working up lessons and consequences.
The accident-year 2015 was characterized by two major crashes, each with more than 100 fatalities. So, was is a bad year for aviation again ? The bare facts tells quite an opposite story. We as aviation safety experts should avoid drawing any conclusions from individual image sections about the year as a whole. Because only if one captures the entire picture, you come to a more differentiated result.
Worldwide, we registered 495 safety-related occurrences in civil aviation. 54% of them were incidents in the category "1" in which the safety of all occupants on board was in little or no danger.
36% related to incidents of "Category 2", the so-called "Serious Incidents" in which an accident was only narrowly avoided or the plane sustained heavy damage.
The proportion of actual accidents in 2015 amounted to ten percent. After all, this concerned 48 incidents in "Category 3" in which the aircraft was damaged beyond repair, which is almost the same number as in the previous two years.
In a scarce dozen (11) in these cases people died, which is equivalent to a stake of 22.9%. This rate has fallen steadily over the last years. Five years ago, the figure was still 16 percent above. Measured against the total number of incidents, the proportion of fatal accidents was only 2.2%. But "only" eleven were still eleven too much. (see table)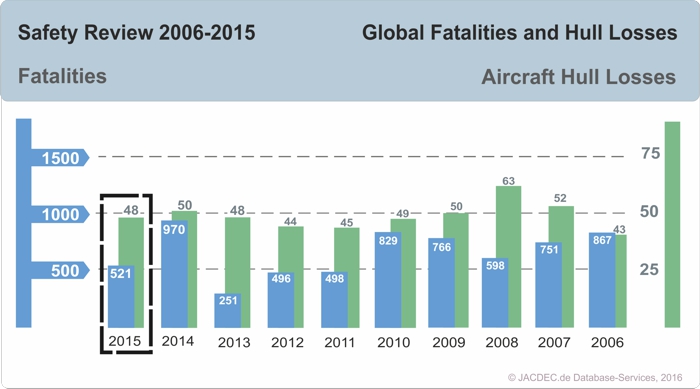 Overall, 521 people died 2015 in global air transport, 449 fewer than the year before. Judging by the billions safely transported passengers per year, air travel remains one of the safest transports of our time, if not the safest.
Also, the other case was obviously evoked by people with evil intentions as a Russian holiday jet with 224 inmates fell from the sky after take-off in Egypt and no one survived. The signs lead us to the conclusion that it must have been a terrorist attack. Through a security leak at check-in Sharm el Sheikh apparently reached a prepared explosive device in the rear cabin area, whose explosive effect was sufficient to bring the Airbus operated by the russian charter airline Metrojet down.
So the aeronautic industry was not spared from the ugly face of terrorism in 2015. Unfortunately, 2016 is not calm the situation or a weakening of the terrorist threat in perspective.
The accident year 2015 confirmed a long-term trend. For decades the shares of the causes of accidents have moved away from technology risks, towards the human factor. Even the best technology is only as safe as the person who controls it. You can train people to excellent pilots, educate them to a safety conscious behavior at all times, expose them to a wheelwork of inspections, audits and training only to realize they will always remain humans at the end.
There are no confirmed statistics about the numbers a pilot rectified a dangerous situation. On the other hand the consequences of serious errors in the cockpit are usually placed on record immediately. Technology replaced more and more tasks from the persons in the cockpit. Modern jets not only assist pilots, they also intermeddle more and more into the flight control, making decisions without further consultation and determine what pilots should know and what they shouldn't. Has flying therefore become unsafe? To the contrary.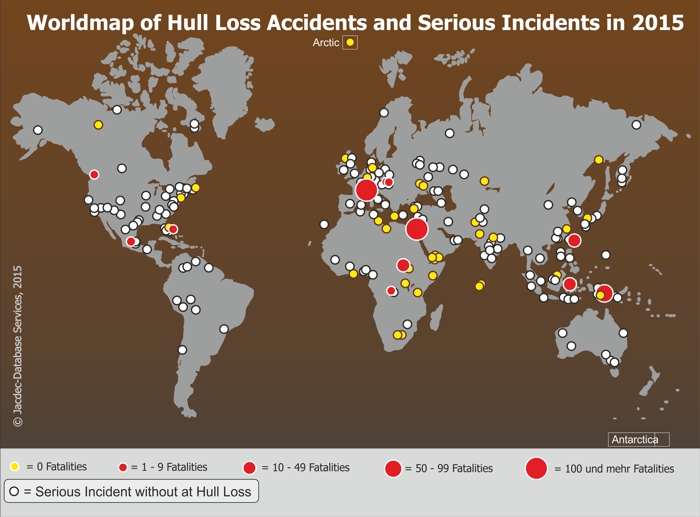 Of the 48 machines that were lost in accidents in 2015, 28 (58%) were regional aircraft with 75 seats or less. The majority of these accidents happened through a combination of several risk factors, such as smaller airports with short runways and limited approach aids which pilots in poor weather conditions make severe land safely than at large airports with corresponding existing infrastructure. In most cases regional air-operators have a higher average fleet age, combined with unfavorable topographical and climatic conditions, which makes regional aviation considerably more difficult for everyday flying compared to major airlines. Especially countries like Indonesia or Nepal have these structural safety disadvantages in their genes.
So little depressed we commented on the relatively poor 2014, the less we squint to euphoria when dealing with the year 2015. For example, the number of "Serious Incidents" remained at a steadily high level. Among them are the number so-called "runway incursions", which are still below the threshold of an accident. This includes dangerous encounters of two aircraft at take-off and landing, flight movements on the wrong runway or even landing at the wrong airport. 33 cases of this kind were recorded last year, while one should take into consideration the certain level of underreporting these events in less transparent countries.
Looking at the regional distribution of accident, Africa suffered most due to the crash of the Russian Charter on The Sinai. Since the Sinai is attributed to Egypt all 224 deaths fell into the account of Africa.
The crash of an Airbus A320 in the Alps downgraded the European region to the second highest region of air-travel victims (164).
In third place of the negative scale comes the Asian-Pacific region where there have been six total losses leaving a total of 107 victims in the records.
North America had the six accidents the last year. All involved smaller regional aircraft in which six people were killed. But given the enormous volume of traffic in the US and Canada, one can speak of the safest aviation part of the world. Last fatal crash of an airliner occurred in 2013. The last fatal accident of an aircraft flying for a US-company is already more than six years away. Consistent standards and an effective, independent monitoring system is the basis for this outstanding era of safe flying.
The Middle East (incl. India) lost 10 aircraft in which four people died.
Free of any fatalities remained only the regions of Eurasia (CIS) and Latin America.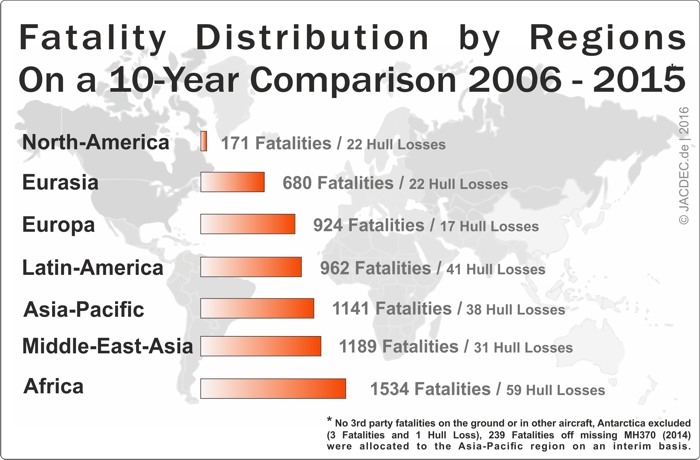 The business model, "low-cost" was rather underrepresented in terms of accident rate in 2015. The German Wings tragedy was the only case in which this industry was affected by a fatal accident. Even when we look into the serious incidents numbers, this traffic segment had a share of only 12% (21 cases). Again, last year showed that safety and cost-conscious flight operations must be no contradictions.
The aviation year 2015 is over. Despite all the concerns and hazards, passenger can be confident about the future. Commercial flying continues to be safe. But we are by no means in a kind of comfort zone in which we mutually slap ourselves on the back. To ensure safe flying means to relentlessly refining the good work that already has been done.
Always happy landings !
© J. Richter | Jacdec.de
Tweet
Read the full article in the February issue of
Aero International.de

www.aerointernational.de
2015 JACDEC Basic Statistics :
521 fatalities | 48 hull losses
share of fatal accidents = 2,2 % (-0,9%)
4th lowest fatality rate in last 15 years
number of serious incidents = 178
region with lowest fatality rate = North America
region with highest fatality rate = Africa
MEANS of TRANSPORTATION
DEATHS PER BILLION KILOMETERS TRAVELLED – EUROPE

:
Source(s): Eurostat; OECD-Itl Transport Forum
© AirlinePROFILER.eu | jacdec.de
Copyright - Terms of Usage
All written and shown content on JACDEC.de is provided in the most accurate way. All information may be subject to changes because JACDEC.de cannot always ensure a full support of information updates to each news story.
No publication (or part of) provided by at JACDEC.de may be reproduced or transmitted in any form or by any means or by any information retrieval system without written permission from JACDEC. The below information includes unofficial information and should be treated as this. Editors cannot be held responsible for any errors or omissions caused by any information source mentioned herein. The nature of the following information should be regarded as preliminary.
Furthermore, the author cannot be held accountable for correctness, completeness or quality of the information provided herein. Liability claims regarding damage caused by the use of any information provided, including any kind of information which is incomplete or incorrect,will therefore be rejected.
For further terms and conditions, check our legal disclaimer section:
http://www.jacdec.de/imprint-legal-disclaimer/ 
AP = Airport / AL = Airlines / Avn = Aviation / AW = Airways / C/N: Construction Number / DSP = Domestic Scheduled Passenger / DNP = Domestic Non-Scheduled Passenger / DSC = Domestic Scheduled Cargo / DNC= Domestic Non-Scheduled Cargo / GND = On the ground / parked, stored / FMN= Flying Mission, Air Work / FRY = Ferry-, Positioning Flight / IMC = Intrument Meteorological (flying) Conditions / ISP = International Scheduled Passenger / ISC=International Scheduled Cargo / INP = International Non-Scheduled Passenger / INC =International Non-Scheduled Cargo/ OPS = Flight Operation(s) / NRV = Non-revenue, Private Flight / TRN =Training Flight /  TST = Test & Certification Flight / VMC = Visual Meteorological (flying) Conditions