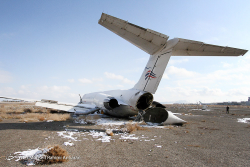 2016-01-28 Zagros Air MD-83 ran off runway at Mashhad, Iran
On landing at Mashhad Airport, the aircraft veered off the side of the runway where it came to rest in mud and snow. All passengers and crewmembers escaped the aircraft without injuries.
The McDD MD-83 aircraft landed on runway 31R in snowfall, when the pilots lost directional control and began to slide to the left of the runway.
The aircraft departed paved surface sliding sideways across soft ground where its right maingear collapsed until it came to a stop about 2000 meters away from the runway threshold.
There were seven injuries among all 154 on board during evacuation via chutes.
The aircraft sustained serious damage of its undercarriage, both wings and underbelly, making a repair less likely.
At the time local weather consisted of snowfall and temperarures minus freezing level.
METAR Mashhad Airport (OIMM):
SA
28/01/2016 13:30->

METAR OIMM 281330Z 15012KT 1400 R13/P2000N R31/P2000U -SG
           BR OVC008 00/00 Q1016 A3002=

SA
28/01/2016 13:00->

METAR OIMM 281300Z 15008KT 2000 -SG BR OVC008 00/00 Q1016
           A3002=
OCCURENCE DATASET
Date: 2016-01-28 Time: 16:30
Location: OIMM MHD Mashhad
Country: Iran
Google Maps: [LINK]
Flight phase: LDG – Flare, Landing Roll, Aborted Landing after Touchdown
Damage to a/c: substantial
Flight
Flight no.: ZV 4010
From: OIFM/IFN: Esfahan To: OIMM/MHD: Mashhad
Type: Passenger
Operator: Zagros Airlines
Tweet
Aircraft
Type: McDD MD-83
Registration: EP-ZAB
Age a/c: 25,7 years
Constr. No.: 49930
| | | | | |
| --- | --- | --- | --- | --- |
| | Crew | Pax | Other | Total |
| Occupants | | | 0 | 154 |
| Fatalities | 0 | 0 | 0 | 0 |
| Injuries | | | 0 | 7 |
JACDEC 25-year Statistics :
2nd safety occurence for the operator
289th safety occurence of type (MD-80)
8th Safety occurence at Mashhad Airport
1st safety occurence for aircraft in question
Image & Information Sources
Copyright - Terms of Usage
All written and shown content on JACDEC.de is provided in the most accurate way. All information may be subject to changes because JACDEC.de cannot always ensure a full support of information updates to each news story.
No publication (or part of) provided by at JACDEC.de may be reproduced or transmitted in any form or by any means or by any information retrieval system without written permission from JACDEC. The below information includes unofficial information and should be treated as this. Editors cannot be held responsible for any errors or omissions caused by any information source mentioned herein. The nature of the following information should be regarded as preliminary.
Furthermore, the author cannot be held accountable for correctness, completeness or quality of the information provided herein. Liability claims regarding damage caused by the use of any information provided, including any kind of information which is incomplete or incorrect,will therefore be rejected.
For further terms and conditions, check our legal disclaimer section:
http://www.jacdec.de/imprint-legal-disclaimer/ 
AP = Airport / AL = Airlines / Avn = Aviation / AW = Airways / C/N: Construction Number / DSP = Domestic Scheduled Passenger / DNP = Domestic Non-Scheduled Passenger / DSC = Domestic Scheduled Cargo / DNC= Domestic Non-Scheduled Cargo / GND = On the ground / parked, stored / FMN= Flying Mission, Air Work / FRY = Ferry-, Positioning Flight / IMC = Intrument Meteorological (flying) Conditions / ISP = International Scheduled Passenger / ISC=International Scheduled Cargo / INP = International Non-Scheduled Passenger / INC =International Non-Scheduled Cargo/ OPS = Flight Operation(s) / NRV = Non-revenue, Private Flight / TRN =Training Flight /  TST = Test & Certification Flight / VMC = Visual Meteorological (flying) Conditions