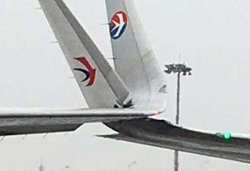 2016-01-27 two China Eastern Airbus damaged in ground collision at Shanghai
Both aircraft clipped wings at lower speed causing damage to the wings. It is understood that no one was hurt in the event.
The incoming Airbus A319 proceeded to its gate 270 near Terminal 2 at Shanghai Hongqiao Airport, when the A320 was beginning its pushback from the neighbor gate 269.
Both wingtips collided when the aircraft were abeam.
According to images, both shartlets sustained significant impact damage.
The A319 was arriving from Xi'an on flight MU 2153, while the A320 was to fly to Xi'an as well operating on flight MU 2154.
The wing damage is being assessed. Both aircraft were taken out of service.
OCCURENCE DATASET
Date: 2016-01-27 Time: 12:00
Location: ZSSS SHA Shanghai Hongqiao
Country: China
Flight phase: TXI – Taxi, Power Back
Damage to a/c: minor
Flight 1
Flight no.: MU 2153
From: ZLXY/XIY: Xi'an Xianyang To: ZSSS/SHA: Shanghai Hongqiao
Type: Passenger
Operator: China Eastern Airlines
Flight 2
Flight no.: MU 2154
From: ZSSS/SHA: Shanghai Hongqiao To: ZLXY/XIY: Xi'an Xianyang
Type: Passenger
Operator: China Eastern Airlines
Tweet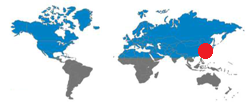 Aircraft
Type: Airbus A319
Registration: B-6466
Age a/c: 1,2 years
Constr. No.: 6269
Aircraft
Type: Airbus A320
Registration: B-9975
Age a/c: 2,3 years
Constr. No.: 5711
| | | | | |
| --- | --- | --- | --- | --- |
| | Crew | Pax | Other | Total |
| Occupants | | | 0 | |
| Fatalities | 0 | 0 | 0 | 0 |
| Injuries |  0 | 0 | 0 | 0 |
JACDEC 25-year Statistics :
28th safety occurence for the operator
130th safety occurence of type (A319)
466th safety occurence of type (A320)
9th Safety occurence at Shanghai Hongqiao AP
1st safety occurence for both aircraft in question
Image & Information Sources
Copyright - Terms of Usage
All written and shown content on JACDEC.de is provided in the most accurate way. All information may be subject to changes because JACDEC.de cannot always ensure a full support of information updates to each news story.
No publication (or part of) provided by at JACDEC.de may be reproduced or transmitted in any form or by any means or by any information retrieval system without written permission from JACDEC. The below information includes unofficial information and should be treated as this. Editors cannot be held responsible for any errors or omissions caused by any information source mentioned herein. The nature of the following information should be regarded as preliminary.
Furthermore, the author cannot be held accountable for correctness, completeness or quality of the information provided herein. Liability claims regarding damage caused by the use of any information provided, including any kind of information which is incomplete or incorrect,will therefore be rejected.
For further terms and conditions, check our legal disclaimer section:
http://www.jacdec.de/imprint-legal-disclaimer/ 
AP = Airport / AL = Airlines / Avn = Aviation / AW = Airways / C/N: Construction Number / DSP = Domestic Scheduled Passenger / DNP = Domestic Non-Scheduled Passenger / DSC = Domestic Scheduled Cargo / DNC= Domestic Non-Scheduled Cargo / GND = On the ground / parked, stored / FMN= Flying Mission, Air Work / FRY = Ferry-, Positioning Flight / IMC = Intrument Meteorological (flying) Conditions / ISP = International Scheduled Passenger / ISC=International Scheduled Cargo / INP = International Non-Scheduled Passenger / INC =International Non-Scheduled Cargo/ OPS = Flight Operation(s) / NRV = Non-revenue, Private Flight / TRN =Training Flight /  TST = Test & Certification Flight / VMC = Visual Meteorological (flying) Conditions