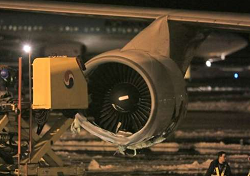 2016-01-25 Korean Air Boeing 747-400 heavy damage on landing Jeju
On landing at Jeju Airport, one engine sustained heavy damage. The landing was safely completed and no one was hurt.
FLight KE 1275 landed on runway 24 at Jeju international Airport in darkness.
After arriving at the gate position, heavy damage was discovered on the right outer engine #4 (PW 4056). The lower casing, intake and cowlings were found bend and badly damaged.
More engine debris were found on the runway forcing airport authorities to close the runway for at least one hour until all debris was removed.
According to media sources, the engine damage indicate a possible podstrike immediately before touchdown as a result of an excessive bank angle.
There were also signs of overstress to the engine pylon.
The incident is under investigation.
Jeju Airport re-opened for traffic one day earlier after a complete shutdown because of intense snowfall leaving about 90.000 people stranded.
METAR Jeju Airport (RKPC):
25/01/2016 22:00->

METAR RKPC 252200Z 28013KT 9999 BKN030 05/M04 Q1029 NOSIG=

25/01/2016 21:26->

SPECI RKPC 252126Z 29010KT 260V320 9999 BKN030 05/M04 Q1028
           NOSIG=
OCCURENCE DATASET
Date: 2016-01-25 Time: 22:47
Location: RKPC CJU Jeju
Country: South Korea
Flight phase: LDG – Flare, Landing Roll, Aborted Landing after Touchdown
Damage to a/c: substantial
Flight
Flight no.: KE 1275
From: RKSS/GMP: Seoul Gimpo To: RKPC/CJU: Jeju
Type: Passenger
Operator: Korean Air
Flight progress KE 1275 (provided by Flightradar24)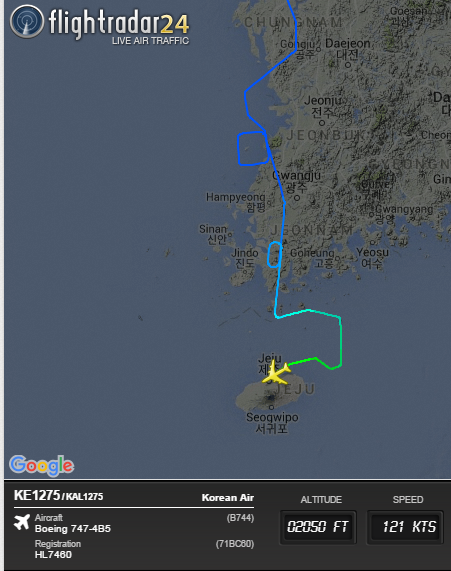 Full flight information and flight history for aircraft SE-DUX
Tweet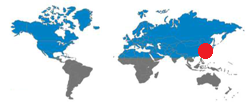 Aircraft
Type: Boeing 747-400
Registration: HL7460
Age a/c: 18,9 years
Constr. No.: 26404
| | | | | |
| --- | --- | --- | --- | --- |
| | Crew | Pax | Other | Total |
| Occupants | | | 0 | |
| Fatalities | 0 | 0 | 0 | 0 |
| Injuries |  0 | 0 | 0 | 0 |
JACDEC 25-year Statistics :
35th safety occurence for the operator
226th safety occurence of type (B747-400)
5th Safety occurence at Jeju Intl Airport
1st safety occurence for aircraft in question
Image & Information Sources
Copyright - Terms of Usage
All written and shown content on JACDEC.de is provided in the most accurate way. All information may be subject to changes because JACDEC.de cannot always ensure a full support of information updates to each news story.
No publication (or part of) provided by at JACDEC.de may be reproduced or transmitted in any form or by any means or by any information retrieval system without written permission from JACDEC. The below information includes unofficial information and should be treated as this. Editors cannot be held responsible for any errors or omissions caused by any information source mentioned herein. The nature of the following information should be regarded as preliminary.
Furthermore, the author cannot be held accountable for correctness, completeness or quality of the information provided herein. Liability claims regarding damage caused by the use of any information provided, including any kind of information which is incomplete or incorrect,will therefore be rejected.
For further terms and conditions, check our legal disclaimer section:
http://www.jacdec.de/imprint-legal-disclaimer/ 
AP = Airport / AL = Airlines / Avn = Aviation / AW = Airways / C/N: Construction Number / DSP = Domestic Scheduled Passenger / DNP = Domestic Non-Scheduled Passenger / DSC = Domestic Scheduled Cargo / DNC= Domestic Non-Scheduled Cargo / GND = On the ground / parked, stored / FMN= Flying Mission, Air Work / FRY = Ferry-, Positioning Flight / IMC = Intrument Meteorological (flying) Conditions / ISP = International Scheduled Passenger / ISC=International Scheduled Cargo / INP = International Non-Scheduled Passenger / INC =International Non-Scheduled Cargo/ OPS = Flight Operation(s) / NRV = Non-revenue, Private Flight / TRN =Training Flight /  TST = Test & Certification Flight / VMC = Visual Meteorological (flying) Conditions