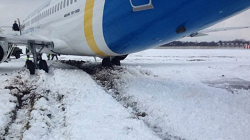 2016-01-16 Ukraine Intl Boeing 737-300 overran runway at Kiev, Ukraine
On landing in snowfall ,the 737 overran the end of the runway coming to rest in snow.
UPDATED
On landing runway 08 in snow, the pilots were unable to stop the 737 before the end of the runway.
It overran into deep snow and came to a stop approximately 80 meters further.
All on board remained unhurt and the aircraft sustained virtually no or minimal damage.
Zhuliany airport was forced to close after the event until 1500L.
The original destination of the flight was the larger Borispol Airport but this airport closes due to bad weather (intense snowfall), so the pilots elected to land at their alternate aerodrome, Zhuliany.
The incident aircraft was able to reposition itself back to Borispol Airport at 23:08L.
Kiev Zhuliany Airport weather (METAR):
UKKK 160730Z 20003MPS 180V240 9999 OVC009 01/01 Q1003 08890335 NOSIG
[trnsl: 0730Z, wind from 200 at 3 MPS, winds varying from 180 to 240, visibility unlimited, Sky: overcast at 900, temperature 1, dewpoint 1, altimeter 1003 mb, 8th @ 8903, 35 nosig]
OCCURENCE DATASET
Date: 2016-01-16 Time: 07:43
Location: UKKK IEV Kiev Zhulyany
Country: Ukraine
Flight phase: LDG – Flare, Landing Roll, Aborted Landing after Touchdown
Damage to a/c: none
Flight
Flight no.: PS 34
From: UKLL/LWO: Lvov To: UKKK/IEV: Kiev Zhulyany
Type: Passenger
Operator: Ukraine International Airlines
Tweet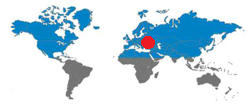 Aircraft
Type: Boeing 737-300
Registration: UR-GBA
Age a/c: 18.2 years
Constr. No.: 28670
| | | | | |
| --- | --- | --- | --- | --- |
| | Crew | Pax | Other | Total |
| Occupants | 6 | 134 | 0 | 140 |
| Fatalities | 0 | 0 | 0 |  0 |
| Injuries | 0 | 0 | 0 | 0 |
JACDEC 25-year Statistics :
8th safety occurence for the operator
201st safety occurence of type (B733)
4th occurence at Zhuliany Airport, Ukraine
1st safety occurence for aircraft in question
Image & Information Sources
Copyright - Terms of Usage
All written and shown content on JACDEC.de is provided in the most accurate way. All information may be subject to changes because JACDEC.de cannot always ensure a full support of information updates to each news story.
No publication (or part of) provided by at JACDEC.de may be reproduced or transmitted in any form or by any means or by any information retrieval system without written permission from JACDEC. The below information includes unofficial information and should be treated as this. Editors cannot be held responsible for any errors or omissions caused by any information source mentioned herein. The nature of the following information should be regarded as preliminary.
Furthermore, the author cannot be held accountable for correctness, completeness or quality of the information provided herein. Liability claims regarding damage caused by the use of any information provided, including any kind of information which is incomplete or incorrect,will therefore be rejected.
For further terms and conditions, check our legal disclaimer section:
http://www.jacdec.de/imprint-legal-disclaimer/ 
AP = Airport / AL = Airlines / Avn = Aviation / AW = Airways / C/N: Construction Number / DSP = Domestic Scheduled Passenger / DNP = Domestic Non-Scheduled Passenger / DSC = Domestic Scheduled Cargo / DNC= Domestic Non-Scheduled Cargo / GND = On the ground / parked, stored / FMN= Flying Mission, Air Work / FRY = Ferry-, Positioning Flight / IMC = Intrument Meteorological (flying) Conditions / ISP = International Scheduled Passenger / ISC=International Scheduled Cargo / INP = International Non-Scheduled Passenger / INC =International Non-Scheduled Cargo/ OPS = Flight Operation(s) / NRV = Non-revenue, Private Flight / TRN =Training Flight /  TST = Test & Certification Flight / VMC = Visual Meteorological (flying) Conditions