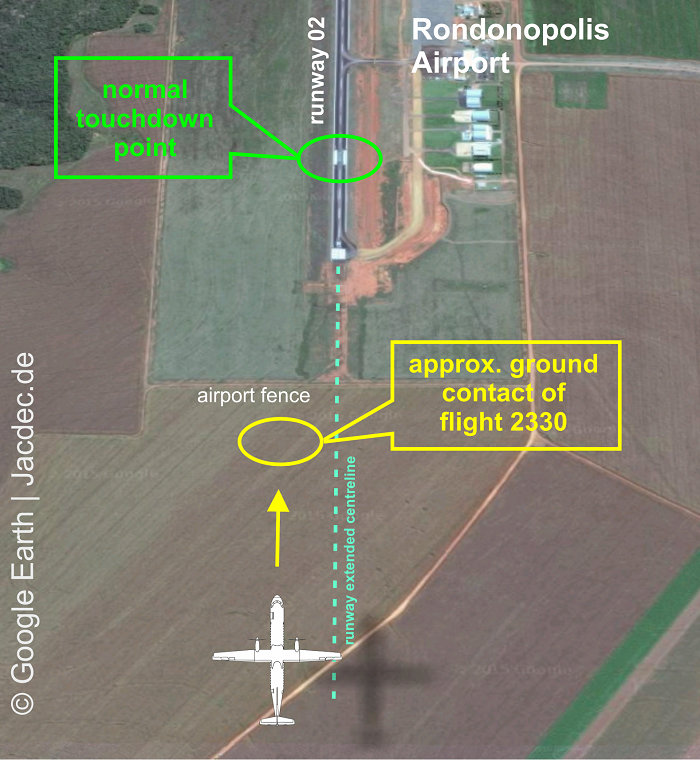 2016-01-09 Passaredo ATR-72 landed short of runway Rondonopolis
On final approach the aircraft lost height until it touched down 300 m short of runway in a field.
Passaredo flight 2330 was on final approach in darkness to runway 02 at Rondonopolis when it drifted to the left and descended below the minimum altitude. The maingear touched down on soft ground in a field approximately 300 meters south and 80 meters left of the runway threshold.
The ATR-72 ran through farmland, bushes and crops, impacting a barbed wired airport fence until the pilots successfully initiated a go-around maneuvre.
On the 2nd approach (also on to runway 02), the aircraft made a normal landing. There were no injuries among passengers and crewmembers nor was anyone injured on the ground.
The ATR received major structural damage to its nose section, wings, propeller blades. And maingear doors.
The airline issued a scarce press statement: (translated):
"During last night, due to adverse weather conditions during landing flight 2330 in Rondonópolis-MT, it was necessary to make a go-around after the touch of aircraft on the ground. After the procedure was performed, and normal landing new approach. The disembarking passengers was usually close to schedule. The aircraft goes through the technical inspection of the company's maintenance department. The landing happened the 00h23 and the flight was coming from Brasília (DF). "
OCCURENCE DATASET
Date: 2016-01-09 Time: 00:23
Location: SBRD ROO Rondonópolis
Country: Brazil
Flight phase: LDG – Flare, Landing Roll, Aborted Landing after Touchdown
Damage to a/c: substantial
Flight
Flight no.: 2Z 2330
From: SBBR/BSB: Brasilia To: SBRD/ROO: Rondonópolis
Type: Passenger
Operator: Passaredo Linhas Aéreas
Tweet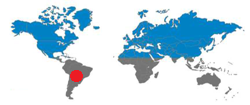 Type: ATR-72
Registration: PR-PDD
Age a/c: 17.3892 years
Constr. No.: 562
Former Operators: Iran Aseman (not taken up), Air Nostrum (EC-HJI, 2000-2010)
| | | | | |
| --- | --- | --- | --- | --- |
| | Crew | Pax | Other | Total |
| Occupants | | | 0 | |
| Fatalities | 0 | 0 | 0 |  0 |
| Injuries | 0 | 0 | 0 | 0 |
JACDEC 25-year Statistics :
4th safety occurence for the operator
144th safety occurence of type (ATR-72)
1st safety occurence at Rondonopolis Airport
2nd safety occurence for aircraft in question
– on 2010-06-30 the acft experienced engine fire
after take-off from Madrid, Spain whilst flying for Air Nostrum (EC-HJI)
Image & Information Sources
Copyright - Terms of Usage
All written and shown content on JACDEC.de is provided in the most accurate way. All information may be subject to changes because JACDEC.de cannot always ensure a full support of information updates to each news story.
No publication (or part of) provided by at JACDEC.de may be reproduced or transmitted in any form or by any means or by any information retrieval system without written permission from JACDEC. The below information includes unofficial information and should be treated as this. Editors cannot be held responsible for any errors or omissions caused by any information source mentioned herein. The nature of the following information should be regarded as preliminary.
Furthermore, the author cannot be held accountable for correctness, completeness or quality of the information provided herein. Liability claims regarding damage caused by the use of any information provided, including any kind of information which is incomplete or incorrect,will therefore be rejected.
For further terms and conditions, check our legal disclaimer section:
http://www.jacdec.de/imprint-legal-disclaimer/ 
AP = Airport / AL = Airlines / Avn = Aviation / AW = Airways / C/N: Construction Number / DSP = Domestic Scheduled Passenger / DNP = Domestic Non-Scheduled Passenger / DSC = Domestic Scheduled Cargo / DNC= Domestic Non-Scheduled Cargo / GND = On the ground / parked, stored / FMN= Flying Mission, Air Work / FRY = Ferry-, Positioning Flight / IMC = Intrument Meteorological (flying) Conditions / ISP = International Scheduled Passenger / ISC=International Scheduled Cargo / INP = International Non-Scheduled Passenger / INC =International Non-Scheduled Cargo/ OPS = Flight Operation(s) / NRV = Non-revenue, Private Flight / TRN =Training Flight /  TST = Test & Certification Flight / VMC = Visual Meteorological (flying) Conditions