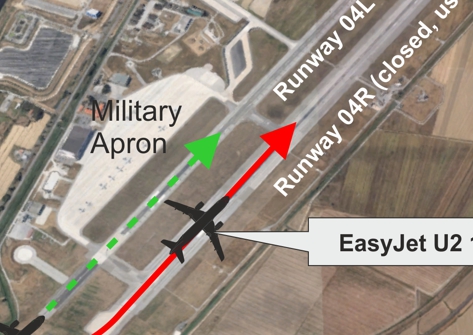 2015-12-30 EasyJet Airbus A319 landed on closed runway at Pisa, Italy
The aircraft erroneously landed on a taxiway formerly used as a runway at Pisa, Italy. The pilots completed the landing safely and taxied to the ramp.
On final approach to runway 04L(eft) at Pisa San Giusto Airport, Italy, tower cleared the aircraft to land on runway 04L(eft).
However, the pilots landed on the parallel runway 04R now in use as a taxiway.
The pilots slowed down normally and vacated to the ramp without any potential conflict to other ground traffic.
The return flight was cancelled and the Airbus departed Pisa for a ferry flight (EZY 9004) to Luton.
NOTAM LIRP:
RUNWAY 04R/22L AVBL AS TWY ONLY. RUNWAY 04L/22R AVBL AS RWY IN USE. RMK1:TRAFFIC MAY BE SUBJ DLA RMK2:DRG TAX OPS MAY BE NECESSARY TO CROSS ACTIVE RUNWAY IN ORDER TO PREVENT RWY INCURSION FLW STRICTLY ATC INSTRUCTION.REF AIP AD 2 LIRP 2-1. 23 DEC 15:44 2015 UNTIL 31 JAN 23:59 2016 ESTIMATED. CREATED: 23 DEC 15:44 2015
OCCURENCE DATASET
Date: 2015-12-30 Time: 11:11
Location: LIRP PSA Pisa San Giusto
Country: Italy
Flight phase: LDG – Flare, Landing Roll, Aborted Landing after Touchdown
Damage to a/c: none
Flight
Flight no.: U2 1847
From: EGCC/MAN: Manchester To: LIRP/PSA: Pisa San Giusto
Type: Passenger
Operator: EasyJet
Aircraft
Type: Airbus A319
Registration: G-EZBY
Age a/c: 8,5 years
Constr. No.: 3176
Tweet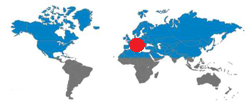 | | | | | |
| --- | --- | --- | --- | --- |
| | Crew | Pax | Other | Total |
| Occupants | – | – | 0 | – |
| Fatalities | 0 | 0 | 0 | 0 |
| Injuries | 0 | 0 | 0 | 0 |
JACDEC 25-year Statistics :
27th safety occurence for the operator
127th safety occurence of type (A319)
1st safety occurence a Pisa Airport
1st safety occurence for aircraft in question
Image & Information Sources
Copyright - Terms of Usage
All written and shown content on JACDEC.de is provided in the most accurate way. All information may be subject to changes because JACDEC.de cannot always ensure a full support of information updates to each news story.
No publication (or part of) provided by at JACDEC.de may be reproduced or transmitted in any form or by any means or by any information retrieval system without written permission from JACDEC. The below information includes unofficial information and should be treated as this. Editors cannot be held responsible for any errors or omissions caused by any information source mentioned herein. The nature of the following information should be regarded as preliminary.
Furthermore, the author cannot be held accountable for correctness, completeness or quality of the information provided herein. Liability claims regarding damage caused by the use of any information provided, including any kind of information which is incomplete or incorrect,will therefore be rejected.
For further terms and conditions, check our legal disclaimer section:
http://www.jacdec.de/imprint-legal-disclaimer/ 
AP = Airport / AL = Airlines / Avn = Aviation / AW = Airways / C/N: Construction Number / DSP = Domestic Scheduled Passenger / DNP = Domestic Non-Scheduled Passenger / DSC = Domestic Scheduled Cargo / DNC= Domestic Non-Scheduled Cargo / GND = On the ground / parked, stored / FMN= Flying Mission, Air Work / FRY = Ferry-, Positioning Flight / IMC = Intrument Meteorological (flying) Conditions / ISP = International Scheduled Passenger / ISC=International Scheduled Cargo / INP = International Non-Scheduled Passenger / INC =International Non-Scheduled Cargo/ OPS = Flight Operation(s) / NRV = Non-revenue, Private Flight / TRN =Training Flight /  TST = Test & Certification Flight / VMC = Visual Meteorological (flying) Conditions