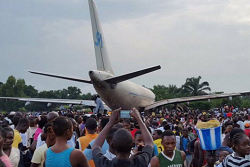 2015-12-24 Services Air Cargo A310F overran runway at Mbuji-Maji
The cargo aircraft overran the end of the runway at Mbuji-Maji Airport ending up between small houses and trees. Eight people on the ground are known to have been killed.
On 3rd landing attempf on runway 17 at Mbuji-Maji Airport, the Airbus A310F (freighter) failed to stop within the runway lengh and overran with speed.
The aircraft departed the end of the runway with considerable speed ploughing through small houses killing (about) five people in the house plus another two on the ground before the A310 came to rest amongst trees and bushes about 500 meters behind the end of the runway.
All crewmembers on board remained unhurt in the accident, but there were eight people found dead in or near their homes.
According to post accident photos damage to the aircraft seems to be limited to the right engine and wing.
It was raining at the time of the landing but local visibility was good.
There were unconfirmed eyewitnesses reports, the A310 may have touched down late, after about half of the runway. However, on-the-spot video documents does not support this theory.
NOTE: the overall state of the runway and Apron surfaces at Mbuji-Maji Airport is known to be in a woeful condition. Large pieces of asphalt came loose, substantially degrading friction and braking effectiveness.
Only deays before the accident, Congo Airways ceased all operations to Mbuji-Maji because of the poor runway state. (see report in right column)
In August 2015, a Boeing 737 of Korongo Airways was damaged when parts of runway surface broke loose and were blown against the empennage. 
On Jan 02nd 2016, the A310 was removed and towed over a 300 m long dirtway back onto solid ground where it was finally parked on the tarmac. Air Alliance operations manager is quoted by saying:  "The pilot and the aircraft were airworthy. It is true that left the runway in heavy rain in Mbuji-Mayi. The runway was wet. It happens all the runways in the world. The pilot did what he could to stop the plane, but the braking coefficient is reduced to zero "
OCCURENCE DATASET
Date: 2015-12-24 Time: 00:00
Location: FZWA MJM Mbuji-Mayi
Country: DR Congo (Kinshasa)
Flight phase: LDG – Flare, Landing Roll, Aborted Landing after Touchdown
Damage to a/c: substantial
Flight
Flight no.:
From: FZQA/FBM: Lubumbashi / Luano To: FZWA/MJM: Mbuji-Mayi
Type: Cargo
Operator: Services Air Cargo (DR Congo)
Aircraft
Type: Airbus A310-300F
Registration: 9Q-CVH
Age a/c: 29,8 years
Constr. No.: 413
Tweet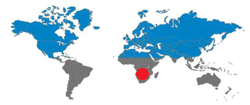 | | | | | |
| --- | --- | --- | --- | --- |
| | Crew | Pax | Other | Total |
| Occupants | 4 | 0 | 0 | 4 |
| Fatalities | 0 | 0 | 8 | 8 |
| Injuries | 0 | 0 | – | – |
JACDEC 25-year Statistics :
3rd safety occurence for the operator
83rd safety occurence of type (A310)
7th safety occurence a Mbuji-Maji Airport, DRC
1st safety occurence for aircraft in question
Image & Information Sources
Copyright - Terms of Usage
All written and shown content on JACDEC.de is provided in the most accurate way. All information may be subject to changes because JACDEC.de cannot always ensure a full support of information updates to each news story.
No publication (or part of) provided by at JACDEC.de may be reproduced or transmitted in any form or by any means or by any information retrieval system without written permission from JACDEC. The below information includes unofficial information and should be treated as this. Editors cannot be held responsible for any errors or omissions caused by any information source mentioned herein. The nature of the following information should be regarded as preliminary.
Furthermore, the author cannot be held accountable for correctness, completeness or quality of the information provided herein. Liability claims regarding damage caused by the use of any information provided, including any kind of information which is incomplete or incorrect,will therefore be rejected.
For further terms and conditions, check our legal disclaimer section:
http://www.jacdec.de/imprint-legal-disclaimer/
AP = Airport / AL = Airlines / Avn = Aviation / AW = Airways / C/N: Construction Number / DSP = Domestic Scheduled Passenger / DNP = Domestic Non-Scheduled Passenger / DSC = Domestic Scheduled Cargo / DNC= Domestic Non-Scheduled Cargo / GND = On the ground / parked, stored / FMN= Flying Mission, Air Work / FRY = Ferry-, Positioning Flight / IMC = Intrument Meteorological (flying) Conditions / ISP = International Scheduled Passenger / ISC=International Scheduled Cargo / INP = International Non-Scheduled Passenger / INC =International Non-Scheduled Cargo/ OPS = Flight Operation(s) / NRV = Non-revenue, Private Flight / TRN =Training Flight /  TST = Test & Certification Flight / VMC = Visual Meteorological (flying) Conditions