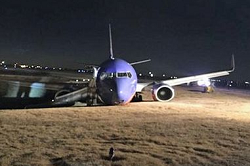 2015-12-15 Southwest Boeing 737-300 taxied into ditch at Nashville
After a normal landing the 737 ran off the side of the taxiway coming to rest in a ditch where its nosegear collapsed. There were a number of minor injuries.
Southwest Airlines flight 31 from Houston Hobby made a normal landing on runway 20C(enter).
After vacating the runway to the left it follows taxiway "Sierra" and "Tango 4" proceeding northbound to the terminal.
The aircraft has just crossed the inactive runway 13/31 and was about to turn right into taxiway "Juliet" when directional control was apparently lost. (see map)
Boeing 737 ran off to the right side of the taxiway until it rolled over the grass towards downsloping ground. The aircraft ended up in a ditch with its nosegear subsequently collpased.
The crew initiated an emergency evacuation using slides on the right hand side.
Three minor injuries have been reported. The aircraft was substantially damaged.
The accident occured in darkness.
In Jan 2016,  The NTSB has opened an investigation. [LINK]
The aircraft is not expected to get repaired anytime soon and is possibly to be considered a hull loss.
The NTSB published a full accident report in 2016. [LINK to Report]
The National Transportation Safety Board determines the probable cause(s) of this accident as follows:
the flight crew's early turn towards the assigned gate because taxiway lighting had been inadvertently turned off by the controller-in-charge which resulted in the airplane leaving the paved surface.


© NTSB

Contributing to the accident was the operation of the screen-saver function on the lighting control panel that prevented the tower controllers from having an immediate visual reference to the status of the airfield lighting.

---
Southwest Airlines media statement: LINK
OCCURENCE DATASET
Date: 2015-12-15 Time: 17:25
Location: KBNA BNA Nashville
Country: USA
Flight phase: TXI – Taxi, Power Back
Damage to a/c: substantial / hull loss
Flight
Flight no.: WN 31
From: KHOU/HOU: Hobby To: KBNA/BNA: Nashville
Type: Passenger
Operator: Southwest Airlines
Aircraft
Type: Boeing 737-300
Registration: N649SW
Age a/c: 18,5 years
Constr. No.: 27719
Tweet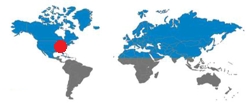 Latest state of the aircraft, poss a write off

© P. Robbins | Flickr
| | | | | |
| --- | --- | --- | --- | --- |
| | Crew | Pax | Other | Total |
| Occupants | 5 | 133 | 0 | 138 |
| Fatalities | 0 | 0 | 0 | 0 |
| Injuries | 0 | 3 | 0 | 3 |
JACDEC 25-year Statistics :
61th safety occurence for the operator
198th safety occurence of type (B733)
12th safety occurence a Nashville Airport, TN
1st safety occurence for aircraft in question
Image & Information Sources
Copyright - Terms of Usage
All written and shown content on JACDEC.de is provided in the most accurate way. All information may be subject to changes because JACDEC.de cannot always ensure a full support of information updates to each news story.
No publication (or part of) provided by at JACDEC.de may be reproduced or transmitted in any form or by any means or by any information retrieval system without written permission from JACDEC. The below information includes unofficial information and should be treated as this. Editors cannot be held responsible for any errors or omissions caused by any information source mentioned herein. The nature of the following information should be regarded as preliminary.
Furthermore, the author cannot be held accountable for correctness, completeness or quality of the information provided herein. Liability claims regarding damage caused by the use of any information provided, including any kind of information which is incomplete or incorrect,will therefore be rejected.
For further terms and conditions, check our legal disclaimer section:
http://www.jacdec.de/imprint-legal-disclaimer/
AP = Airport / AL = Airlines / Avn = Aviation / AW = Airways / C/N: Construction Number / DSP = Domestic Scheduled Passenger / DNP = Domestic Non-Scheduled Passenger / DSC = Domestic Scheduled Cargo / DNC= Domestic Non-Scheduled Cargo / GND = On the ground / parked, stored / FMN= Flying Mission, Air Work / FRY = Ferry-, Positioning Flight / IMC = Intrument Meteorological (flying) Conditions / ISP = International Scheduled Passenger / ISC=International Scheduled Cargo / INP = International Non-Scheduled Passenger / INC =International Non-Scheduled Cargo/ OPS = Flight Operation(s) / NRV = Non-revenue, Private Flight / TRN =Training Flight /  TST = Test & Certification Flight / VMC = Visual Meteorological (flying) Conditions