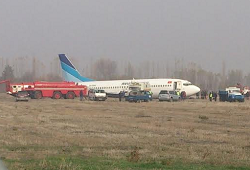 2015-11-22 Avia Traffic Boeing 737-300 seriously damaged on landing at Osh
On landing in reduced visibility conditions, the 737 ran off the runway where its undercarriage collapsed. At least six persons were taken to hospital .
Flight YK 768 diverted to Bishkek, because of fog Osh, at its original destination. After more encouraging weather reports, the pilots departed to Osh again but still encountered very limited visibility conditions on arrival.
The pilots elected not to abort the landing again , but failed to slow down the 737 before the end of the runway.
Iit is understood the aircraft attempted an ILS-approach to land on runway 12, but eventually touched down very hard resulting in an immediate loss of control.
The aircraft ran over uneven terrain the all main gear and the nosegear collapsed. The left engine completely sheared off from its pylon and the right engine took substantial damage as well.
The left foreward emergency slide was activated and also the left overwing was opened.
Estimated by video footage immediately after the accident, the visibility at the airport was less than 100 meters.
The aircraft was a hull loss.
According to aeronautical charts, visibility minima for ILS approaches to runway 12 are 720 meters (2400 ft). If no visual ground contact can be established all pilots must initiate a go-around at 200 ft (above ground level) at the lowest.
OCCURENCE DATASET
Date: 2015-11-22 Time: 07:45
Location: UAFO OSS Osh Airport
Country: Kyrgyzstan
Flight phase: LDG – Flare, Landing Roll, Aborted Landing after Touchdown
Damage to a/c: substantial
Flight
Flight no.: YK 768
From: UNKL/KJA: Krasnoyarsk Yemelyanovo To: UAFO/OSS: Osh Airport
Type: Passenger
Operator: Avia Traffic Company
Aircraft
Type: Boeing 737-300
Registration: EX-37005
Age a/c: 25.2 years
Constr. No.: 24681
Fortmer Operators:: Citilink, Garuda Indonesia, Air Philippines, Philippine Airlines (delivery custormer)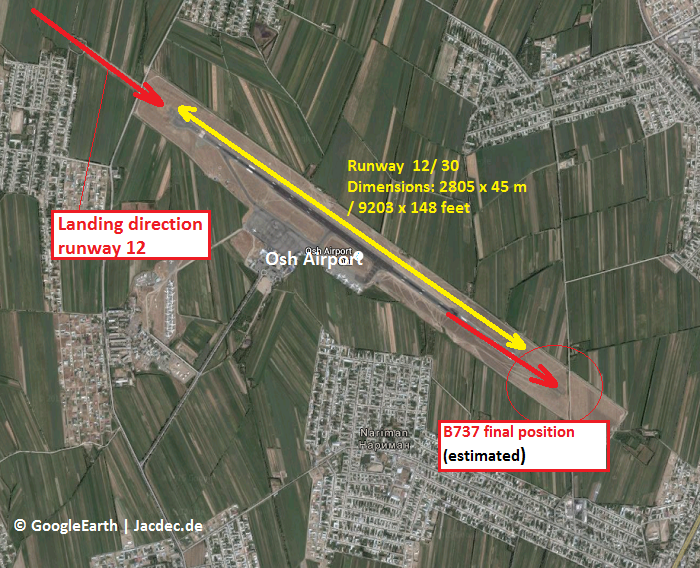 In AUG 2016, the russian MAK (interstate Aviation Committee) released the final investigation report.
Download Report (pdf, in russian).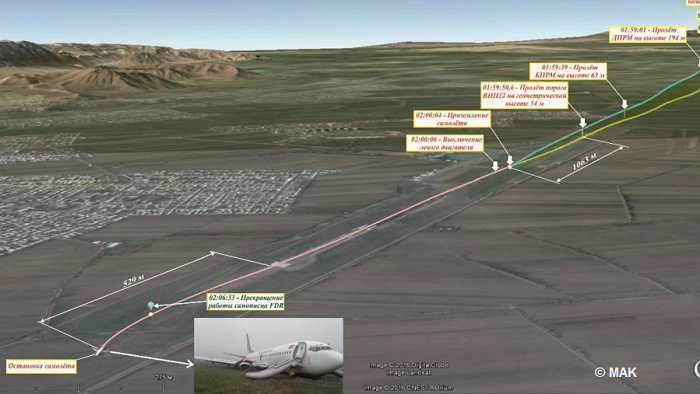 © MAK
Tweet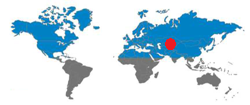 Investigation Report (pdf, in russian):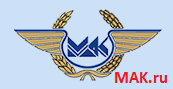 | | | | | |
| --- | --- | --- | --- | --- |
| | Crew | Pax | Other | Total |
| Occupants | 5 | 148 | 0 | 153 |
| Fatalities | 0 | 0 | 0 | 0 |
| Injuries | 0 | 4 | 0 | 4 |
JACDEC 25-year Statistics :
1st safety occurence for the operator
201st safety occurence of type (B737-300)
5th safety occurence at Osh Airport
1stsafety occurence for aircraft in question
Image & Information Sources
AP = Airport / AL = Airlines / Avn = Aviation / AW = Airways / C/N: Construction Number / DSP = Domestic Scheduled Passenger / DNP = Domestic Non-Scheduled Passenger / DSC = Domestic Scheduled Cargo / DNC= Domestic Non-Scheduled Cargo / GND = On the ground / parked, stored / FMN= Flying Mission, Air Work / FRY = Ferry-, Positioning Flight / IMC = Intrument Meteorological (flying) Conditions / ISP = International Scheduled Passenger / ISC=International Scheduled Cargo / INP = International Non-Scheduled Passenger / INC =International Non-Scheduled Cargo/ OPS = Flight Operation(s) / NRV = Non-revenue, Private Flight / TRN =Training Flight /  TST = Test & Certification Flight / VMC = Visual Meteorological (flying) Conditions