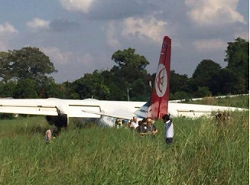 2015-11-13 Lao Skyway MA-60 off runway at Vientiane
The MA-60 aircraft went off the runway at Vientiane Airport resulting in major damage. There were no reports about any injured persons.
According ot local media reports, after landing on runway 13 the MA-60 turboprop aircraft veered to the side of the runway until it departed paved surface.
The aircraft continued to run across soft ground until it came to rest in deep grassland about 100 meters offset to the main runway.
It appears that all passengers and crewmembers managed to escape without serious injuries.
At the time local weather conditions were good with nearly no wind and visibility more than 10 km.
According to unconfirmed reports, the aircraft may have suffered engine failure during reverse propeller operations after touchdwn resulting in a loss of directional control.
Vientiane Wattay International Airport (VLVT) is equipped with a single runway 13/ 31.
Dimensions: 3000 x 45 meters (9843 x 148 feet)
METAR: VLVT:
VLVT 130630Z 27002KT 9999 SCT020 34/24 Q1011 NOSIG
VLVT 130730Z 34004KT 9999 SCT020 34/24 Q1010 NOSIG
OCCURENCE DATASET
Date: 2015-11-13 Time: 14:00
Location: VLVT VTE Vientiane Wattay
Country: Laos
Flight phase: LDG – Flare, Landing Roll, Aborted Landing after Touchdown
Damage to a/c: substantial
Flight
Flight no.: LLL 265
From: VLLB/LPQ: Luang Prabang To: VLVT/VTE: Vientiane Wattay
Type: Passenger
Operator: Lao Skyway
Aircraft
Type: Xian / AVIC MA-60
Registration: RDPL-34226
Age a/c: 1.4 years
Constr. No.: 801
Tweet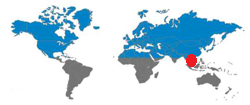 | | | | | |
| --- | --- | --- | --- | --- |
| | Crew | Pax | Other | Total |
| Occupants | | | | |
| Fatalities | 0 | 0 | 0 | 0 |
| Injuries | 0 | 0 | 0 | 0 |
JACDEC 25-year Statistics :
1st safety occurence for the operator
22nd safety occurence of type (MA-60)
1st safety occurence at Vientiane Airport
1st safety occurence for aircraft in question
Image & Information Sources
AP = Airport / AL = Airlines / Avn = Aviation / AW = Airways / C/N: Construction Number / DSP = Domestic Scheduled Passenger / DNP = Domestic Non-Scheduled Passenger / DSC = Domestic Scheduled Cargo / DNC= Domestic Non-Scheduled Cargo / GND = On the ground / parked, stored / FMN= Flying Mission, Air Work / FRY = Ferry-, Positioning Flight / IMC = Intrument Meteorological (flying) Conditions / ISP = International Scheduled Passenger / ISC=International Scheduled Cargo / INP = International Non-Scheduled Passenger / INC =International Non-Scheduled Cargo/ OPS = Flight Operation(s) / NRV = Non-revenue, Private Flight / TRN =Training Flight /  TST = Test & Certification Flight / VMC = Visual Meteorological (flying) Conditions