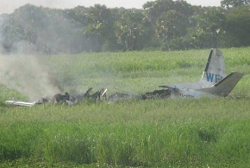 2015-11-10 UN HS 748 Andover crashed after takeoff at Malakal South Sudan
Shortly after take-off the HS-748 turbopro aircraft impacted ground near Malakal Airport, South Sudan. It is understood that all on board survived the accident.
Moments after getting airborne at Malakal Airport the aircraft  began to loose height. It crashed about 2 kilometers from the airport, caught fire and ended in a swampy field close to the River Nile.
A ll four crewmembers survived and were rescued from the burning wreckage and taken to hospital.
The aircraft was owned and operated by West Wind Aviation of Canada on behalf of the United Nations World Food Programme (WFP).
At the time of the accident it was on a positioning flight after food and other supplies were offloaded at Malakal.
OCCURENCE DATASET
Date: 2015-11-10 Time: 00:00
Location: HSSM MAK Malakal
Country: Sudan
Flight phase: ICL – Airborne – 1.000 ft AGL
Damage to a/c: hull loss
Flight
Flight no.:
From: HSSM/MAK: Malakal To: 0000/: NONE
Type: Hawker HS-748 Andover
Operator: West Wind Aviation / United Nations
Aircraft
Type: BAe HS-748 Andover
Registration: TL-AEW
Age a/c: 49.4 years
Constr. No.: SET13
Tweet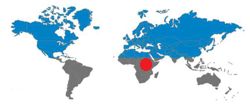 | | | | | |
| --- | --- | --- | --- | --- |
| | Crew | Pax | Other | Total |
| Occupants | | | | 4 |
| Fatalities | 0 | 0 | 0 | 0 |
| Injuries | | | | |
JACDEC 25-year Statistics :
7th safety occurence for the operator
62th safety occurence of type (HS 748)
2nd safety occurence at Malakal, S. Sudan
1st safety occurence for aircraft in question
Image & Information Sources
AP = Airport / AL = Airlines / Avn = Aviation / AW = Airways / C/N: Construction Number / DSP = Domestic Scheduled Passenger / DNP = Domestic Non-Scheduled Passenger / DSC = Domestic Scheduled Cargo / DNC= Domestic Non-Scheduled Cargo / GND = On the ground / parked, stored / FMN= Flying Mission, Air Work / FRY = Ferry-, Positioning Flight / IMC = Intrument Meteorological (flying) Conditions / ISP = International Scheduled Passenger / ISC=International Scheduled Cargo / INP = International Non-Scheduled Passenger / INC =International Non-Scheduled Cargo/ OPS = Flight Operation(s) / NRV = Non-revenue, Private Flight / TRN =Training Flight /  TST = Test & Certification Flight / VMC = Visual Meteorological (flying) Conditions