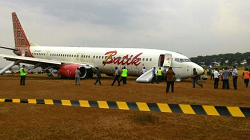 2015-11-06 Batik Air Boeing 737-900 off runway at Yogyakarta
On landing in rain, the 737 overshot the end of the runway at Yogyakarta and came to rest with its nosegear collapsed. No one on board was hurt.
After what appeared to be an abnormally "heavy" touchdown on runway 09, Batik Air flight ID 6380 skidded off the end of the runway.
At the time of the landing local weather consisted of moderate rain. No METAR/TAF avialable for Yogyakarta Airport (WARJ).
The 737 came to rest approximately 100 meters beyond the end of the runway. Its nosegear appeared to have collapsed during the overrun.
After coming to a standstill on soft, but even ground, all on board were evacuated via onboard emergency slides.
Airport traffic was halted for the aircraft removal.
Runway 09/27 has an asphalt surface and is 2199 meters (7215 ft) in lengh.
OCCURENCE DATASET
Date: 2015-11-06 Time: 14:55
Location: WARJ JOG Yogyakarta Airport
Country: Indonesia
Flight phase: LDG – Flare, Landing Roll, Aborted Landing after Touchdown
Damage to a/c: substantial
Flight
Flight no.: ID 6380
From: WIII/CGK: Jakarta Soekarno Hatta Intl Airport To: WARJ/JOG: Yogyakarta Airport
Type: Passenger
Operator: Batik Air
Aircraft
Type: Boeing 737-900
Registration: PK-LBO
Age a/c: 2.5 years
Constr. No.: 38731
Tweet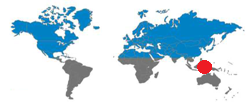 | | | | | |
| --- | --- | --- | --- | --- |
| | Crew | Pax | Other | Total |
| Occupants | | | | 167 |
| Fatalities | 0 | 0 | 0 | 0 |
| Injuries | 0 | 0 | 0 | 0 |
JACDEC 25-year Statistics :
2nd safety occurence for the operator
26th safety occurence of type (B737-900)
7th safety occurence at Yogyakarta Airport
1st safety occurence for aircraft in question
Image & Information Sources
AP = Airport / AL = Airlines / Avn = Aviation / AW = Airways / C/N: Construction Number / DSP = Domestic Scheduled Passenger / DNP = Domestic Non-Scheduled Passenger / DSC = Domestic Scheduled Cargo / DNC= Domestic Non-Scheduled Cargo / GND = On the ground / parked, stored / FMN= Flying Mission, Air Work / FRY = Ferry-, Positioning Flight / IMC = Intrument Meteorological (flying) Conditions / ISP = International Scheduled Passenger / ISC=International Scheduled Cargo / INP = International Non-Scheduled Passenger / INC =International Non-Scheduled Cargo/ OPS = Flight Operation(s) / NRV = Non-revenue, Private Flight / TRN =Training Flight /  TST = Test & Certification Flight / VMC = Visual Meteorological (flying) Conditions