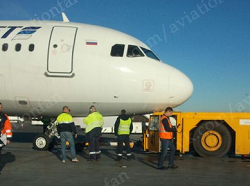 2015-11-05 Metrojet A321 pushback mishap at St Petersburg
The aircraft was damaged when it its nosegear dug in during pushback. .
In the initial stages of the pushback maneuvre from an off-terminal position, the nosegear suddenly gave way.
The nose dug in and hit the connected towing truck resulting in unspecified damage.
it appears that the pilots inadvertently hit the wheel brakes putting enormous stress to the strut.
There were reports about any injured persons. The flight to Sharm-el-Sheikh was cancelled.
---
Press statement of MetroJet (Kolavia):
Delayed departure 7K 9267
Today, 05/11/2015, at Pulkovo Airport (Saint-Petersburg) tractor airport ground services has violated the rules of towing aircraft.
As a result of the violation at the turn for towing aircraft was damaged mechanism of the nose landing gear.
This incident resulted in the need to bring the reserve aircraft, as well as delay the departure 7K-9267 St. Petersburg – Sharm El Sheikh.
Estimated time of departure – 17:05 (MSK).
OCCURENCE DATASET
Date: 2015-11-05 Time: 00:00
Location: ULLI LED St Petersburg Pulkovo Intl Airport
Country: Russia
Flight phase: PBT – Pushback / Towing with engines not in operation
Damage to a/c: substantial
Flight
Flight no.: 7K 9267
From: ULLI/LED: St Petersburg Pulkovo Intl Airport To: HESH/SSH: Sharm El Sheikh
Type: Passenger
Operator: MetroJet (Kolavia)
Leased from: Unknown
Aircraft
Type: Airbus A321
Registration: EI-ETL
Age a/c: 16.8 years
Constr. No.: 954
Tweet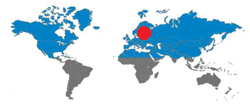 | | | | | |
| --- | --- | --- | --- | --- |
| | Crew | Pax | Other | Total |
| Occupants | – | – | 0 | – |
| Fatalities | 0 | 0 | 0 | 0 |
| Injuries | 0 | 0 | 0 | 0 |
JACDEC 25-year Statistics :
4th safety occurence for the operator
127th safety occurence of type (A321)
13th safety occurence at St.Petersburg Airport
1st safety occurence for aircraft in question
Image & Information Sources
AP = Airport / AL = Airlines / Avn = Aviation / AW = Airways / C/N: Construction Number / DSP = Domestic Scheduled Passenger / DNP = Domestic Non-Scheduled Passenger / DSC = Domestic Scheduled Cargo / DNC= Domestic Non-Scheduled Cargo / GND = On the ground / parked, stored / FMN= Flying Mission, Air Work / FRY = Ferry-, Positioning Flight / IMC = Intrument Meteorological (flying) Conditions / ISP = International Scheduled Passenger / ISC=International Scheduled Cargo / INP = International Non-Scheduled Passenger / INC =International Non-Scheduled Cargo/ OPS = Flight Operation(s) / NRV = Non-revenue, Private Flight / TRN =Training Flight /  TST = Test & Certification Flight / VMC = Visual Meteorological (flying) Conditions