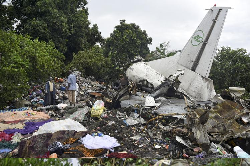 2015-11-04 Allied Svcs Antonov An-12 crashed near Juba, Sudan
The cargo aircraft crashed about 1 Km from the end of the runway at Juba, Sudan after take-off killing 25 people.
Very soon after take-off from runway 13, the pilots failed to gain sufficient height and impacted wooded hillside some 1000 meters after getting airborne.
On impact the 4-engined cargo aircraft disintegrated. The main wreckage came to rest beneath the banks of the White Nile River.
At present there are no robust casualty numbers but local police reported that 25 people are known to have been killed in the crash. Only one crewmember and one child are known to have survived.
The Antonov AN-12 was on a cargo flight to the Paloich oil fields but rumoured to have a unknown number of unregistered passengers on board.
There is speculation the aircraft have have been loaded beyond its limits.
OCCURENCE DATASET
Date: 2015-11-04 Time: 09:00
Location: HSSJ JUB Juba Airport area
Country: South Sudan
Flight phase: ICL – Airborne – 1.000 ft AGL
Damage to a/c: hull loss
Flight
Flight no.:
From: HSSJ/JUB: Juba Airport To: HSFA/HGI: Palogue Airport
Type: Cargo
Operator: Allied Services Ltd
Leasd from: Asia Airways
Aircraft
Type: Antonov An-12
Registration: EY-406
Age a/c: 44.7 years
Constr. No.: 01347704
Tweet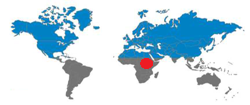 | | | | | |
| --- | --- | --- | --- | --- |
| | Crew | Pax | Other | Total |
| Occupants | 5 | 13 | 0 | 18 |
| Fatalities | 5 | 10 | 10 | 25 |
| Injuries | 1 | 2 | 0 | 3 |
JACDEC 25-year Statistics :
1st safety occurence for the operator
157th safety occurence of type (AN-12)
9th safety occurence at Juba, Sudan
1st safety occurence for aircraft in question
Image & Information Sources
AP = Airport / AL = Airlines / Avn = Aviation / AW = Airways / C/N: Construction Number / DSP = Domestic Scheduled Passenger / DNP = Domestic Non-Scheduled Passenger / DSC = Domestic Scheduled Cargo / DNC= Domestic Non-Scheduled Cargo / GND = On the ground / parked, stored / FMN= Flying Mission, Air Work / FRY = Ferry-, Positioning Flight / IMC = Intrument Meteorological (flying) Conditions / ISP = International Scheduled Passenger / ISC=International Scheduled Cargo / INP = International Non-Scheduled Passenger / INC =International Non-Scheduled Cargo/ OPS = Flight Operation(s) / NRV = Non-revenue, Private Flight / TRN =Training Flight /  TST = Test & Certification Flight / VMC = Visual Meteorological (flying) Conditions