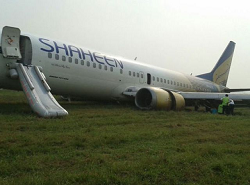 2015-11-03 Shaheen Air Boeing 737-400 off runway at Lahore
Shaheen Air flight NL142 was badly damaged in a runway excursion on landing at Lahore-Allama Iqbal Intl Airport. Except for 10 people, all on board remained unhurt.
On final approach to runway  36L(eft) in reduced visibility conditions (low ceiling, fog and smoke) the 737-400 appeared to have made a touchdown a few meters offset to the landing runway where it ran over soft ground.
At least one (or both) of  the maingear failed when it hit the raised lip of a taxiway and seperated from its attachments.
The pilots were unable to correct the excursion when the 737 came to a stop resting on its and engine nacelles. Only the nosegear remained intact.
An emergency evacuation was initiated in which 10 persons are known to have received minor injuries.
Passenger video of the landing and evacuation (© Khabardaar plus | Youtube):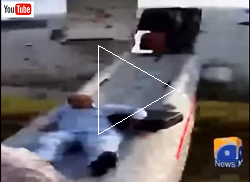 The aircraft is likely to be considered a constructive hull loss.
At the time, there was no ILS available for runway 36R because of ongoing maintenance works.
Runway 36L is not equipped with an instrument landing system (ILS).
Preliminary investigation by the pakistan Civil Aviation Authority (CAA) showed "the pilot was tired and had consumed alcohol before the flight.."
The pilot had consumed more than the permitted amount of blood alcohol and had not rested the required hours before the flight, said the CAA spokesman.
JACDEC DATABASE SERVICE:
This accident marks the 5th landing mishap of Shaheen Air
2010-02-09 B732, AP-BIK small excursion on landing Peshawar
2014-04-22, B734, AP-BJN, left maingear failed on landing Karachi
2014-12-30 B734, AP-BJN, veered off runway  on landing Lahore, not repaired
2015-07-16 B734, AP-BJT, severe vibrations on landing Quetta
The average fleet age of Shaheen Air is 17,5 years
OCCURENCE DATASET
Date: 2015-11-03 Time: 09:30
Location: OPLA LHE Lahore
Country: Pakistan
Flight phase: LDG – Flare, Landing Roll, Aborted Landing after Touchdown
Damage to a/c: substantial / hull loss
Flight
Flight no.: NL 142
From: OPKC/KHI: Karachi Quaid e Azam Intl To: OPLA/LHE: Lahore
Type: Passenger
Operator: Shaheen Airlines
Aircraft
Type: Boeing 737-400
Registration: AP-BJO
Age a/c: 22.9 years
Constr. No.: 27166
Previous Operator:  Malaysia Airlines
Tweet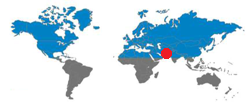 | | | | | |
| --- | --- | --- | --- | --- |
| | Crew | Pax | Other | Total |
| Occupants | 7 | 112 | 0 | 119 |
| Fatalities | 0 | 0 | 0 | 0 |
| Injuries | | | | 10 |
JACDEC 25-year Statistics :
8th safety occurence for the operator
149th safety occurence of type (B737-400)
9th safety occurence at Lahore Airport
1st safety occurence for aircraft in question
Image & Information Sources
AP = Airport / AL = Airlines / Avn = Aviation / AW = Airways / C/N: Construction Number / DSP = Domestic Scheduled Passenger / DNP = Domestic Non-Scheduled Passenger / DSC = Domestic Scheduled Cargo / DNC= Domestic Non-Scheduled Cargo / GND = On the ground / parked, stored / FMN= Flying Mission, Air Work / FRY = Ferry-, Positioning Flight / IMC = Intrument Meteorological (flying) Conditions / ISP = International Scheduled Passenger / ISC=International Scheduled Cargo / INP = International Non-Scheduled Passenger / INC =International Non-Scheduled Cargo/ OPS = Flight Operation(s) / NRV = Non-revenue, Private Flight / TRN =Training Flight /  TST = Test & Certification Flight / VMC = Visual Meteorological (flying) Conditions