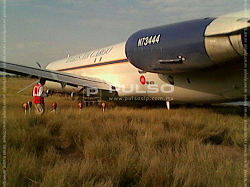 2015-11-02 Everts Air Cargo MD-82F ran off runway at San Luis Potosi
The MD-82 freighter was damaged in an overrun of the take-off runway at San Luis Potosi, Mexico.
The aircraft was accelerating for take-off on runway 32 (lengh 3000 m)when the pilots experienced uncpecified "mechanical failure" and elected to abort.
The remaining runway distance was insufficient to prevent an overrun and the MD-82 rolled off the end of the paved surface where it struck a number of runway lights before it came to a stop 300 meters behind.
The plane was loaded with assembly parts for the automobile industry.
It is understood that the damage to the aircraft is limited and it may be repairable.
The incident caused minor damage to the approach light system.
Removal of the MD-82 will continue throughout the following day, with the support of specialized tonnage cranes to support it. Airport operations were not seriously affected.
OCCURENCE DATASET
Date: 2015-11-02 Time: 15:00
Location: MMSP SLP San Luis Potosi
Country: Mexico
Flight phase: TOF – Take-off, Rejected Take-off
Damage to a/c: substantial
Flight
Flight no.:  3Z 9249
From: MMSP/SLP: San Luis Potosi To: KLRD/LRD: Laredo Intl
Type: Cargo
Operator: Everts Air Cargo
Aircraft
Type: McDD MD-82F
Registration: N73444
Age a/c: 28.1 years
Constr. No.: 49470
Tweet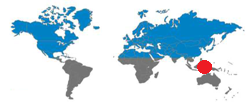 | | | | | |
| --- | --- | --- | --- | --- |
| | Crew | Pax | Other | Total |
| Occupants | | | | |
| Fatalities | 0 | 0 | 0 | 0 |
| Injuries | 2 | 0 | 0 | 2 |
JACDEC 25-year Statistics :
7th safety occurence for the operator
1st safety occurence of type (MD-82F)
2nd safety occurence at San Luis Potosi AP
1st safety occurence for aircraft in question
Image & Information Sources
AP = Airport / AL = Airlines / Avn = Aviation / AW = Airways / C/N: Construction Number / DSP = Domestic Scheduled Passenger / DNP = Domestic Non-Scheduled Passenger / DSC = Domestic Scheduled Cargo / DNC= Domestic Non-Scheduled Cargo / GND = On the ground / parked, stored / FMN= Flying Mission, Air Work / FRY = Ferry-, Positioning Flight / IMC = Intrument Meteorological (flying) Conditions / ISP = International Scheduled Passenger / ISC=International Scheduled Cargo / INP = International Non-Scheduled Passenger / INC =International Non-Scheduled Cargo/ OPS = Flight Operation(s) / NRV = Non-revenue, Private Flight / TRN =Training Flight /  TST = Test & Certification Flight / VMC = Visual Meteorological (flying) Conditions