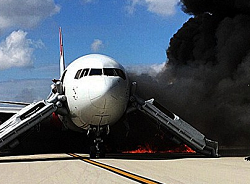 2015-10-29 Dynamic AW Boeing 767-200 engine fire at Ft.Lauderdale
During taxi, an engine caught fire prompting the crew to perform an emergency evacuation in which 15 people were injured..
Dynamic Airways charter flight D2 405 was taxiing out from the temrinal to the departure runway 28R, via taxiway "Bravo" when its left engine (JT9D) leaked large amounts of jet fuel.
The pilots stopped in the holding area before line-up and requested to taxi back to the terminal, when the spilled fuel from engine #1 suddenly caught fire.
via LIVEAtc.net (FLL Tower) [LINK]:
The pilots of an aircraft following flight 405 radioed:
405: "..Dynamic 45 heavy, holding short runway 28 right."
2nd acft: "ah Dynamic, ahh the left engine looks like its leaking a lot of unburnt fuel. Its leaking out their left engine."
Tower: "Okay Dynamic 405, do you copy ?"
405: "Ah, yes sir we copy, we probably need to go back..to the..ah, ramp."
(12 seconds later)
2nd acft (yelling): "Engine is on fire, engine is on fire !"
Tower (garbled transmissions, background): "emergency call the fire trucks."
Realizing massive smoke and flames coming from the left side of the aircraft, an emergency evacuation via onboard slides was initiated. Exits were L1 R1 and R2. Evacuation was completed within 6 minutes.
It is understood that 15 people were taken to local hospitals, one of them received serious injuries. Another 12 were treated as outpatient received minor bruises in the evacuation.
Evacuation VIDEO (via ABCNews | facebook):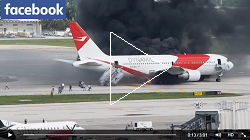 Airport fire services foamed the engine but the fire continued to burn and was finally extinguished after seven minutes.
There are no reports of injuries, the 767 received substantial damage.
Operations at Ft.Lauderdale Airport were disrupted bacause the main taxiway was contaminated by jet fuel over a large area (about 600 meters) .
Damage to the 767 is substantial.
INVESTIGATION UPDATE
On 2015-11-03 the NTSB released a press statement about the preliminary investigation result.
The NTSB today released the following investigative update:
The NTSB found that the main fuel supply line coupling assembly had disconnected in the wing-to-engine strut above and behind the left engine. This coupling assembly has been retained for further examination.

Examination of the left engine revealed no evidence of an engine uncontainment or other failure.

The lower inboard portion of the left wing, left engine cowling, and left fuselage center section sustained thermal damage. The fire did not penetrate the fuselage.

The FDR/CVR were transported to the NTSB Recorders Laboratory in Washington, DC, and are being downloaded and evaluated.

The NTSB is reviewing the airplane maintenance records at Dynamic International Airways' headquarters in North Carolina. According to the aircraft records, the accident airplane was in dry storage for approximately 29 months until September 2015 when Dynamic International Airways leased the airplane. Dynamic International Airways has operated the airplane for about 240 hours under the present lease.

An initial review of the airplane onboard logbook revealed there was no entry of maintenance action having been performed in the area of the fuel coupling prior to the accident flight while in FLL.

NTSB investigators have interviewed the two flight crew members and nine cabin crew members.

Of the 90 passengers and 11 crewmembers onboard the airplane, one was seriously injured and 21 sustained minor injuries as a result of the emergency evacuation.

Dynamic International Airways has issued a Fleet Campaign Directive to inspect the remainder of their aircraft to ensure proper installation of the fuel line coupling assemblies.
Source: NTSB [LINK]
OCCURENCE DATASET
Date: 2015-10-29 Time: 12:33
Location: KFLL FLL Ft. Lauderdale
Country: USA
Flight phase: TXI – Taxi, Power Back
Damage to a/c: substantial
Flight
Flight no.: D2 405
From: KFLL/FLL: Ft. Lauderdale To: SVMI/CCS: Caracas Simon Bolivar
Type: Passenger
Operator: Dynamic Airways
Leased from: Unknown
Aircraft
Type: Boeing 767-200ER
Registration: N251MY
Age a/c: 29.7 years
Constr. No.: 23280
Stored: Goodyear, AZ  2012-2015 + Victorville, CA 2009-2011
Former operators:
Sunny Airways, Maxjet AW, Kam Air, Phoenix Aviation, Air Gabon, LAX airlines, Polynesian AL, Qatar AW, EgyptAir, Kuwait Airways (delivered in JAN 1986).
Map (provided by Jeppeso|Jacdec.de)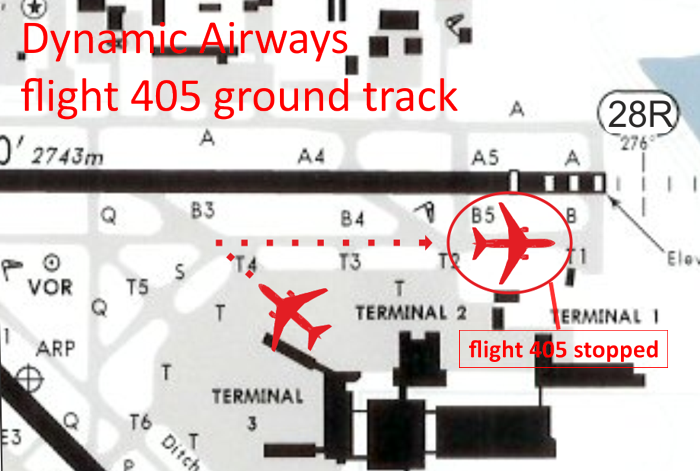 JACDEC DATABASE SERVICE- Engine fire incidents of Boeing 767-200s
| | | | | | | | | | |
| --- | --- | --- | --- | --- | --- | --- | --- | --- | --- |
| | Date | | Country | Location | Operator | Type | Reg. | MSN | |
| | 1987-08-16-B762 | | Germany | EDDF FRA Frankfurt | American Airlines | Boeing 767-200 | N332AA | 22331 | |
| | 1987-12-21-B762 | | Ghana | DGAA ACC Accra Kotoka Intl | EgyptAir | Boeing 767-200 | – | 0 | |
| | 2000-06-07-B767-2 | | Brazil | SBGR GRU Sao Paulo Intl | VARIG [Historical] | Boeing 767-200 | PP-VNN | 23803 | |
| | 2000-09-22-B762 | | USA | KPHL PHL Philadelphia | US Airways [Historical] | Boeing 767-200 | N654US | 25225 | |
| | 2005-11-22-B762 | | Netherlands | EHAM AMS Amsterdam-Schiphol Intl Airport | US Airways [Historical] | Boeing 767-200 | N656US | 26847 | |
| | 2006-06-02-B762 | | USA | KLAX LAX Los Angeles | American Airlines | Boeing 767-200 | N330AA | 22330 | |
| | 2015-10-29-B762 | | USA | KFLL FLL Ft. Lauderdale | Dynamic Airways | Boeing 767-200 | N251MY | 23280 | |
POST ACCIDENT DAMAGE TO LEFT WING AND ENGINE
Ft. Lauderdale Airport 2015-10-30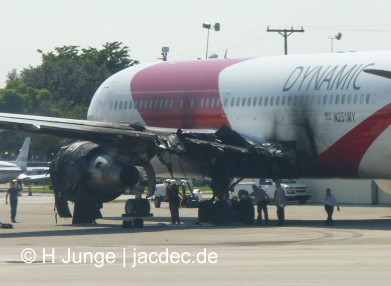 Tweet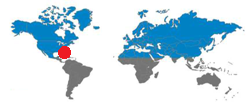 | | | | | |
| --- | --- | --- | --- | --- |
| | Crew | Pax | Other | Total |
| Occupants | – | – | – | 101 |
| Fatalities | 0 | 0 | 0 | 0 |
| Injuries | – | – | – | 15 |
JACDEC 25-year Statistics :
1st safety occurence for the operator
57th safety occurence of type (B767-200)
18th safety occurence at Ft.Lauderdale Airport
1st safety occurence for aircraft in question
Image & Information Sources
AP = Airport / AL = Airlines / Avn = Aviation / AW = Airways / C/N: Construction Number / DSP = Domestic Scheduled Passenger / DNP = Domestic Non-Scheduled Passenger / DSC = Domestic Scheduled Cargo / DNC= Domestic Non-Scheduled Cargo / GND = On the ground / parked, stored / FMN= Flying Mission, Air Work / FRY = Ferry-, Positioning Flight / IMC = Intrument Meteorological (flying) Conditions / ISP = International Scheduled Passenger / ISC=International Scheduled Cargo / INP = International Non-Scheduled Passenger / INC =International Non-Scheduled Cargo/ OPS = Flight Operation(s) / NRV = Non-revenue, Private Flight / TRN =Training Flight /  TST = Test & Certification Flight / VMC = Visual Meteorological (flying) Conditions