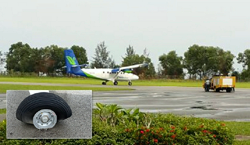 2015-10-26 MASWings Twin Otter veered off runway at Mukah
On landing, the aircraft ran off the side of the runway coming to rest on the grass. No one on board was hurt.
After a normal landing on runway 08 at Mukah in favourable weather conditions, flight MH 3553 veered to the left off the runway (total runway lengh is 1097 m | 3599 ft.).
The DHC-6 Twin Otter departed the left runway  edge and ran over soft ground until the pilots came to a standstill after a distance of about 500 meters.
There were no injuries among passengers and the pilots.
Damage to the aircraft is to limited  the left maingear tire.
NOTE: Exactly 2 months earlier, another MASWings DHC-6 suffered a runway excursion on landing at the same airport. [-> LINK]
OCCURENCE DATASET
Date: 2015-10-26 Time: 09:20
Location: WBGK MKM Mukah
Country: Malaysia
Flight phase: LDG – Flare, Landing Roll, Aborted Landing after Touchdown
Damage to a/c: minor
Flight
Flight no.: MH 3553
From: WBGR/MYY: Miri To: WBGK/MKM: Mukah
Type: Passenger
Operator: MASwings
Leased from: Unknown
Aircraft
Type: DHC-6 Twin Otter
Registration: 9M-SSD
Age a/c: 1.9 years
Constr. No.: 893
Tweet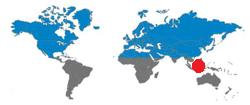 | | | | | |
| --- | --- | --- | --- | --- |
| | Crew | Pax | Other | Total |
| Occupants | 2 | 8 | 0 | 10 |
| Fatalities | 0 | 0 | 0 | 0 |
| Injuries | 0 | 0 | 0 | 0 |
JACDEC 25-year Statistics :
10th safety occurence for the operator
255th safety occurence of type (DHC-6)
3rd safety occurence at Mukah Airport (all in 2015)
2nd safety occurence for aircraft in question
– 2015-07-08 gnd collision with Biz-Jet at Mukah
Image & Information Sources
AP = Airport / AL = Airlines / Avn = Aviation / AW = Airways / C/N: Construction Number / DSP = Domestic Scheduled Passenger / DNP = Domestic Non-Scheduled Passenger / DSC = Domestic Scheduled Cargo / DNC= Domestic Non-Scheduled Cargo / GND = On the ground / parked, stored / FMN= Flying Mission, Air Work / FRY = Ferry-, Positioning Flight / IMC = Intrument Meteorological (flying) Conditions / ISP = International Scheduled Passenger / ISC=International Scheduled Cargo / INP = International Non-Scheduled Passenger / INC =International Non-Scheduled Cargo/ OPS = Flight Operation(s) / NRV = Non-revenue, Private Flight / TRN =Training Flight /  TST = Test & Certification Flight / VMC = Visual Meteorological (flying) Conditions