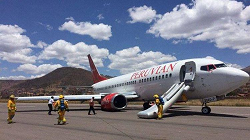 2015-10-23 Peruvian Boeing 737-300 gear collapse at Cuzco
On landing at Cuzco the 737 suffered a gear collapse causing significant damage and leaving it disabled on the runway.
Peruvian Airlines flight 216 from Lima-Callao Airport was about to slow down on runway 28 at Cuzco-Alejandro Velasco AStete Airport when its right maingear suddenly gave way.
The right wing and right engine dropped and came into ground contact.
The incident happened while the aircraft has reached taxi speed. The aircraft was unable to taxi on under its own power and became disabled, blocking the only runway at Cuzco for hours.
The passengers were evacuated via emergency slides but there were no reports about any injuries among passengers or crew.
OCCURENCE DATASET
Date: 2015-10-23 Time: 11:30
Location: SPZO CUZ Cuzco
Country: Peru
Flight phase: LDG – Flare, Landing Roll, Aborted Landing after Touchdown
Damage to a/c: substantial
Flight
Flight no.: P9 216
From: SPIM/LIM: Lima-Callao To: SPZO/CUZ: Cuzco
Type: Passenger
Operator: Peruvian Airlines
Tweet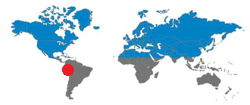 Aircraft
Type: Boeing 737-300
Registration: OB-2040-P
Age a/c: 25,5 years
Constr. No.: 24329
| | | | | |
| --- | --- | --- | --- | --- |
| | Crew | Pax | Other | Total |
| Occupants | | | 0 | 120 |
| Fatalities | 0 | 0 | 0 | 0 |
| Injuries | 0 | 0 | 0 | 0 |
JACDEC 25-year Statistics :
1st safety occurence for the operator
200th safety occurence of type (B737-300)
5th safety occurence at Cuzco Airport
1st safety occurence for aircraft in question
Image & Information Sources
AP = Airport / AL = Airlines / Avn = Aviation / AW = Airways / C/N: Construction Number / DSP = Domestic Scheduled Passenger / DNP = Domestic Non-Scheduled Passenger / DSC = Domestic Scheduled Cargo / DNC= Domestic Non-Scheduled Cargo / GND = On the ground / parked, stored / FMN= Flying Mission, Air Work / FRY = Ferry-, Positioning Flight / IMC = Intrument Meteorological (flying) Conditions / ISP = International Scheduled Passenger / ISC=International Scheduled Cargo / INP = International Non-Scheduled Passenger / INC =International Non-Scheduled Cargo/ OPS = Flight Operation(s) / NRV = Non-revenue, Private Flight / TRN =Training Flight /  TST = Test & Certification Flight / VMC = Visual Meteorological (flying) Conditions