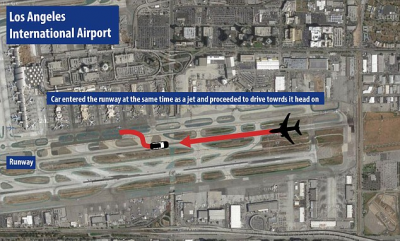 2015-10-13 Compass E170 runway incursion at Los Angeles
The take-off run was aborted at a late stage after an airport vehicle drove onto the runway.
AvH:
Compass Airlines / Delta feeder flight DL 5700 has been cleared for a full lengh take-off from runway 25R at Los Angeles International Airport, when the tower controller radioed:
TWR: "Compass 5700 cancel take-off clearance, hold position."
DL5700: "5700, aborting."
The pilots of DL 5700 immediately reduced power and slowed down the aircraft, and braked to a stop in a turnoff taxiway about 2100 meters down the runway. No collision took place.
TWR: "5700 thanks…(pause)..Delta 5700 thank you, I guess there was a vehicle on the runway just now, make a right turn.."
DL 5700: "Yeah, we see it right on (taxiway) Bravo, Delta 5700."
TWR: "Delta 5700, sorry about that vehicle, we dont know who he was, turn right onto Bravo."
Closest proximity between the aircraft and the vehicle was about 1100 m (3500 feet).
Flight 5700 was to wait for about 30 minutes to cool down the heated brakes and took off safely some 40 minutes after the incursion.
According to LAX Airport, the vehicle was driven by an airport employee who mistakenly turned onto the active runway.
LAX Airport: 'LAX airport operations escorted the vehicle off the airfield. The airport rescinded the employee's authorization to drive on the airfield'
The FAA is investigating the incident.
LAX is equipped with surface detection system ASDE-X, tracking any ground movement of aircraft or vehicles. ASDE-X emits automated alterts to air traffic controllers of any potential runway conflict. -> [FAA ASDE-X]
OCCURENCE DATASET
Date: 2015-10-13 Time: 11:50
Location: KLAX LAX Los Angeles
Country: USA
Flight phase: TOF – Take-off, Rejected Take-off
Damage to a/c: none
Flight
Flight no.: DL 5700
From: KLAX/LAX: Los Angeles To: KMCI/MCI: Kansas City Intl
Type: Passenger
Operator: Compass Airlines
Leased from: Delta Connection
Aircraft
Type: Embraer E-175
Registration: N638CZ
Age a/c: 6.9 years
Constr. No.: 17000259
Jacdec Database Analysis:
List of Runway Incursions at LAX (KLAX) Airport since 1990
DATE
TYPE
OPERATOR
FATAL
REMARKS
2012-12-12
Canadair CRJ-200
Skywest Airlines
0
The aircraft was in its take-off run on runway 25R when the pilots were forced to abort the take-off because another aircraft – a private Challenger 300 business jet – was crossing the runway ahead of them without clearance. The pilots slowed down safely and took off about 30 minutes later.
2009-10-25
E-190
Republic Airlines
0
Both aircraft came into close proximity at Los Angeles International Airport southern runway complex when the Embraer E190 had landed on the southern runway 25L(eft) and was crossing the inner runway 25R(ight) where the Boeing 757 was just about to lift off. FAA reported only 82 feet were between both aircraft at their closest point. The Embraer crew did receive a holding instruction from LAX-tower after landing.
2009-10-25
Boeing 757-300
Northwest Airlines
0
2007-08-16
Boeing 737-700
WestJet Airlines
0
Both aircraft came into close proximity when the 737 taxied to the ramp after landing while the Airbus A320 was taking-off. The 737 earlier landed on the northern runway 24R and failed to hold before the parallel inner runway 24L where the Northwest A320 had just gained take-off speed. The latter had to take evasive climbout to avoid a collision. According to eyewitnesses both aircraft passed each other by only 150-200 feet.
 2007-08-16
 Airbus A320
 Northwest Airlines
 0
 2007-05-06
 Airbus A340-600
 Virgin Atlantic AW
0
Both aircraft narrowly missed each other on runway 24R after the smaller Skywest commuter plane (E120) erroneously entered active landing runway where the A340 was touching down. Earlier, the Skywest pilot took a wrong taxyway after landing and taxied to the correct one via the runway 24R apparently without propper clearance by tower. The EMB-120 just left the runway when the widebody jet passed it by about 50 feet.
2007-05-06
EMB-120 Brasilia
SkyWest Airlines
0
 2006-07-26
Canadair CRJ
Mesa Airlines
0
 Both aircraft were involved in a serious ground incursion when the just landed aircraft (Mesa Flight 2708) crossed a neighbour runway where the other Regional Jet (Comair/ UA Flight 6037) was just about to take off. The latter aircraft was forced to initiate an immediate climb maneuvre to avoid a collision.
 2006-07-26
 EMB-120 Brasilia
Comair
 0
 2004-08-19
Boeing 747
 Asiana Airlines
 0
 Both aircraft came within 200 ft. when the incoming 747 mistakenly lined up for a landing on the same runway 24L, but was cleared for a landing on the parralel runway. The 737 was in the line-up position when a go-around was executed. [VIDEO NTSB Animation]
 2004-08-19
Boeing 737-700
Southwest Airlines
 0
 1999-11-22
McDD MD-80
Aeromexico
0
 Pilots overheared ATC hold instruction and taxied across the active runway where a Boeing 757 was about to lift-off. A collision was narrowly averted.
 1991-08-12
 Boeing 747-200
Air New Zealand
0
The ANZ pilot reported a near collision with the tail of a FedEx Boeing 727 during take-off.
1991-02-01
Boeing 737-300
USAir
22
The 737 landed on runway 24L occupied by the smaller Metro. Both aircraft collided. 34 fatalities, 67 survivors. The accident was attibuted on a lack of ATC oversight and air traffic procedures
1991-02-01
Metroliner
Skywest Airlines
12

© Jacdec 2015
Tweet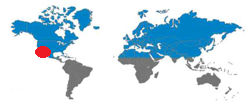 | | | | | |
| --- | --- | --- | --- | --- |
| | Crew | Pax | Other | Total |
| Occupants | | 76 | 1 | |
| Fatalities | 0 | 0 | 0 | 0 |
| Injuries | 0 | 0 | 0 | 0 |
JACDEC 25-year Statistics :
3rd safety occurence for the operator
32nd safety occurence of type (E170s)
83rd safety occurence at Los Angeles Airport


– 10th incursion incident at LAX since 1991

1st safety occurence for aircraft in question
Image & Information Sources
AP = Airport / AL = Airlines / Avn = Aviation / AW = Airways / C/N: Construction Number / DSP = Domestic Scheduled Passenger / DNP = Domestic Non-Scheduled Passenger / DSC = Domestic Scheduled Cargo / DNC= Domestic Non-Scheduled Cargo / GND = On the ground / parked, stored / FMN= Flying Mission, Air Work / FRY = Ferry-, Positioning Flight / IMC = Intrument Meteorological (flying) Conditions / ISP = International Scheduled Passenger / ISC=International Scheduled Cargo / INP = International Non-Scheduled Passenger / INC =International Non-Scheduled Cargo/ OPS = Flight Operation(s) / NRV = Non-revenue, Private Flight / TRN =Training Flight /  TST = Test & Certification Flight / VMC = Visual Meteorological (flying) Conditions