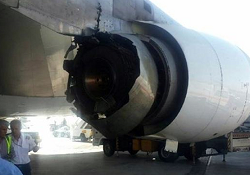 2015-10-15 Mahan Air Boeing 747-300 engine falls apart near Tehran
During climb-out parts of the high pressure turbine of an engine seperated and fell down into a Tehran suburb. The 747 managed to return to land.
The 29 year old 747 just took off from Mehrabad Airport (runway 29R) when its right inner engine #3 (Type: CF6-50E2) partly disintegrated during climb.
The entire lower pressure tubine –  just aft of the engine cowlings – section broke loose and fell to the ground in a western suburb of the city. Fortunately no person on the ground was harmed.
Energetic engine debris hit the lower fuselage resulting in substantial damage. Shrapnel also damaged many parts of the wing, flap canoe, and lower fuselage of the aircraft.
The pilots discontinued their climb. After receiving a warning message from engine #3 and an oil pressure warning from engine #4, both right wing engine s were shut down.
The pilots made a safe landed back at Mehrabad Airport on the remaining two portside engines about 10 minutes later.
OCCURENCE DATASET
Date: 2015-10-15 Time: 07:20
Location: OIII THR Tehran Mehrabad Intl area
Country: Iran
Flight phase: ENR2 – Climb above 1000 ft. AGL to Cruise; Climb from end of ICL to intended cruise level
Damage to a/c: substantial
Flight
Flight no.: W5 1095
From: OIII/THR: Tehran Mehrabad Intl To: OIKB/BND: Bandar Abbas
Type: Passenger
Operator: Mahan Air
Aircraft
Type: Boeing 747-300
Registration: EP-MNE
Age a/c: 29,5 years
Constr. No.: 23480
Tweet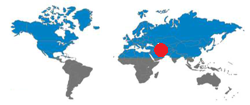 | | | | | |
| --- | --- | --- | --- | --- |
| | Crew | Pax | Other | Total |
| Occupants | – | 426 | 0 | |
| Fatalities | 0 | 0 | 0 | 0 |
| Injuries | 0 | 0 | 0 | 0 |
JACDEC 25-year Statistics :
14th safety occurence for the operator
40th safety occurence of type (B747-300)
17th safety occurence in Tehran-Mehrabad AP
4th safety occurence for aircraft in question
– 1993-06-13 ground collision with DC10 in Gouadeloupe
– 1993-10-19 ground collision with Airbus at Paris
– 2013-09-23 overran runway at Kerman, Iran
– 2013-10-15 uncontained engine failure
Image & Information Sources
AP = Airport / AL = Airlines / Avn = Aviation / AW = Airways / C/N: Construction Number / DSP = Domestic Scheduled Passenger / DNP = Domestic Non-Scheduled Passenger / DSC = Domestic Scheduled Cargo / DNC= Domestic Non-Scheduled Cargo / GND = On the ground / parked, stored / FMN= Flying Mission, Air Work / FRY = Ferry-, Positioning Flight / IMC = Intrument Meteorological (flying) Conditions / ISP = International Scheduled Passenger / ISC=International Scheduled Cargo / INP = International Non-Scheduled Passenger / INC =International Non-Scheduled Cargo/ OPS = Flight Operation(s) / NRV = Non-revenue, Private Flight / TRN =Training Flight /  TST = Test & Certification Flight / VMC = Visual Meteorological (flying) Conditions