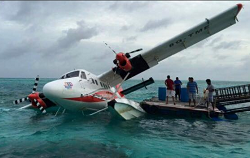 2015-09-21 Tans Maldivian DHC-6 damaged in storm at Kanifushi Resort
In a stormy night, the aircraft as damaged when it took water and nearly sank.
The empty aircraft was moored at Kanifushi Resort on on a floating pontoon, when strong winds and high waves developed during the night and the next morning.
At dawn the DHC-6 Twin Otter (equipped with floats) were found to have a heavy list with its right wing and engine under water.
The following day the aircraft was salvaged and pulled ashore for provisional repairs.
According to insurer reports, the damage is considered to be substantial.
OCCURENCE DATASET
Date: 2015-09-21 Time: 09:00
Location: Kanifushi Resort
Country: Maldives
Flight phase: STD – Standing with Engine(s) not Operating
Damage to a/c: substantial
Flight
Flight no.:
From: 0000/: NONE To: 0000/: NONE
Type: Ground
Operator: Trans Maldivian Airways
Aircraft
Type: DHC-6 Twin Otter
Registration: 8Q-TME
Age a/c: 33.3 years
Constr. No.: 798
Tweet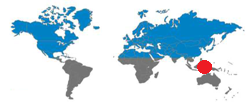 | | | | | |
| --- | --- | --- | --- | --- |
| | Crew | Pax | Other | Total |
| Occupants | 0 | 0 | 0 | 0 |
| Fatalities | 0 | 0 | 0 | 0 |
| Injuries | 0 | 0 | 0 | 0 |
JACDEC 25-year Statistics :
7th safety occurence for the operator
254th safety occurence of type (DHC-6)
13th safety occurence in the Maldives
1st safety occurence for aircraft in question
Image & Information Sources
AP = Airport / AL = Airlines / Avn = Aviation / AW = Airways / C/N: Construction Number / DSP = Domestic Scheduled Passenger / DNP = Domestic Non-Scheduled Passenger / DSC = Domestic Scheduled Cargo / DNC= Domestic Non-Scheduled Cargo / GND = On the ground / parked, stored / FMN= Flying Mission, Air Work / FRY = Ferry-, Positioning Flight / IMC = Intrument Meteorological (flying) Conditions / ISP = International Scheduled Passenger / ISC=International Scheduled Cargo / INP = International Non-Scheduled Passenger / INC =International Non-Scheduled Cargo/ OPS = Flight Operation(s) / NRV = Non-revenue, Private Flight / TRN =Training Flight /  TST = Test & Certification Flight / VMC = Visual Meteorological (flying) Conditions