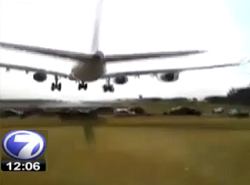 2015-10-04 Iberia Airbus A340-600 very low approach at San Juan
Scheduled Iberia flight from Madrid nearly brushed the fence at San Juan-J. Santamaria Airport coming in to land flying extremely low.
On final approach to runway 25 at Juan Santamaria Airport, the Airbus A340 descended below the propper approach path until it became very close to the ground on short final about 1 km east of the runway.
The aircraft cleared a busy streeet only my a small margin and nearly brushed the airport boundary fence before the pilots were able to make a safe landing.
Runway 25 at Juan Santamaria Airport has a displaced threshold by about 400 meters. It can be assumed that the aircraft touched down short of these markings. [VIDEO]
The Airbus A340-600 is by far the largest scheduled aircraft allowed to fly to San Juan Airport.
Because of rising terrain, Runway 25 is not eqipped with an istrument landing system (ILS) providing lateral and vertival control of the approach profile. Only a RNAV (GPS controlled) approach is possible for that runway. -> RNAV navigation (pdf)
---
OCCURENCE DATASET
Date: 2015-10-04 Time: 14:30
Location: MROC SJO San Jose International Airport
Country: Costa Rica
Flight phase: APR – Initial Approach (IFR), Final Approach, all Circuit Patterns, Missed Approach/Go-Around
Damage to a/c: none
Flight
Flight no.: IB 6313
From: LEMD/MAD: Madrid-Barajas Intl Airport To: MROC/SJO: San Jose International Airport
Type: Passenger
Operator: Iberia
Tweet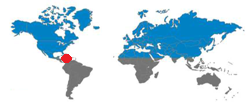 Aircraft
Type: Airbus A340-600
Registration: EC-LCZ
Age a/c: 6,2 years
Constr. No.: 993
| | | | | |
| --- | --- | --- | --- | --- |
| | Crew | Pax | Other | Total |
| Occupants | | | | |
| Fatalities | 0 | 0 | 0 | 0 |
| Injuries | 0 | 0 | 0 | 0 |
JACDEC 25-year Statistics :
33rd safety occurence for the operator
19th safety occurence of type (A340-600)
2nd safety occurence at San José Airport, CR
1st safety occurence for aircraft in question
Image & Information Sources
IB 6313 secods before landing

IB 6313 secods before landing

AP = Airport / AL = Airlines / Avn = Aviation / AW = Airways / C/N: Construction Number / DSP = Domestic Scheduled Passenger / DNP = Domestic Non-Scheduled Passenger / DSC = Domestic Scheduled Cargo / DNC= Domestic Non-Scheduled Cargo / GND = On the ground / parked, stored / FMN= Flying Mission, Air Work / FRY = Ferry-, Positioning Flight / IMC = Intrument Meteorological (flying) Conditions / ISP = International Scheduled Passenger / ISC=International Scheduled Cargo / INP = International Non-Scheduled Passenger / INC =International Non-Scheduled Cargo/ OPS = Flight Operation(s) / NRV = Non-revenue, Private Flight / TRN =Training Flight /  TST = Test & Certification Flight / VMC = Visual Meteorological (flying) Conditions